Articles
A Hidden Oasis Grows on Hollywood's Walk of Fame
Fueled by volunteers and donations from the community, a lush urban garden is thriving in an unusual location in the heart of Hollywood.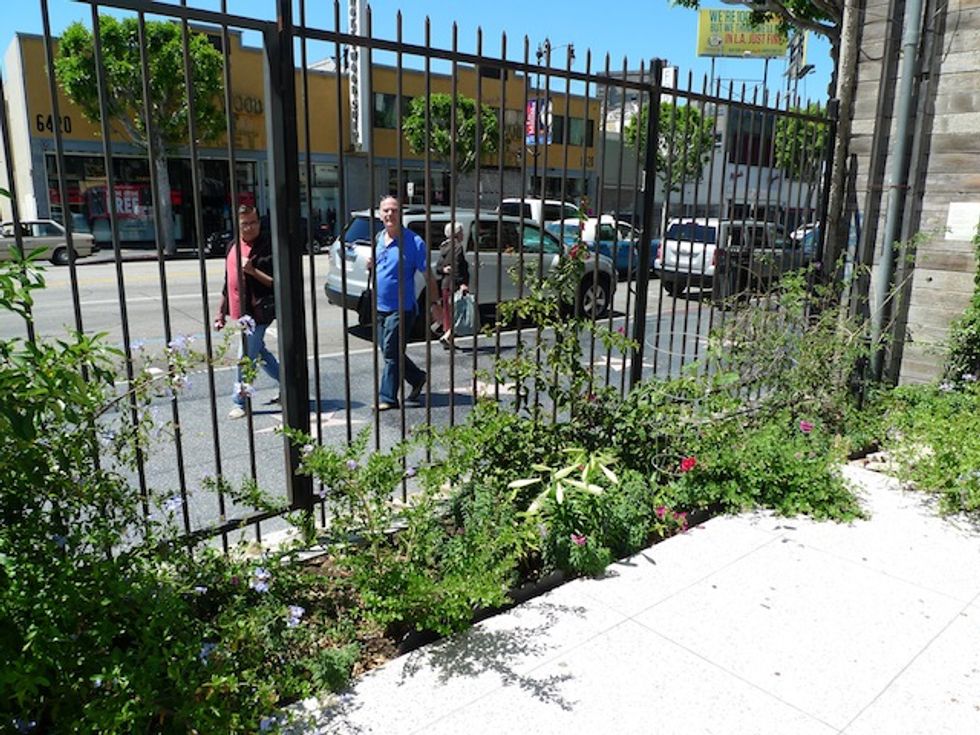 On a Sunday morning along Hollywood Boulevard, behind a row of celebrity-scouting tour buses and steps from the glittering Walk of Fame, Karen Schumacher and Jessica Crum are lugging a hose into a vacant lot to water their geraniums. "The plants are mostly drought-tolerant," says Schumacher, standing among the meandering vines of jasmine and bougainvillea. "But I usually water once a week."
---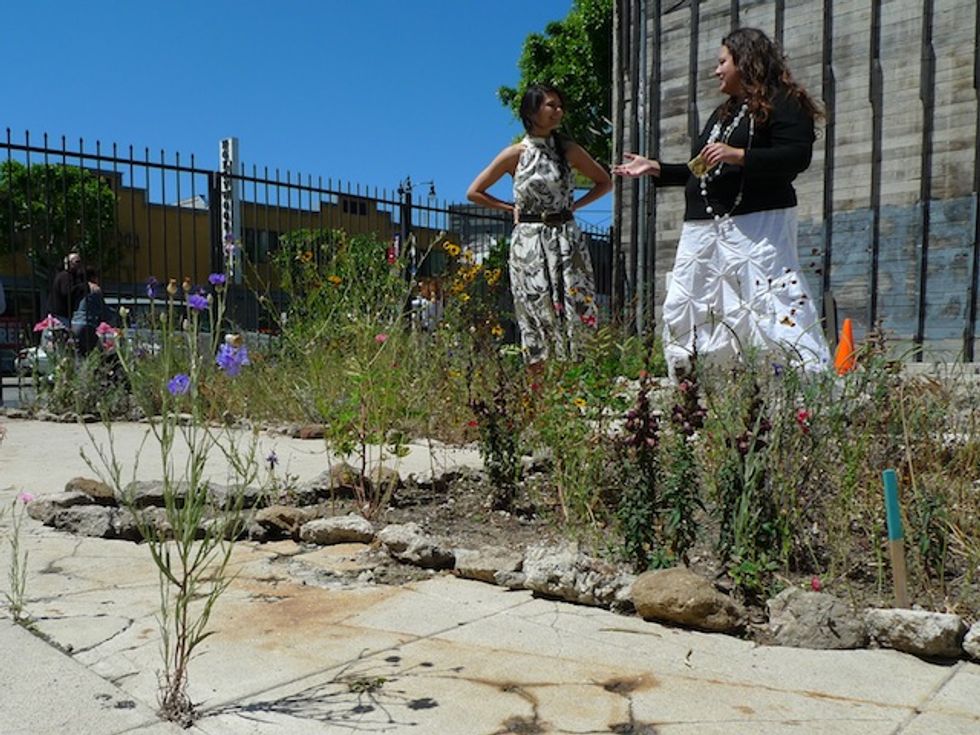 Schumacher and Crum are members of the church
Ecclesia
, which holds its services next door in the landmark Hollywood Pacific Theater. Four years ago, as part of the church's sustainability-focused "Green Team," they spearheaded an initiative to pick up the trash and pull weeds in the lot. But soon, Schumacher says, they realized the potential for improving the space even more. "It started with the front beds," she says. "For the past couple years we've been seeding wildflowers into the ground, and then also put up the back screen to cover the dumpsters. Bit by bit we're trying to make it into a garden as money and volunteers permit." During the last weekend in May, the church held a barbecue in the space.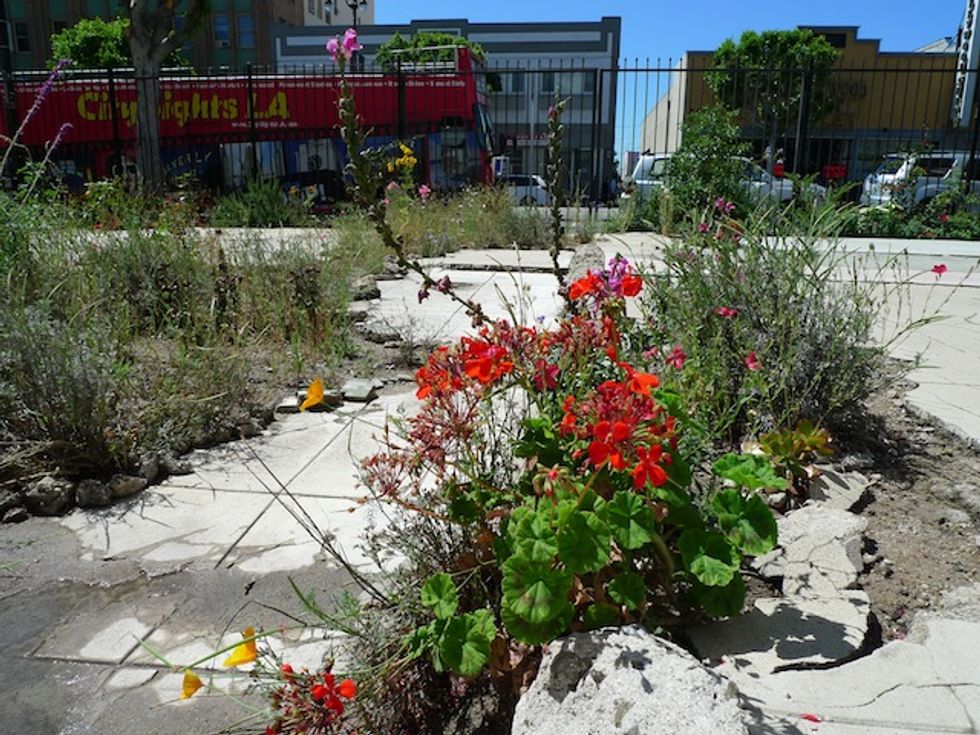 As Schumacher and Crum started to tuck succulents into the cracks of the old foundation and ring beds with bits of old tile they found on the site, they didn't know they were cultivating a very relevant piece of Hollywood history. "A tour guide pointed out to me one day that 'DeLongpre' would be happy with what I was doing," remembers Schumacher. "All the time I was here, I never looked up at that sign," she says, pointing up to a Hollywood history marker on the sidewalk, just outside the gate, explaining that this was the former location of the famous DeLongpre Gardens.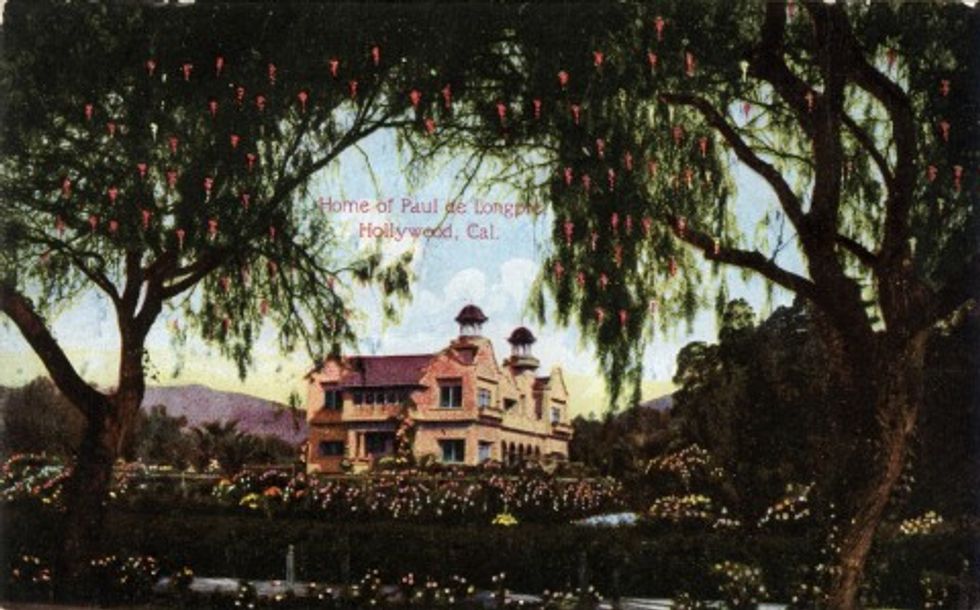 Paul DeLongpre was a horticulturist painter who moved to Hollywood in 1889 and began planting his homestead with the subjects of his paintings. At the time, Hollywood was famous for its gardens, not its film industry, and DeLongpre's lush grounds would attract hundreds of tourists who rode the Red Car from downtown. When he died in 1911, the house was demolished, and the theater was built (a nearby street was named in his honor). "He had something like 4,000 roses," says Schumacher. "I'd like to think of bringing it back to its original roots." The group has named the space Paul's Urban Garden and placed a timeline of its history on the wall.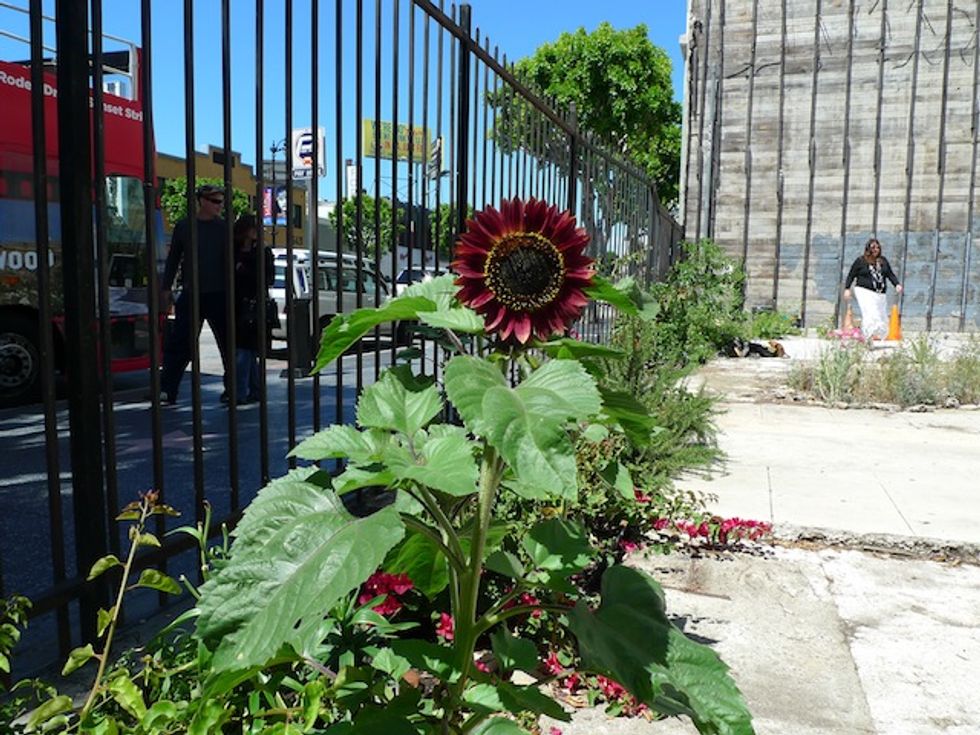 Of course, there are challenges to gardening in the beating heart of Hollywood nightlife. Cigarettes and bottles regularly get lobbed into the beds. At night, women teeter on their high heels as they reach through the fence to pick sunflowers to wear in their hair. But the high-traffic location also works to their advantage: They often get anonymous gifts of seeds and plants, offers to volunteer, and of course, notes of support. (To get in contact with them, I slipped a postcard with my email address into a bed of snapdragons.)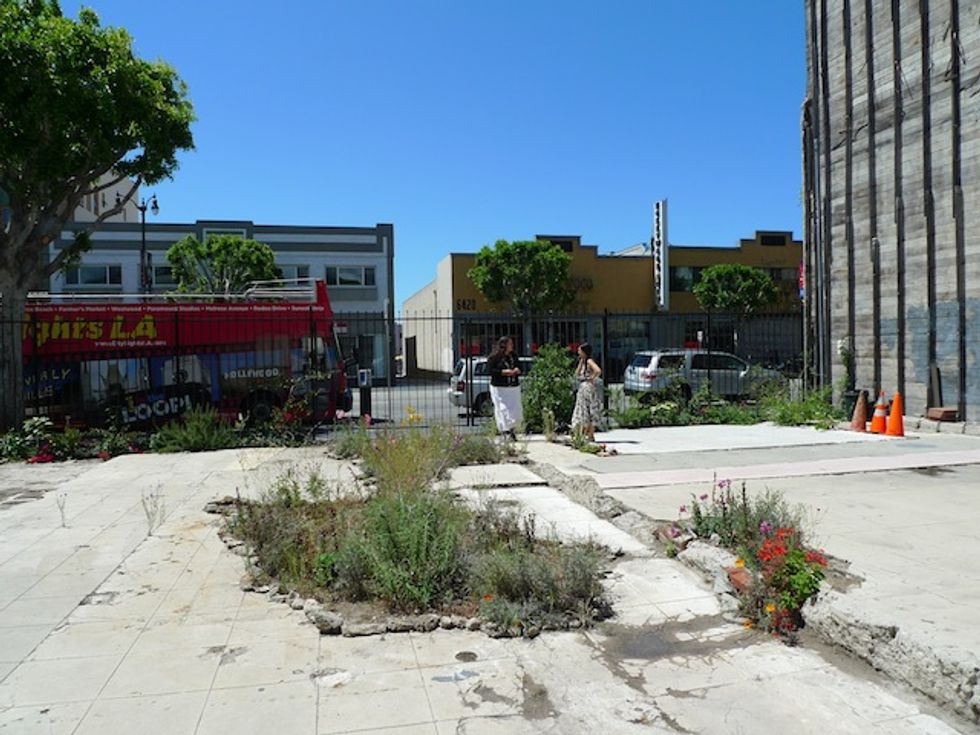 The lot is owned by Robertson Property Group, a development company that has given its blessing to the church's actions, but could sell it out from under them at any time. "It's always in danger of being turned into a parking lot," says Schumacher. The team is working to get the space permanently dedicated. Their dream, she says, would be to convince the company to turn the garden into an official public space, a much-needed pocket park that can serve tourists and residents alike. As if on cue, a set of tourists wandering the Walk of Fame pause to snap a photo of the garden as it was yet another attraction in their guidebook: an unexpected oasis that perfectly frames the Hollywood sign in the distance.
The garden is located just east of 6433 Hollywood Boulevard, between Wilcox and Cahuenga. To donate to Paul's Urban Garden, you can send a check to Ecclesia and be sure to label it "Green Team/Paul's Urban Garden," or, drop off your in-kind donations at the garden. Public volunteer days are held the second Saturday of every other month—the next one is July 9 at 9:30 a.m.
Live in Los Angeles? Sign up for GOOD LA we'll deposit exactly one good L.A. thing in your inbox each day. You can also follow GOOD LA on Facebook and Twitter.