Articles
San Francisco made sitting or lying on the sidewalk illegal, so a group of activists has started installing benches in public under cover of night.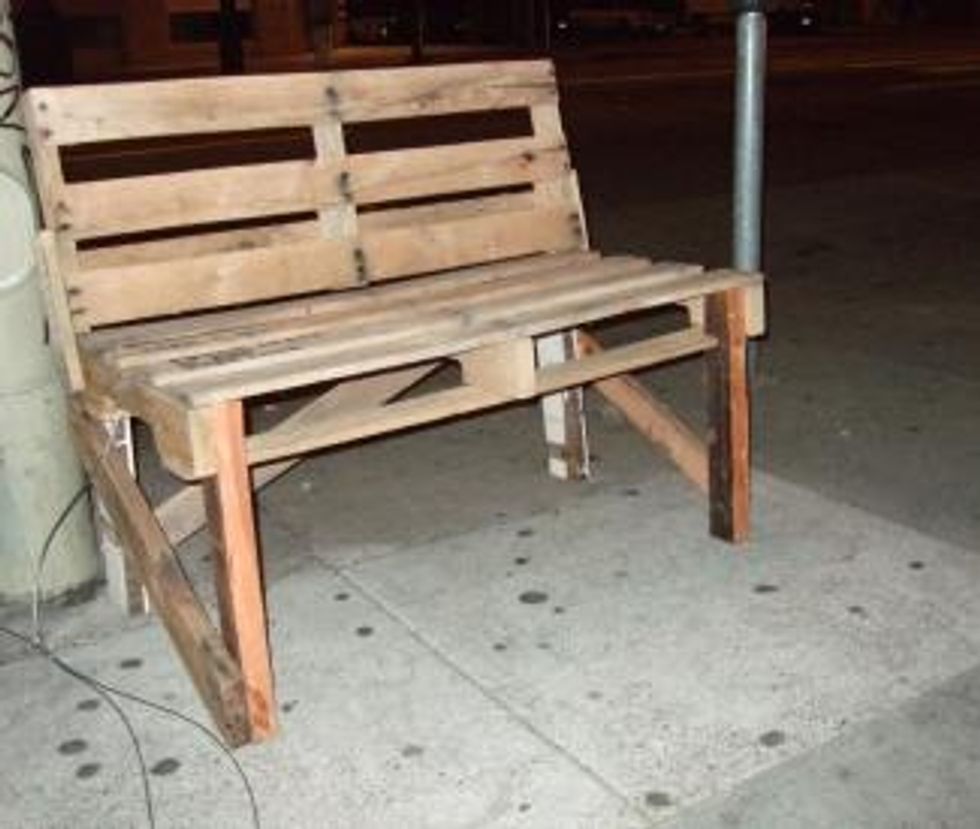 Back in November, San Francisco voters
passed a law
criminalizing sitting and lying on sidewalks between 7:00 a.m. and 11:00 p.m. This controversial "sit-lie ordinance" was supported by Mayor Gavin Newsom and by the Chamber of Commerce, because, they argued, having homeless people napping or resting on the streets makes them less hospitable to everyone else. Opponents of the law argued that it would simply give police license to harass the poor.
Now police are beginning to enforce the law, giving sitters and liers preliminary warnings, and even ticketing one "chronic relaxer." In response, a group of activists has started installing DIY benches on the streets, made with wood from discarded pallets, so homeless people can rest legally.
---
As the San Francisco Bay Guardianreports:
The do-it-yourself bench installation was accompanied by a statement. "These benches are more than places to sit," the message reads. "They are a visible resistance to the privatization of public space." It goes on to list a number of reasons behind the action, beginning with, "We believe that public space should be for everyone, and right now it is being taken away from those of us who need it most. Those of us whose presence in San Francisco has made our city the radical and creative haven it has been for decades. Those of us who have the least access to private spaces (which continue to get more and more unaffordable) and whose safety nets (like our shrinking public services) are being continuously destroyed."

\n
It does look like the San Francisco police department did a good job preparing officers and slowly phasing in enforcement of the law. Initially, the SFPD just gave people verbal warnings along with cards with information about shelters in the area. It deserves credit for a well-planned and tempered roll-out.
But these DIY benches cleverly highlight the absurdity of trying to deal with homelessness and poverty by making it illegal to sit on the sidewalk. After all, if sitting on the sidewalk was really the problem, the solution would be to give people benches, not tickets. But the "sitting on the sidewalks" thing is just a pretense. For the Chamber of Commerce the problem is the presence of transients, regardless of whether they're sitting or standing. And the solution to that problem isn't stripping public space of comfortable places to rest—indeed, our cities need more benches—it's providing the public services that help people out of poverty.