Adam Leith Gollner on Food
Adam Leith Gollner on Renegade Tamales.
04.08.07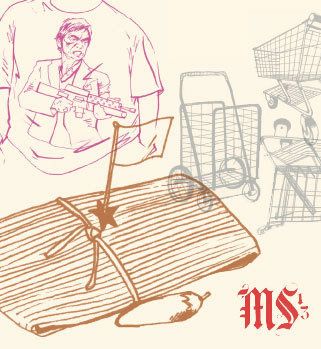 ---
In the summer of 1980, Fidel Castro emptied Cuba's jails and shipped thousands of prisoners across the straits to Florida. Arriving alongside a mass exodus of 125,000 upstanding immigrants, the flotilla of violent criminals and political dissidents was Castro's middle finger to the free world. As real-life Scarfaces1 became Miami drug lords, more than 1,000 Cuban ex-cons ended up in Los Angeles, furthering the decline of the once tranquil retirement community around MacArthur Park into a festering nexus of crime and corruption."When I arrived here eight years ago, this was a no-man's land," says Sandra "Mama" Romero, owner of Mama's Hot Tamales Cafe in L.A. "You could smoke crack cocaine, buy a fake passport, and have sex openly. The park was filled with homeless encampments and mountains of shopping carts2." She decided to do something about it: make tamales.With a background in fair-housing legislation and human rights, Romero and partner Joseph Colletti started the Institute for Urban Research and Development which seeded the area with tamale vendors while police weeded out gangs like Mara Salvatrucha3 and Trece. The IURD's Rediscover MacArthur Park program, a tamale-fuelled arsenal of free concerts, craft markets, and fairs, has revitalized the neighborhood. In 1998, 440 arrests were made, Romero says, and there haven't been any in the past two years. Once known as "the illegal documents capital of the world," MacArthur Park has been rebaptized "the tamale capital4 of the world."Serving a panoply of international tamales, Mama's Café bills itself as an apprentice-run training facility. Many of the student-worker-chef-hosts are low- and moderate-income immigrants who got their start selling homemade food out of car trunks or shopping carts; Romero's program helps them navigate the process of manufacturing food legally. "It's about bringing people from the informal economy into the formal economy," she says. Anybody training in Mama's kitchen must also enroll in the business-development courses at the IURD's adjacent economics lab. "All these people are actually entrepreneurs," says Romero, whose program teaches students how to apply for a business license, make a business plan, develop a market, and acquire capital.With her focus on incorporating the excluded, Romero is putting to work a First World take on the economist Hernando de Soto's idea that marginalized workers outside the legal system are the solution instead of the problem. By studying the lower classes in his native Peru, de Soto identified an enormous untapped potential."[People] viewed as unruly squatters and urban pests were actually enterprising citizens who were carrying the nation's economy on their backs," he writes in The Other Path. The cornerstone of microentrepreneurial theory is property ownership, and only by amassing capital in the form of real estate can emerging entrepreneurs begin to prosper in the business world. As de Soto puts it: "You need a Property Right before you can make money."Just as de Soto's work is helping citizens of developing nations attain land ownership titles, Romero emphasizes the idea of home ownership in her courses and sets up bank appointments so her pupils can attempt to secure loans. "People think, 'I can't own a restaurant or a house,'" she says. "Yes, you can. It's all possible." An example of a Mama's success story is Rocio Ramirez, a former street vendor who bought a house and set up a catering business. "She said, 'If it wasn't for those tamales, I never would have been able to buy this home,'" says Romero, beaming.As tamales have saved an atomized neighborhood and turned lives around, similar programs are springing up nationwide. Downtown L.A.'s Mercado La Paloma is a marketplace with an economics training center that offers ESL classes and other resources. (A recent graduate now owns an excellent Yucatan restaurant called Chichen Itza.) The National Business Incubation Association lists the many "kitchen s" giving start-up cooks access to professional, full-service kitchens so they can sell their merchandise according to health-code regulations. San Francisco's La Cocina Community Kitchen offers kitchen facilities to immigrant women who prepare alfajores and meat pies. Seattle's FareStart specializes in restaurant training and job placement for the homeless and disadvantaged. The recent awarding of the Nobel Peace Prize to Muhammad Yunus for his microfinancing system suggests that the phenomenon will continue growing.Supporting these efforts is delicious. The L.A. Weekly recently deemed Mama's one of the 99 best restaurants in Los Angeles. It's just a bonus that this cafe, painted in dazzlingly bright colors, is also the iridescent epicenter of a small revolution that's effecting change, one tamale at a time.
Articles