Articles
Man is furious after seeing a picture of his amputated leg on a tobacco warning label.
C'mon people, there is no shortage of actual smoking victims.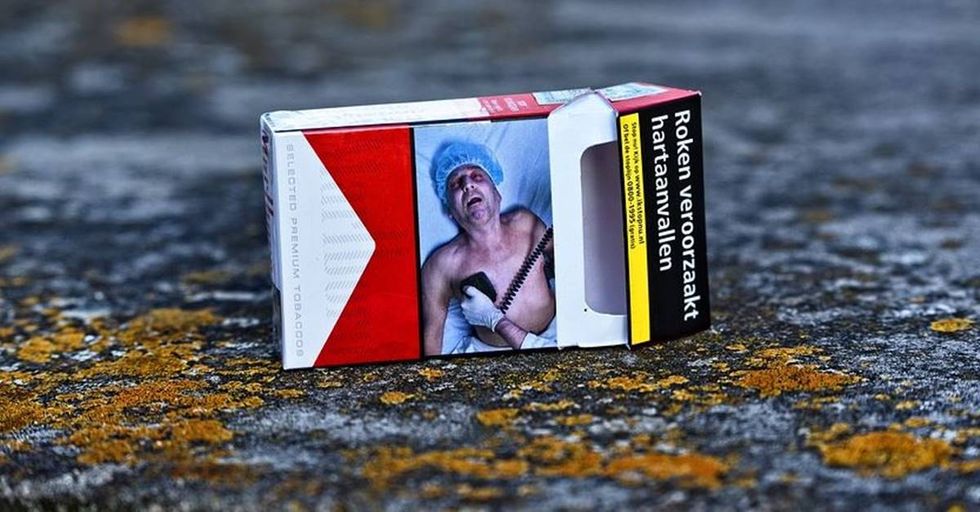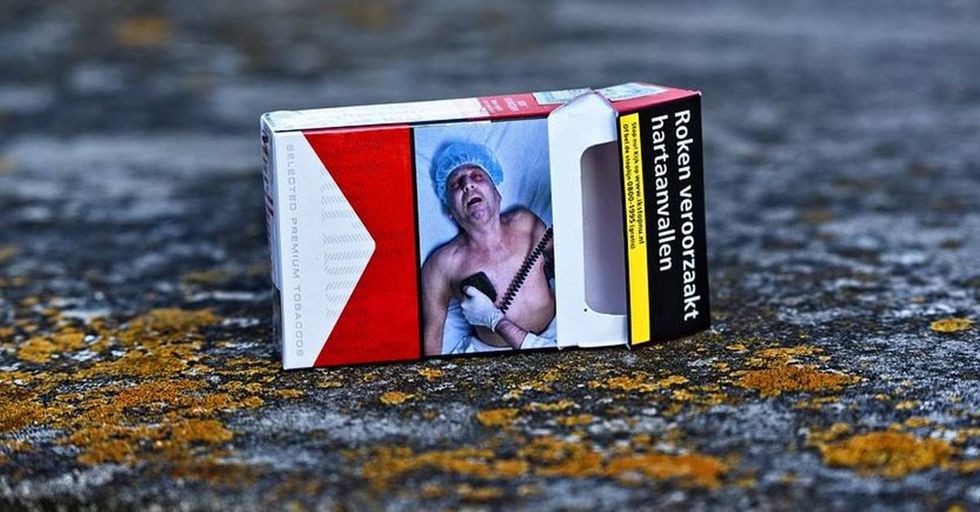 via Pixabay
In over 80 countries, tobacco products are labeled with disturbing photos to illustrate the dangers of using them. Buy a pack of cigarettes in Europe and you're likely to see a grotesque photo of tar-damaged lungs, various cancers or a foot with amputated toes.
---
Uruguay wins wrangle with tobacco giant over warning labels https://t.co/OiiCJcTPPt https://t.co/N0nqTFNzef

— SBS News (@SBS News) 1468040417.0
According to a meta survey published in the journal "Tobacco Control," these images are effective. The study showed they made people's "attitudes toward smoking more negative," "strengthened people's desire to quit smoking, or not to start," and made people "less willing to pay for cigarettes."
The U.S. Food and Drug Administration wanted to require cigarette boxes to include disturbing photos, but tobacco companies sued and a court ruled against the requirement in 2012.
In Luxembourg, one warning label shows a person with an amputated leg and the caption reads "smoking clogs your arteries." Unfortunately, the alleged poor soul that lost his leg didn't have it amputated due to tobacco use.
Metz : il retrouve la photo de sa jambe amputée sur des paquets de cigarettes https://t.co/w625zN8LGG

— France Bleu Lorraine Nord (@France Bleu Lorraine Nord) 1563387440.0
According to France Bleu, a 60-year-old man from Albania who moved to France in 1997, was shocked when his son showed him the photo on the warming label and he realized it was of himself. The son had purchased the pack of rolling tobacco last year in Luxembourg.
The man claims to have never given permission for the photo to be used and wondered why it leaked from the hospital where he was treated. He says his leg was amputated after an assault in Albania.
"It's rather incredible that a person finds themselves without their agreement on cigarette packets throughout the European Union," the man's lawyer, Antoine Fittante, told the BBC.
"My client feels betrayed, wounded in his dignity, by seeing his disability [displayed] on cigarette packets in tobacconists; one must admit that's not very pleasant," the lawyer continued.
Fittante has contacted the European Commission as well as the hospital in Albana to find out how the image of the man's stump made it to the tobacco warning label.