Articles
Anthony Weiner's Wife Should Run for His Seat
Huma Abedin has the expertise, the connections, and the moral high ground to succeed.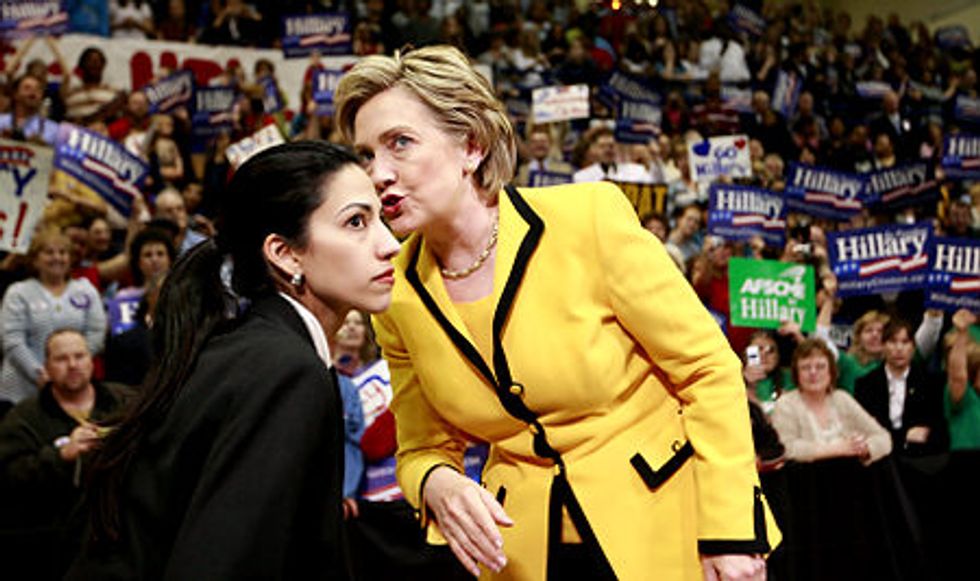 When I saw the news today that Anthony Weiner plans to resign, I immediately thought of the photo above. It was posted yesterday to my favorite new Tumblr blog, What Hillary Whispered, with the caption, "Have you thought about running for his seat?"
---
The woman to whom Hillary is whispering in the photo is, of course, Huma Abedin, her chief of staff during the 2008 presidential campaign and, as of 11 months ago, Anthony Weiner's wife. Abedin didn't do the classic "stand by your man" at Weiner's tearful press conference about his digital transgressions, and the couple hasn't announced any plans to separate.
Abedin had an inside view of the Clintons' marital scandal: She was a White House intern in the late 1990s. After that, she joined the staff of the First Lady and stayed by Hillary's side all the way through the 2008 campaign. After Clinton was named Secretary of State, Abedin joined her staff. Last year Time magazine named her one of its "40 under 40," a "rising star of American politics."
Many pioneering women in American politics were elected after their politician husbands died, and in some countries "widow's succession" is standard practice. Even today, the grieving widow makes for a compelling candidate. But what of a woman who picks herself up and reasserts herself in the public eye after her husband makes some adolescent mistake that compels him to resign? I can't help but think that she is a candidate that voters—especially women—can rally around. Right now Abedin has the expertise, the connections, and the moral high ground to succeed.
In some ways, Hillary Clinton cut this path herself. It took a full decade, sure, but her decision to stay in her marriage, gain political expertise and public prominence, and then hit the campaign trail herself was undoubtedly a smart one. As political sex scandals have become downright common, there's no reason why Abedin should have to wait 10 years to make a run for Weiner's job. "[T]he Democrats are furious at this guy," James Carville told CNN. "He is married to one of the most popular people in the Democratic Party."
As if that weren't enough, by all accounts Abedin is known for her "diplomacy and privacy," two traits that the voters of New York probably find pretty appealing right now.