Articles
TOMS Asks: Can You Go One Day Without Shoes? April 5 Is TOMS Shoes "Day Without Shoes"
April 5 is a "Day Without Shoes." Will you go barefoot for change? To help kids in the developing world get footwear?
[youtube]http://www.youtube.com/watch?v=BitShRujoeA
The buy-one-give-one shoe company, TOMS shoes, is hosting its annual day of action, "A Day Without Shoes," on Tuesday, April 5. Can you go one day without shoes to let your neighbors, classmates, co-workers, or just one confused stranger know you care about the the millions of kids around the world too poor to own shoes?
---
Last year's campain sparked 1,600 events. More than 250,000 people bared their toes in solidarity with the millions of children around the world who trod about their communities sans shoes every day. Each pair of TOMS shoes sold in the developing world funds a pair of shoes for kids in poorer countries, so the company organizes these kinds of events to boost sales, but also to raise awareness its business model tries to solve. The company has sold, and therefore donated, more than 1 million pairs so far.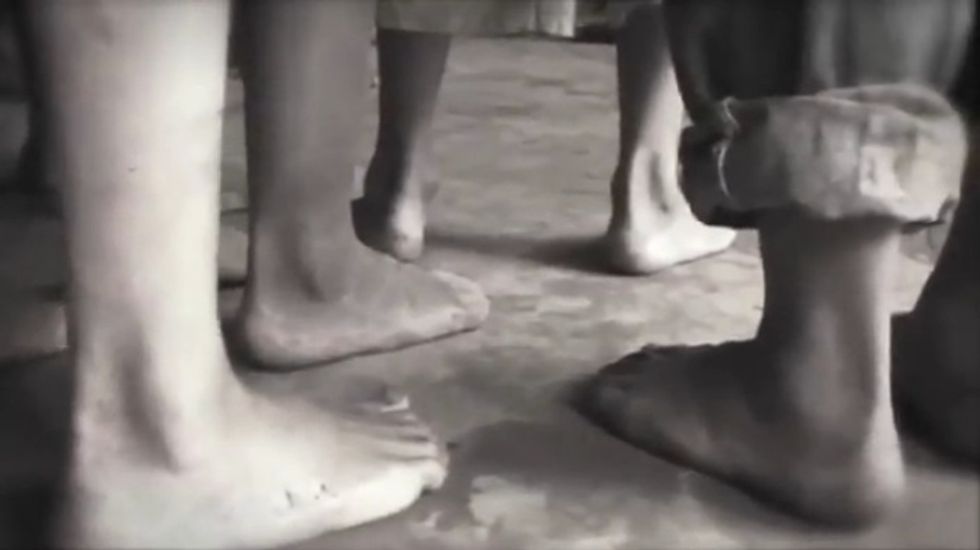 Celebrities joined in the Day Without Shoes last year and are sure to do so again. One mass audience highlight from 2010 was Demi Moore
taking off her shimmering silver heels
during an interview with Jay Leno, who also bared his black socks.
"Well, that's an attractive look," Jay Says sarcastically showing off his feet. Moore counters, "but the point of it is, is for everyone to recognize what it would feel like to be without shoes."
Strolling across a soundstage without socks on doesn't quite let us know what it's like to risk injury and infection from soil-transmitted disease that hundreds of millions of children endure as part of daily life in the developing world. But many of the events have more detailed educational components to them.
Find an event to attend in your city here. So far there are almost 700 to choose from. Add your own if you want to get active but don't see something happening nearby. TOMS makes it easy with an organizing toolkit with fliers, signs, and event ideas. And if you can't quite bare your feet for the cause, then follow along on Twitter with hashtag #withoutshoes.
Indiana University-Purdue University Indianapolis is leading the organizing pack with almost 2,000 people pledging to go shoeless for the cause. We'll see if any other school or organization can top that.
If you plan to go rogue with a solo barefoot trip to work, make sure you aren't violating any local health codes. Schools, for one, are unlikely to let you wander the indoor halls barefoot. Then again, think about it. If there's a health code violation for going barefoot for one day a year, what is the health implication of going barefoot for your whole childhood?
[An earlier version of this post misstated the full name of IUPUI]