Articles
Are Bike Shares Ready for the Big Apple?
New York City, where one measly bike lane has been kicking up controversy for over a year, is installing its first bike share system.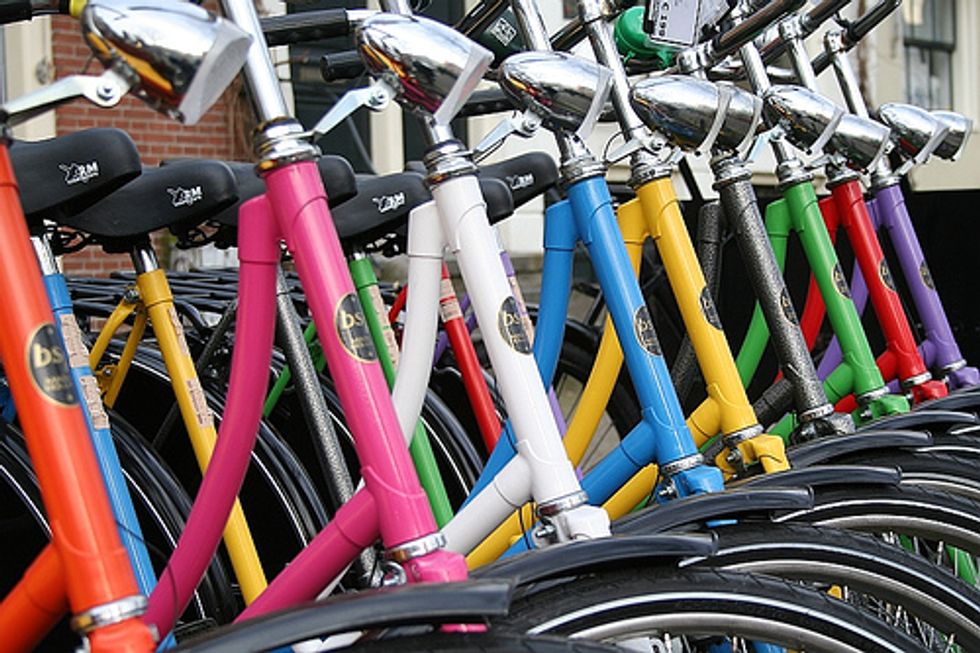 Yesterday, New York City's Department of Transportation announced the launch of a bike share program of 600 stations and 10,000 bikes. User pay $100 a year to pick up a bike from any station and, for no additional charge, ride it for 30 to 45 minutes. Bike shares have been popping around the world:
Mexico City
is working to grow its program to almost 4,000 bikes by the end of this year, while Hangzhou, China, has a system
with 50,000 bikes
. New York's will be the biggest in America, where biking is far less popular as a means of commuting than in China. New York is the city where one measly bike lane has been
kicking up controversy
for over a year now. Is the bike share concept ready for these mean streets?
It takes dedication to bike in New York City. Drivers are notoriously aggressive. The city's added miles of bike infrastructure, but lanes can still migrate from one side of a one-way streets to the other or run from pavement onto cobblestone without warning. Old brownstones and tenements don't have bike storage. It's a pain to carry a hunk a metal up four flights of stairs, but leave your bike chained outside overnight, and its handlebars and seat will disappear by morning. Still, the number of cyclist in the city has been growing: the last three years saw the three largest annual increases in ridership since the city began measuring in 1986. New York cyclists even have their own Twitter hashtag, #bikenyc .
---
New York's Department of Transportation said yesterday that the bike share system "has been extensively tested," citing systems in Washington, D.C, London, Boston, Denver, Montreal, Toronto, and Minneapolis. "Each successive city has added new innovations," a DOT press release said. City officials think bike shares are ready for the big time, and psyched New Yorkers are suggesting locations for stations or brainstorming occasions when it'll come in handy ("When I was planning on taking the bus, but it just didn't come. #BikeShareMoment").
If bike sharing is going to work on such a large scale, the city needs to make sure that it has enough bikes. "Part of what makes [bike shares] good is ample supply of bikes and stations, and a station density that is similar to transit density," says Dani Simons, communications director for the Institute for Transportation & Development Policy . The idea is to have enough infrastructure to make bike shares a competitive option for people: in practice, this means that no one should have to waste time searching for a station to park a bike. New York's system will have about 10 as many bikes as the system in Washington, D.C., which has become too popular.
I've ridden my bike around both D.C. and New York, though, and the experience is quite different. I'd recommend the bike share to anyone visiting or living in D.C.: it's pleasant and calm enough to bike there that even occasional cyclists can feel comfortable. I can't say I'd say the same about biking in New York, especially in Manhattan. Biking has gotten easier in New York, but like driving and walking, biking is more intense there than almost anywhere else.
What's promising about the New York system, though, is that it could introduce more New Yorkers to biking by making it easy for them to try short trips without the hassle of storing a bike. While D.C. is small enough that a bike ride can easily substitute for a trip on the hot, ever-delayed Metro, New York planners envision the bike share system as an extension, rather than a replacement, for the subway, suggesting a bike instead of "the long walk from Avenue D to the 6 train," a 20-minute route for which there's no public transportation available, or to get to the closest express stop. It could even convert some anti-bike New Yorkers: if there's one thing New Yorkers like, it's getting where they're going as quickly and as efficiently as possible.
Photo via ( cc ) Flickr user loop_oh