Articles
Artists Stage an Oily Protest in the Tate Britain
Yesterday London's stately Tate Britain got an unexpected new installation.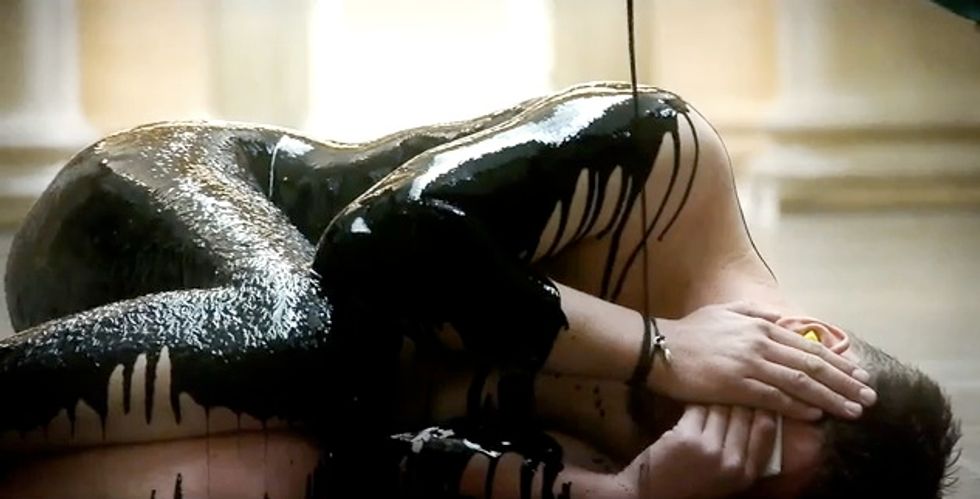 Yesterday London's stately Tate Britain, the oldest gallery in London's network of Tate museums, got an unexpected new installation. On the anniversary of the BP oil spill, a group of artist-activists removed a bench in one of the museum's large galleries, and poured "oil" (actually a mixture of charcoal and sunflower oil) over a naked co-conspirator who lay on the floor.
---
[youtube]http://www.youtube.com/watch?v=f4-vGbsBLKM
Why? The unsanctioned performance piece, called "Human Cost," was a protest by the group Liberate Tate, which has been trying to get Tate to end its relationship with BP—a relationship which basically consists of BP buying good publicity by giving the museum money and then putting its logo everywhere. As Terry Taylor, a member of Liberate Tate, said, "Oil companies like BP are responsible for environmental and social controversy all over the world, and we can't let their sponsorship of institutions like Tate detract from that fact."
Here's the irony, though: Liberate Tate was actually founded during a 2010 workshop on art and activism sponsored by the Tate. During the workshop, the group says, the Tate tried to prevent participants from doing anything that would embarrass the museum's sponsors. Suffice it to say, that kind of backfired.
Is this the most effective way to help communities damaged by oil extraction? Probably not. But art is meant to inspire discussion and here we are.
CORRECTION: As a commenter pointed out (thanks!), the protest was staged in the Tate Britain, not the Tate Modern. The post has been updated with the correction.
Via Eyeteeth