Articles
Ball of Confusion
Did Motown lose its way in the 1970s? I used to believe that compiling every Motown A-side up to about 1970 would create the greatest album of all time. Well, as it turns out, not quite. The Complete Motown Singles is a projected 12-volume, box set series released by Hip-O Select, an arm of Universal..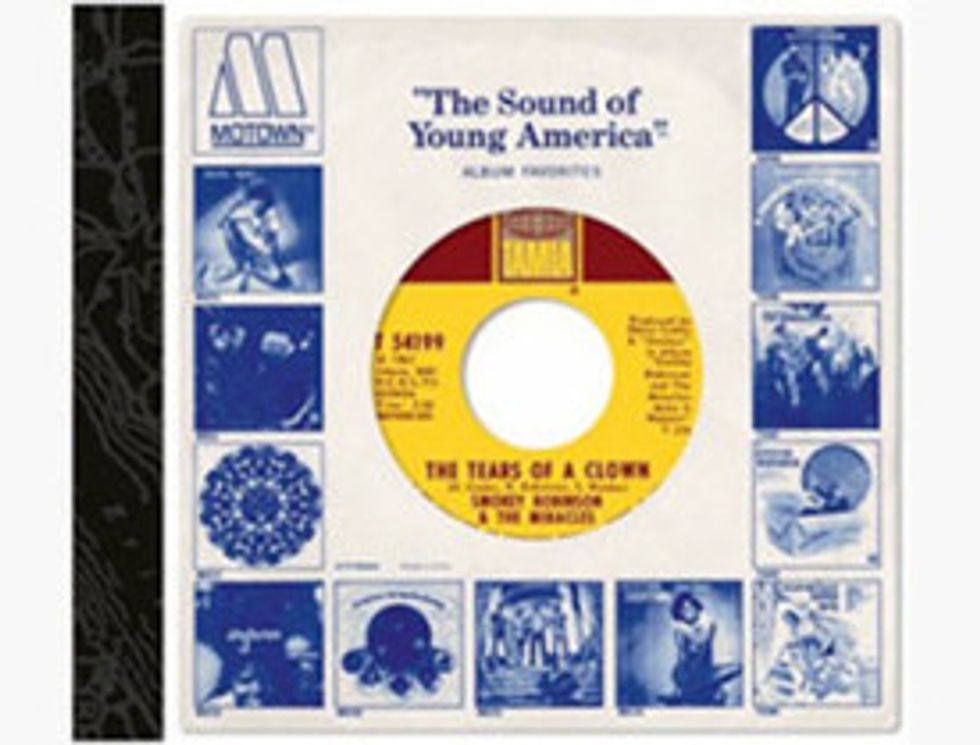 ---
Did Motown lose its way in the 1970s?
I used to believe that compiling every Motown A-side up to about 1970 would create the greatest album of all time. Well, as it turns out, not quite.
The Complete Motown Singles
is a projected 12-volume, box set series released by
Hip-O Select
, an arm of Universal Music specializing in reissues and compilations. The first volume dropped in 2005 and covered 1959-1961; there's a subsequent release for every year up through 1972.
Vol. 10: 1970
is newly available.Motown is frozen in the public's mind as an unyielding hit machine with merciless quality control. Even in its prime, it wasn't foolproof; at its ends, however, it was shakier. Early on, for example, founder Berry Gordy and his loyal staff tried just about any gimmick to make the charts-
The Complete Motown Singles Vol. 2: 1962
features "Mind Over Matter," recorded by the Pirates (a.k.a. the Temptations dressed up in, you guessed it, pirate costumes).From 1964-when Motown transformed from little indie that could to
Billboard
juggernaut-to 1969, the label's signature was its ability to absorb new styles. Dave Marsh's book
Heart of Rock & Soul
notes that the Four Tops's "Bernadette" incorporates Bob Dylan's phrasing ("They pre-
tend
to be my
friend
"). The young Stevie Wonder cut a single of "Blowin' in the Wind." The label had several small but potent hits by Junior Walker, who connected to the more raw sound of the
Stax label
. Staff producer Norman Whitfield brought Sly Stone's wild fusion of rock and R&B to the Temptations. The Supremes' "Love Child" took on social issues while combining real toughness with sheer Broadway. However smooth it may have been on the surface, Motown kept up.By 1970, Motown was no longer influenced by Bob Dylan; it was influenced by Bob Dylan's second cousin's friend's brother-in-law. An oddly Hollywood-styled variant on free love had butted into Motown's assembly line; so numerous are the awful love-will-save-the-universe lyrics that I flashed back to episodes of
The Beverly Hillbillies
involving hippies. On "As Long as I've Got You," Danny Hernandez & the Ones opine: "Some guys are so busy taking all they can/They don't stop to realize they're on the losing end/Every guy needs to find somebody of his own/And stop this thing that's going around breaking up people's homes." (The "thing" in question, of course, being hate.) Diana Ross's solo debut, "Reach Out and Touch (Somebody's Hand)," nods heavily to Bacharach-David's "What the World Needs Now" (which Ross covered when with the Supremes) and features such clinkers as, "Would I be talking to a stone/If I asked you to share a problem that's not your own?"Motown also took a greater interest in rock. They'd taken chances on guitar bands earlier-most notably a Toronto-based, mixed-race group called
the Mynah Birds
, featuring the odd couple of Rick James and Neil Young (before they were famous). By 1970 Motown had a rock subsidiary called
Rare Earth
, named for a nondescript group whose major success came from artless covers of in-house classics re-arranged for loud fuzz pedal-like their hit version of the Temptations' "Get Ready." Another Motown hit of the time was R. Dean Taylor's "Indiana Wants Me," a credulity-stretching, folk-rock song about a criminal on the lam. It's aged about as well as toast. The label also experimented with reggae with Bob & Marcia's cover of Nina Simone's "Young, Gifted & Black," a 1969 British hit that Motown imported for Americans. It sunk like a stone, and Motown left reggae alone.The hits on
Vol. 10
, of course, scorch almost uniformly. The Jackson 5 is the star act-represented by the unassailable hits "ABC," "The Love You Save," "I'll Be There." The box set confirms that the brothers were the recipients of the majority of the label's resources at the time. The permanent revelation, however, is Stevie Wonder. The songs on
Vol. 10
--"Never Had a Dream Come True," "Signed, Sealed, Delivered I'm Yours," "Heaven Help Us All" (not to mention "It's a Shame," which he wrote and produced for the Spinners)-point out how badly he needed the creative freedom he would soon earn, while still raising the bar that his string of mid-'70s masterpieces had to clear.I've listened to each
Complete Motown Singles
, but I don't frequently go back. They're built for an intensely deep dive-to come up and step away with a heightened understanding of Motown's particular magic, how well it worked when everything went right, how awry it could seem when it didn't, and where the label fit in its era. These boxes aren't albums; they're time machines.