Bernie Sanders Condemns The Virginia Shootings
The shooter allegedly volunteered for Sanders's campaign
06.14.17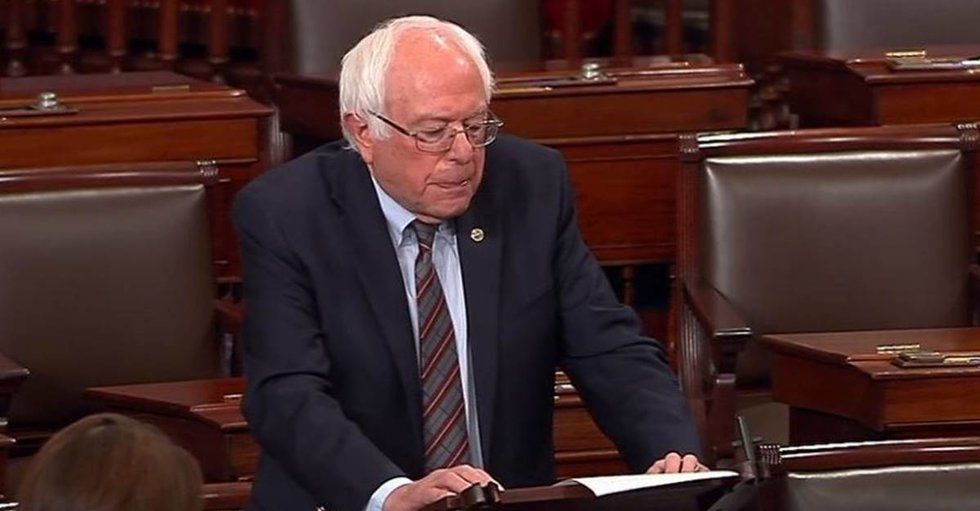 Bernie Sanders via Twitter
Vermont Senator Bernie Sanders is "sickened" by Wednesday's shooting in Virginia that injured several people, including Louisiana Republican Representative Steve Scalise. A lone gunman, angered by the election of Donald Trump, opened fire on members of a Republican congressional baseball team and was later killed in a shootout with the police. The shooter was identified as James T. Hodgkinson of Bellevue, Illinois, a man who allegedly once volunteered for the Bernie Sanders presidential campaign.
---
After the horrifying event, Hodgkinson's Facebook page was discovered by the press and it's cover photo featured a large photo of Sanders. According to The Washington Post, a friend of Hodgkinson said he was a "passionate progressive and showed no signs of violence or malice toward others." Senator Sanders was quick to condemn the act in a speech he made on the Senate floor.
I am sickened by this despicable act. Let me be as clear as I can be. Violence of any kind is unacceptable in our society. pic.twitter.com/ib2reH3ghQ

— Bernie Sanders (@SenSanders) June 14, 2017\n
\n
"I am sickened by this despicable act," Sanders said. "Violence of any kind is unacceptable in our society and I condemn this action in the strongest possible terms. Real change can only come about through nonviolent action, and anything else runs against our most deeply held American values." Sanders also wished a "quick and full recovery" for Representative Scalise, his staff, and the capitol police officers wounded in the shooting.

In the aftermath of the shooting, there have been calls for Congress to address the issue of gun control.
Things I'm Not Interested in Today

hopes
prayers
congressional hugging
Paul Ryan's anguish

Thing I'm Interested in Today

gun control

— Benjamin Dreyer ✏️ (@BCDreyer) June 14, 2017\n
\n
Two shootings today @realDonaldTrump, maybe you should get your hand out of the #NRA's pocket & correct your stance on #GunControl

— MissJass (@dingchiroptera1) June 14, 2017\n
\n
Here's the rub. Important DC folk can get security detail but innocent school children can't. People in nightclubs can't. #GunControl

— Lesley Abravanel (@lesleyabravanel) June 14, 2017\n
\n
quick reminder that a republican who didn't support gun control was shot

— reggie (@1942bs) June 14, 2017\n
\n
By the way, it's not too soon to discuss gun control in light of this morning's shooting in #Alexandria. It's actually too late.

— (((Ari Goldstein))) (@ari_goldstein) June 14, 2017\n
\n
Although Sanders is one of the most vocal progressives in the country, he has taken heat from Democrats for supporting a measure that protects firearm manufacturers from lawsuits. When asked by The New York Daily News, Sanders says he believes gun manufacturers and dealers should be able to be sued "when they should know that guns are going into the hands of wrong people." Sanders is quick to point out that he has a D- voting record from the National Rifle Association.





Articles