Articles
Which companies stepped up to speak out?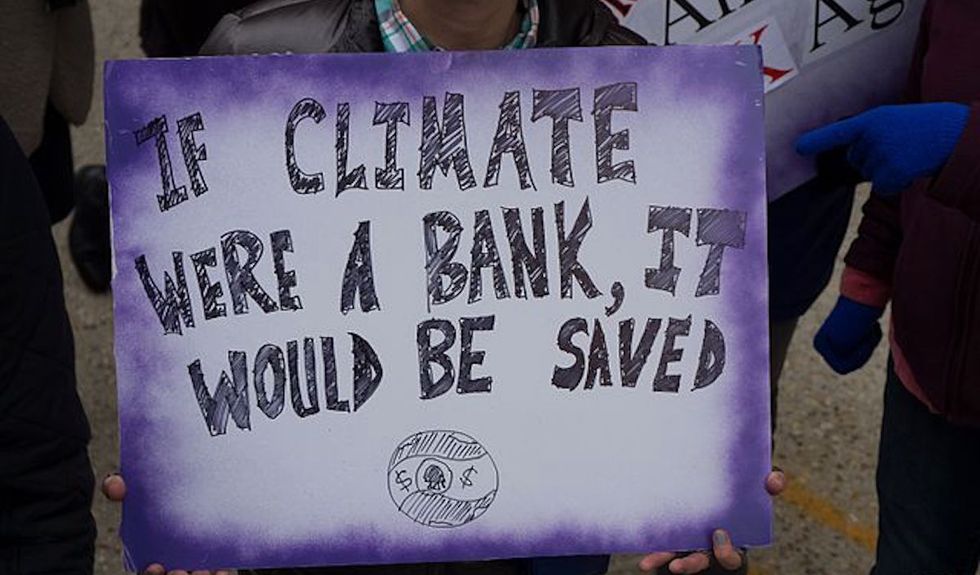 Image via Wikipedia
The world's political and economic leaders had a clear and immediate response to Trump's blatant denial of reality on Thursday: We're moving on without you.
---
Legitimate billionaire and former New York City Mayor Michael Bloomberg certainly took this stance in the aftermath of Trump's decision to withdraw from the Paris climate accord. According to the succeeding New York Times, Bloomberg has offered to pay the U.N. the $15 million the United States would have paid had Trump not pulled out of the deal. Bloomberg's spokesperson, Carl Pope, told CNN Money that sum will fund America's portion of the operating costs for the agreement. On Thursday, Bloomberg tweeted, "We can't wait for national governments to act on climate change. For solutions, look to cities."
But Bloomberg isn't alone in his quest to right Trump's wrongs. In an ongoing list amassed by The New York Times, at least 25 companies campaigned for Trump to stick with the deal and will now join the New York billionaire's efforts to move ahead without Trump. The fact that Trump can't legally pull out of the Paris agreement for another two years, combined with this kind of opposing mega money, makes Trump's words virtually meaningless. Brutally disheartening, but meaningless.
Check out a few of the companies vowing to fight Trump's anti-climate agenda below to see what I mean.
Tesla CEO Elon Musk
General Electric CEO Jeff Immelt
Facebook CEO Mark Zuckerberg
Google CEO Sundar Pichai
Shell Oil
IBM
The computer manufacturing company issued a statement:
"Climate change is an international problem that requires an international solution, and we believe it is important for the world to reduce greenhouse gas emissions. Therefore IBM supported—and still supports—U.S. participation in the Paris Agreement. This agreement requires all participating countries to put forward their best efforts on climate change as determined by each country. IBM believes that it is easier to lead outcomes by being at the table, as a participant in the agreement, rather than from outside it.

Whether the U.S. participates in the Paris Agreement or not, IBM will continue its decades-long work to reduce its own greenhouse gas emissions and will continue to help our clients do so as well."
Amazon
In a four-part Twitter announcement, the online retailer said: