Articles
Can Pasadena Farmers Trademark the Term "Urban Homestead"? [Updated]
An urban farm located just outside Los Angeles has trademarked the terms "urban homestead" and "urban homesteading." How's that gonna work?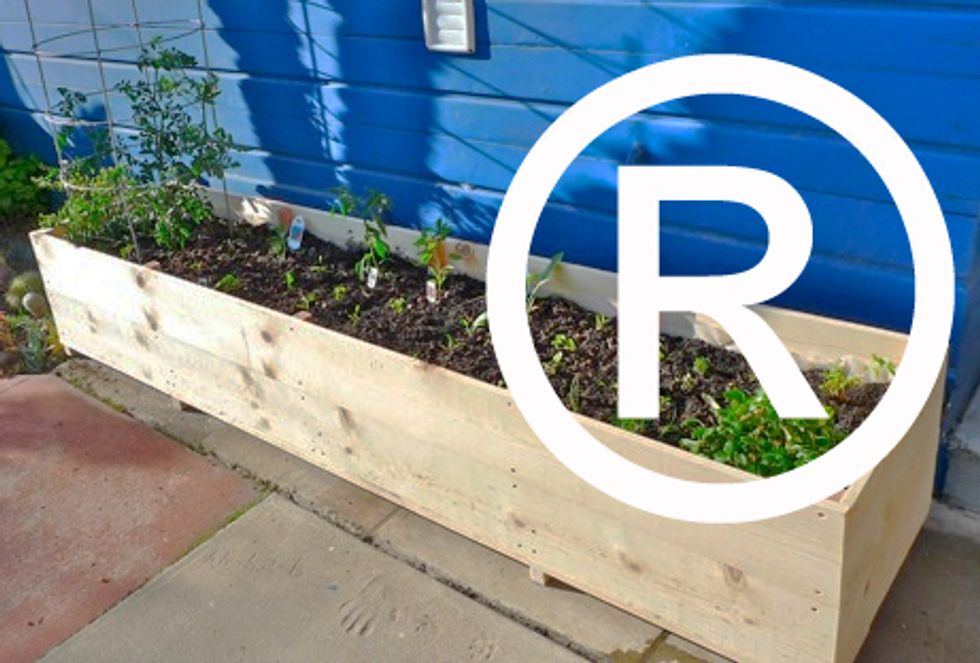 This story was updated with new information on February 18.
---
To all embarking upon urban sustainability projects that are related to growing food near homes in cities, beware! Before you write about any food-producing activities that take place at a farm location adjacent your residence which is in a major metropolitan area, check to make sure you're not violating the rules of the Dervaes family, who operate a fifth-of-an-acre farm in Pasadena, just outside Los Angeles. According to a story in the OC Weekly, Jules Dervaes has trademarked the terms Urban Homestead® and Urban Homesteading®, and they've started going after bloggers who use the terms without crediting them.
Harriet Ells, producer on the KCRW public radio show Good Food says that they received a letter from the Dervaes family after they mentioned "urban homesteading" on their blog. The Santa Monica Library reports getting a similar letter for hosting an "urban homesteading" event. The Facebook page of the Institute of Urban Homesteading was reportedly ordered to rename themselves, as was the page of Denver Urban Homesteading. In fact, just this morning, GOOD featured the How-to Homestead tours in San Francisco. Are they in danger of being shut down?
It's not just blogs and Facebook. In a comment on Facebook, writer Sundari Elizabeth Kraft says she got the same warning about her upcoming book, The Complete Idiot's Guide to Urban Homesteading (but the book, and its title are still going forward). She has posted a petition at Change.org to cancel the trademarks. There's now a new group on Facebook called, cheekily, Take Back Urban Home-steading(s).
[vimeo][/vimeo]
The Dervaes farm, which is beautifully captured in this video for I Am Los Angeles, has been a Pasadena institution since the 1980s and no one doubts their authority when it comes to growing tender greens. But the language in the letter about respecting their trademark, which Anais Dervaes has posted to their blog, is more than clear about their position. It just doesn't seem to be in the same spirit of a place that's all about, um, growing and sharing:
In addition, Dervaes Institute owns numerous trademarks which should be properly acknowledged if used. These protected names and images include the following registered trademarks:
\n
URBAN HOMESTEAD®
URBAN HOMESTEADING®
PATH TO FREEDOM®
GROW THE FUTURE®
HOMEGROWN REVOLUTION®
FREEDOM GARDENS®
LITTLE HOMESTEAD IN THE CITY® (pending)
Also, THE TEN ELEMENTS OF URBAN HOMSTEADING copyright has been filed with the Library of Congress.

\n

If your use of one of these phrases is not to specifically identify products or services from the Dervaes Institute, then it would be proper to use generic terms to replace the registered trademark you are using. For example, when discussing general homesteading or other people's projects, they should be referred to using terms such as 'modern homesteading,' 'urban sustainability projects,' or similar descriptions.

\n
This seems silly and unenforceable. Plus, it does seem a bit too late to try and wrestle a word back from what feels like a quite pervasive use in culture. According to the OC Weekly, the term has showed up in newspapers since the 1980s.
In an interview with the LA Weekly, Jules Dervaes defended the move. "We just wanted the term "urban homestead" to be part of what we started [at Path to Freedom] and be a pure standard and a legacy of what we started here," Dervaes told the LA Weekly. "We invested a lifetime of work and my childrens' work to make this a real possibility to help people." The family has published a series of blog posts explaining their side of the trademark battle, like comparing other trademarks in the agriculture field. (The SF Weekly posts an interesting angle wondering whether the copyright office made a mistake. Apparently, the Dervaes family was denied the trademark once before.)
Update: On February 18, the Dervaes family issued a press release which reiterates their stand, noting that after ten years, their website, http://www.urbanhomestead.org is the "largest and most comprehensive Urban Homesteading website." (it may be useful to note here that the site was originally found at PathtoFreedom.com, and used that URL for many years). But here's the kicker: "The Dervaes family project is known as the Urban Homestead®. While they did not come up with the name Urban Homesteading®, they defined its current, specific application." The statement goes on to use a Wikipedia article (?) to define what they do. And they also devote an entire paragraph to explaining the difference between blogging and journalism (thanks!).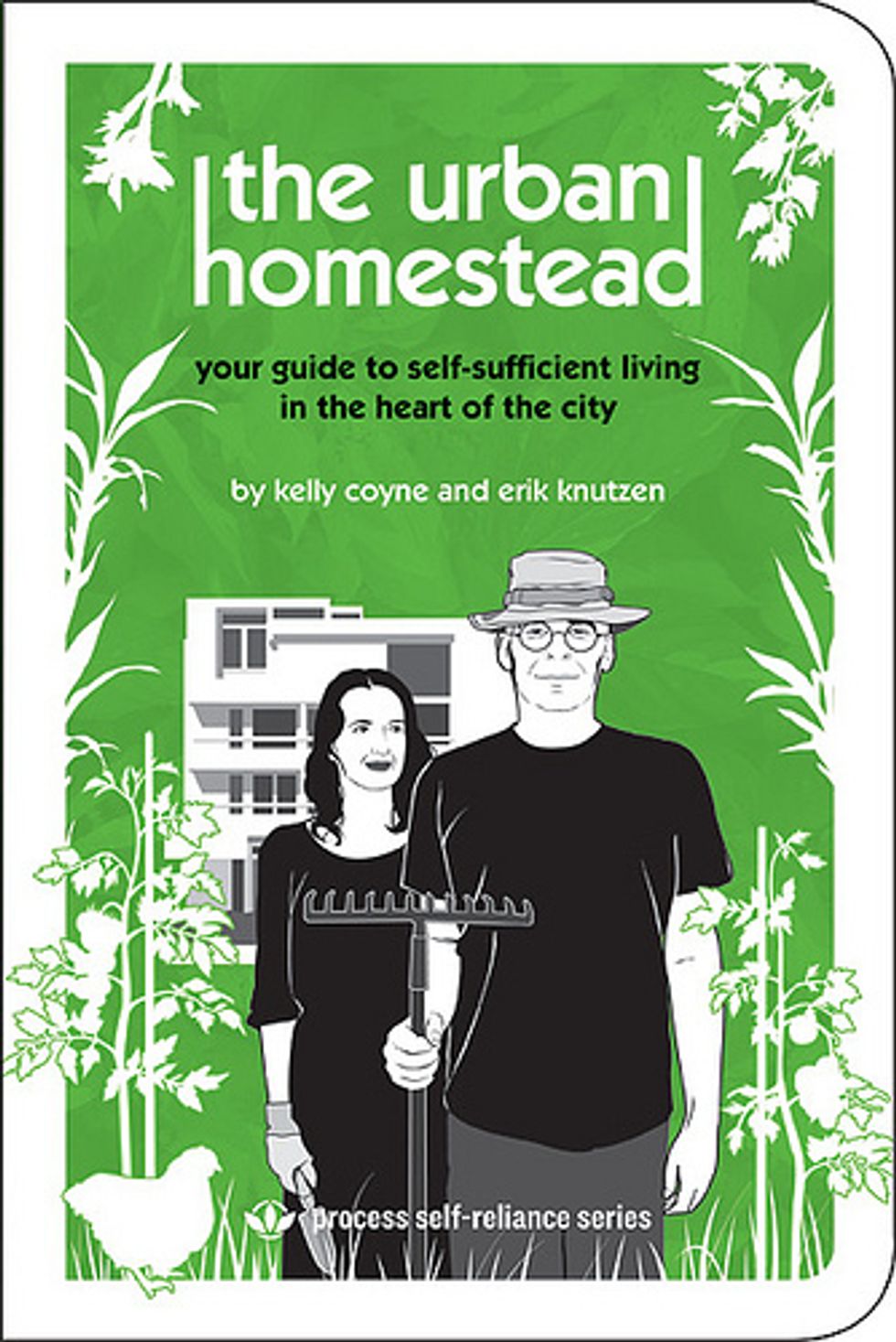 Of course, it's not difficult to find plenty of published works where "urban homesteading" is referenced, but the most famous is the book of another group of Los Angeles urban homestea—er,
urban sustainability project creators
(and sometime
GOOD collaborators
) Erik Knutzen and Kelly Coyne. Their book,
The Urban Homestead: Your Guide to Self-Sufficient Living in the Heart of the City,
was published in 2008, long before the Dervaes family trademarked the term.
I reached out to Knutzen and Coyne who pointed out that this kind of action goes against a key part of the homesteading movement. "Erik and I strongly believe that this movement must be open-source and accessible to all," says Coyne. "Once upon a time we would have learned homesteading skills at our mother's knee, but now we have to teach each other, share what we know, and help each other along. Generosity of spirit is an essential characteristic of the 'modern homesteader'—and I see this spirit everywhere we go."
Knutzen and Coyne recently changed the name of their blog from Homegrown Evolution to Root Simple. They give a smart reason for the shift. "The publishing and blogging world is getting a bit crowded in the 'urban homesteading' category," Coyne says. "It's time to expand the conversation and explore some new home ec related topics." Maybe they're right. Their new book is named Making It: Radical Home Ec for a Post-Consumer World.
This story was updated with new information on February 18.