Articles
Carpooling Quietly Booms in San Francisco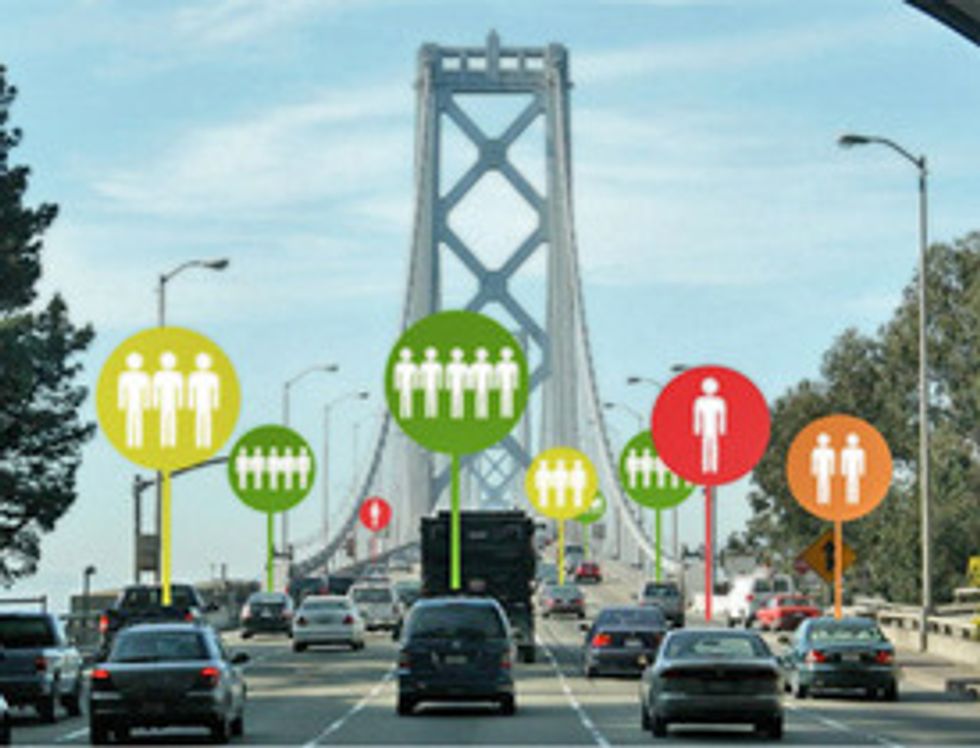 Can "casual carpool"-the Bay Area's grassroots solution to traffic-go global?
Every weekday, between 6:00 and 9:30 in the morning, a stream of cars and a line of pedestrian commuters converge at a Safeway supermarket in the Rockridge neighborhood of Oakland, California. Without a single raised thumb, the individual passengers fill the empty seats in the waiting vehicles. Once a car has three people, it jumps onto the nearby Highway 24, bound for the Bay Bridge. Thirty minutes later, the Rockridge cars drop off their passengers in San Francisco. Once in the city, riders walk to work or hop on city buses. It's unregulated, efficient carpooling with total strangers.There are pick-ups like the one in Rockridge at two-dozen East Bay locations, in neighborhoods as far reaching as Vallejo, Hercules, and Lafayette. They all share the same terminus: the intersection of Fremont and Mission streets in downtown San Francisco's central financial district.This practice is appropriately known as "casual carpool" by locals. To anyone who's tried to manage a daily commute from East Bay communities like Oakland or Berkeley into San Francisco, the benefits are immediately apparent. The passengers are freed from the rigid schedule of the Bay Area Rapid Transit trains. Missing a BART train can mean waiting 15 minutes for the next one, but the carpooling spots have a steady stream of cars, allowing for a fluidly unscheduled commute. The drivers, by carrying a carload of three or more people, get to use the fast, toll-free carpool lane for High Occupancy Vehicles on the Bay Bridge. They skip a $4 toll and the gridlocked traffic that builds up at the tollbooths.Casual carpool has expanded recently due to environmental concerns, according to Silicon Valley entrepreneur John Zimmer. Zimmer is the founder of Zimride, a social networking community that facilitates longer distance ride-sharing. He believes that increases in carpooling come from "a growing awareness of responsibility for our resource consumption; people realize they don't have to own a car anymore."But casual carpool is not a new phenomenon. It has been occurring for three decades. The Bay Bridge carpool lane for HOVs was established around 1975. The carpooling culture began developing by word of mouth soon after. (In Washington, D.C., a similar practice called "slugging" has been happening since the 1970s as well).Over the years, a sort of de facto code of ethics has evolved. In the cars, the radio plays classical, jazz, or, most commonly,
Morning Edition
, National Public Radio's venerable morning news program. Talking, if it occurs, begins at the driver's discretion. The ride may be peacefully quiet or host to an impromptu round table discussion. Passengers do not talk on their cell phones and food or drink must be cleared with the driver before entering a vehicle. Riders don't tweak the windows or the air conditioning. Drivers, for their part, are expected to drive conservatively and maintain sanitary vehicles. Female riders who feel uncomfortable at entering a two-seat vehicle with a male driver commonly bypass the first car and ride in another vehicle to take advantage of the "safety of three." Likewise, any rider or driver that does not feel comfortable with a given combination is welcome to wait for another car or rider without upsetting fellow carpoolers.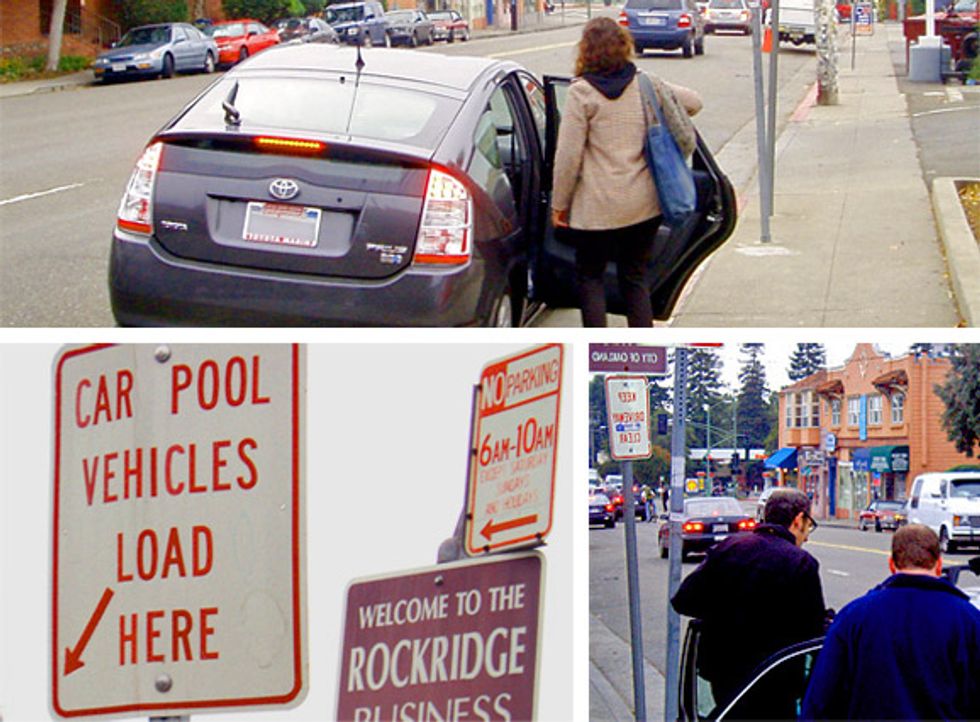 ---
Testing it out, I quickly learned one of the cardinal rules. Taking the back seat in a sleek black Mercedes, I asked my fellow passenger if she planned on seeing
Michael Clayton
, the film being discussed on NPR. The driver, a stern woman dressed in black leather pants and a shadowy cashmere turtleneck, glared at me in her rearview mirror before pointedly cranking up the volume. Cutting short her response, my unwitting accomplice returned to her book. We drove over the bridge in silence until the driver's mobile chirped. Most of my other experiences with casual carpool have been far more convivial. One recent ride was spent discussing Eddie Vedder's solo tour after the driver went off the reservation and played the
Into the Wild
soundtrack.
"The single largest transport resource not just in the Bay Area, but in the entire country, are the empty seats in everyone's car." -Randy Rentschler
Perhaps most striking
about San Francisco's casual carpooling is that it is completely unregulated and without official oversight-it is in no way affiliated with the local government or transit authorities. But they're certainly aware of it; the scale of casual carpool is enormous, and its impact is significant. As Randy Rentschler, the director of legislation and public Affairs at the Metropolitan Transportation Commission for the Bay Area told me, "Free carpools are the single largest category of vehicles passing the bridge in the morning-more than cars, toll payers, buses, everyone. It just works and it's a good thing for everybody." Rentschler acknowledges the enormous forfeiture in potential public revenue. According to the MTC, carpools account for 46 percent of morning traffic on the Bay Bridge, equaling an $18.4 million loss in annual revenue. According to Paul Minett, CEO of Trip Convergence, a New Zealand-based company that is researching this successful American model to cultivate "flexible carpooling" in other U.S. cities and abroad, about half of that 46 percent is casual. Nearly a quarter of the total morning traffic across the Bay Bridge is casual carpool vehicles.Despite their loss in revenue, MTC transit authorities regard the practice as positive. It eases transportation stresses, creates significant travel time savings, dramatically reduces traffic, and contributes to the "more efficient use of an already established and trafficked infrastructure." As Rentschler says, "The single largest transport resource not just in the Bay Area, but in the entire country, are the empty seats in everyone's car." This resource often simply goes to waste.If such a transportation boon emerged naturally in the Bay Area, why don't we see this in more big cities? The answer involves both urban topography and social incentives. San Francisco is a big city occupying a small peninsula. The city is bounded to the north by the Golden Gate Bridge, the Silicon Valley connects by land to the south, and the Bay Bridge links San Francisco to East Bay cities like Oakland and Berkeley. Casual carpoolers are funneled towards a single, concentrated zone. The majority of carpoolers work in the financial district or in SOMA, the proximate neighborhood just south of Market Street. Rentschler says that people seek "certainty, and simplicity in their morning commute. No matter where you get in, you know where you get out." The geography of the Bay Area provides them with that.The return trip is also simple. Because commuters leave work at various times and head for multiple East Bay locations, the majority take a BART train or AC Transit bus. The rigid schedules aren't as much of an inconvenience after work because in the evenings, people tend to have more flexibility in their schedules. And the carpool drivers? Conveniently, the Bay Bridge doesn't toll drivers exiting the city. Drivers who return home alone still make the round trip for free.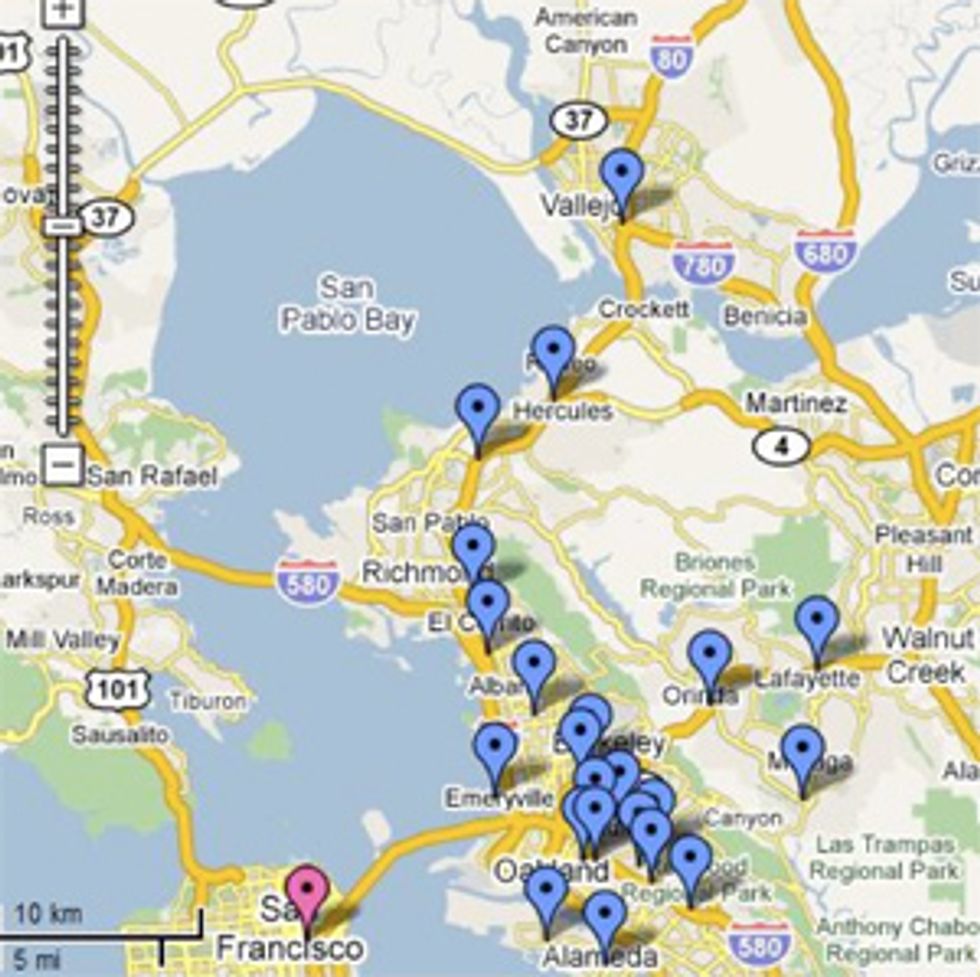 According to Rentschler, this desire for simplicity even carries over into demographics: "you are going to ride to work with somebody that you can relate to." Getting into a Volvo and listening to NPR is, as he says, "a comforting sensation" because, while the participants don't technically know one another, they can intuit common values and shared incentives.Is there a national future for this phenomenon? While the Bay Area's layout makes it especially conducive to casual carpool, other cities may soon see the advantages of developing their own casual carpool culture, especially as the realization broadens that being eco- and econo- conscious are increasingly the same thing. Minett says the practice could work in many places, including Portland, Seattle, and New York and "that there is a necessary bundle of benefits that need to be created, that together would make this work in 'new' cities." He stresses that changes in people's commuting patterns must come from offering positive alternatives.That said, if cities could structure commuters' incentives to cause only a small change in urban behavior, they could see enormous gains in efficiency. Consider a road that has a lane capacity of 2,000 vehicles per hour. "Suppose you think about those 2,000 vehicles per hour as 50-seat buses," says Minett. "You would say the 'people capacity' of the road is 100,000 people per lane hour. If they are all single occupancy vehicles, the 'people capacity' is 2,000 people per lane hour. If the average occupancy is 1.2 people per vehicle, the current usage is 2,400 people per lane hour, or about 2.4 percent of maximum. We only need to help a relatively small proportion of the people to get into other vehicles to get a huge increase in throughput."Rather than sitting alone in traffic, perhaps it is time that we, as a community of commuters, think of carpooling as a faster, cleaner, and more convenient way to get to common destinations. It often is. And after all, whether we like it or not, we're already all heading in the same direction.
SO IS IT SAFE?
I was unable to find any major problems reported involving casual carpooling. To gauge the mood on the street I interviewed five carpoolers for their thoughts on their morning ride. (I talked to an equal number of men and women, but the women were much less enthusiastic about having their photos taken, so my sample group skews male.)
The Carpooler Crowd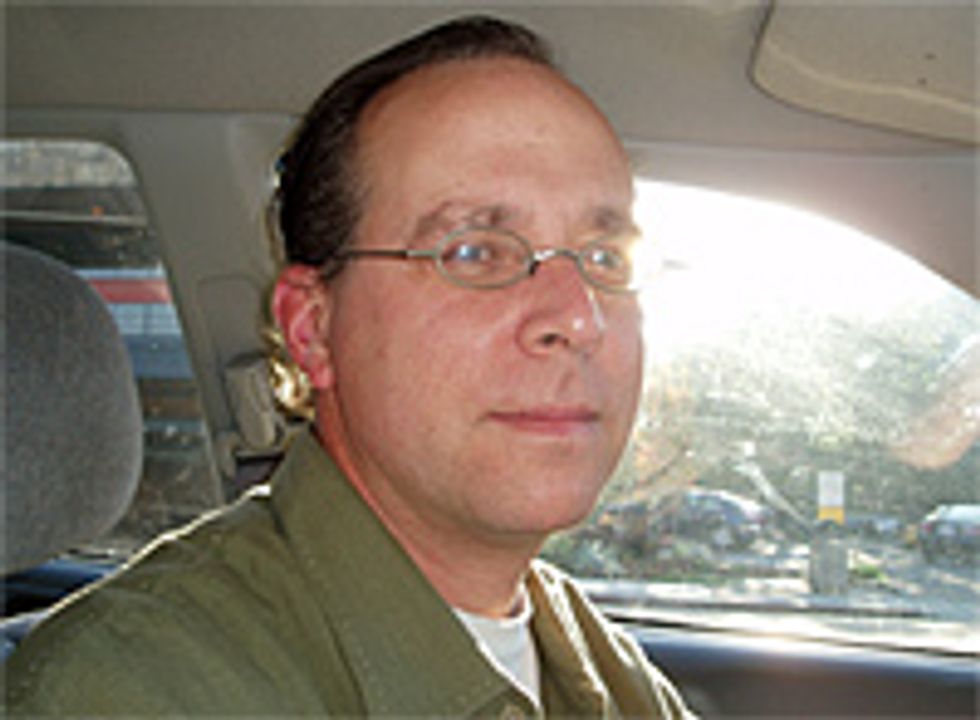 1) Chad Coerver, Driver.
Publishing
Director of Publications, San Francisco MOMA.He has been using casual carpool for 10 years, as both a rider and driver, after hearing about it from museum coworkers. His motivations are time-savings, environmental-savings and money-saving, in that order. He likes the "convenience and community ethos" and says it "makes you feel plugged into a neighborhood."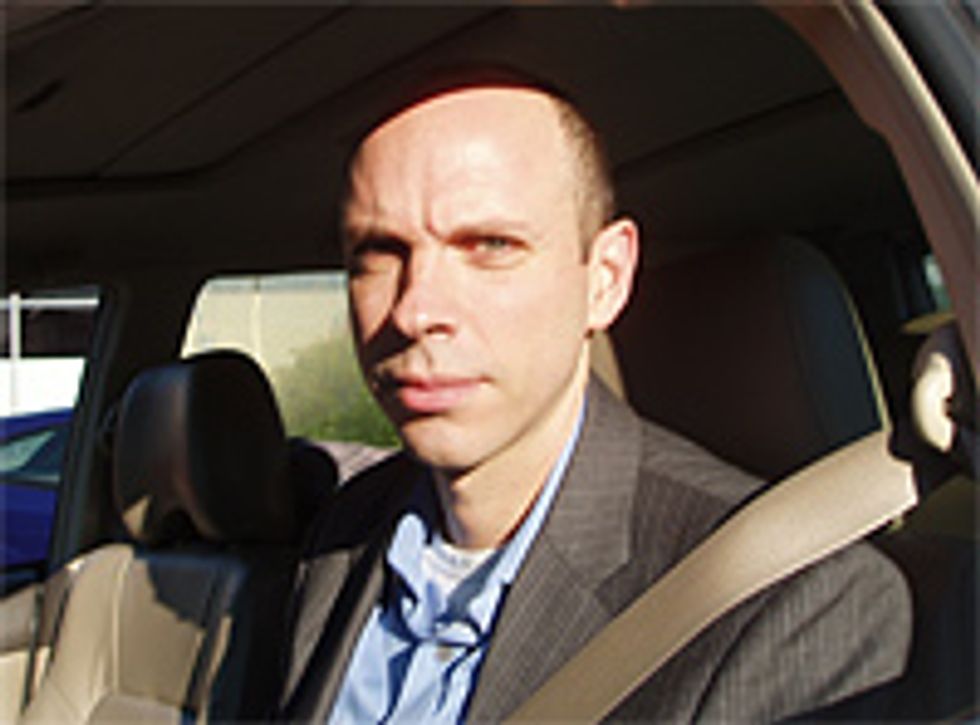 2) Peter Merholz, Driver/Rider.
President, Adaptive Path.He heard about the phenomenon when he was still in college at the University of California at Berkeley and has been using it for the last month. "What I love best about casual carpool is that, even with pretty much no rules, it simply just works. I totally feel safe. The type of lefty professional that casual carpooling attracts is never threatening."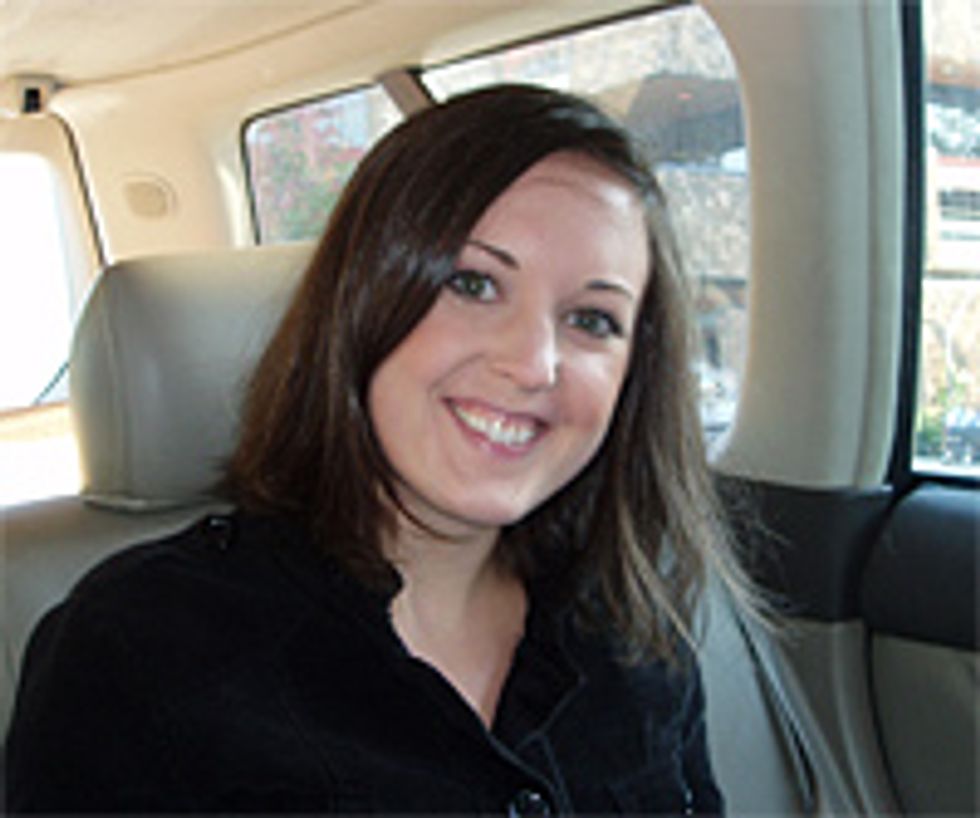 3) Barbara Stettler, Rider/Driver.
Industrial Designer, New Deal.She's been carpooling for six months after hearing about it through friends. She doesn't feel it's analogous to hitchhiking because she doesn't think "many hitchhikers are professionals heading off to a job." She's "almost always felt 100 percent safe," and factors money, time, and environment as primary motivations.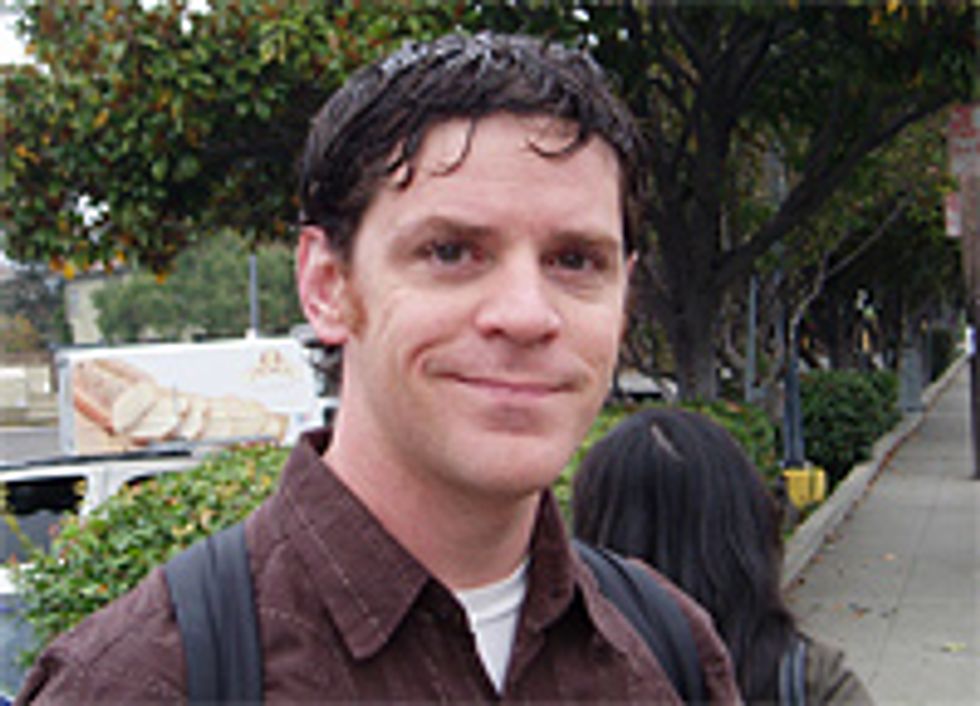 4) David Whitfield, Rider.
Architect/Director of Sustainability, BSA Architects."There's a lottery every day, sometimes you get the perfect mess and its an hour in a smelly pickup truck…others, you get a pro bono lawyeress, in a red hybrid and you get there in 25 minutes casually chatting about NPR stories." It has "none of the stigma/fear factor of hitchhiking." He spends the commute texting and sipping tea.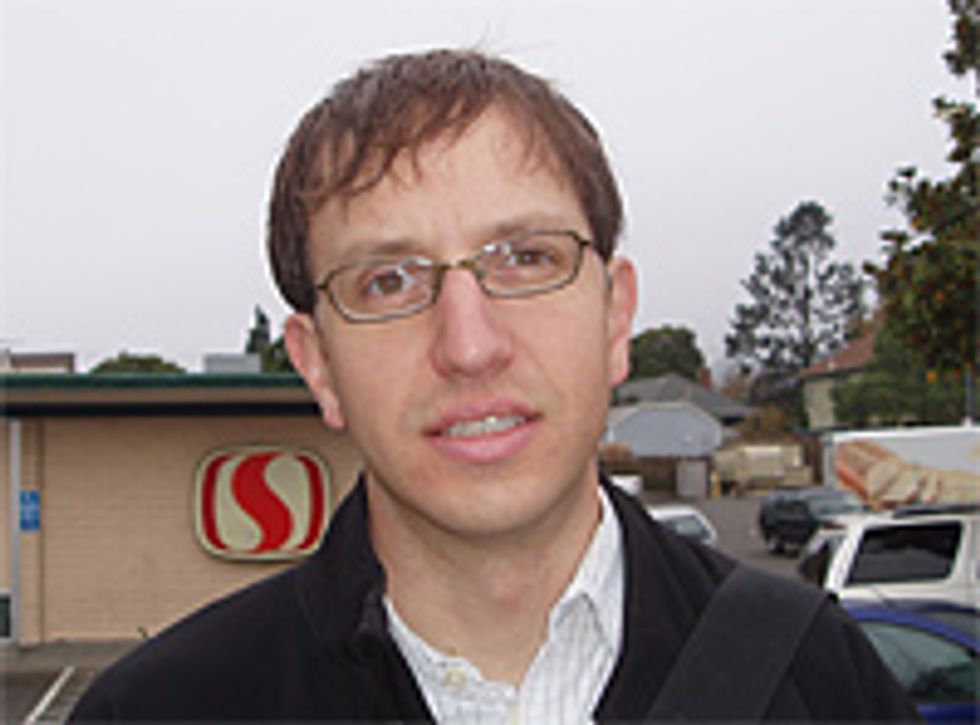 5) Ben Metcalf, Rider/Driver.
Project Manager, BRIDGE Non-Profit.Carpooling for two years, he feels "completely safe" and sees "a clear mutual advantage which isn't there for hitchhiking. … There's no power dynamic, it also helps that there are three strangers." He doesn't "think people talk enough. I think we'd all do better as a community and enjoy ourselves a bit more if we opened up."
LEARN MORE:
ridenow.org/carpool
slug-lines.com
flexiblecarpooling.org
zimride.com
Original photo for illustration courtesy of flickr user omniNateA version of this piece appeared on page 72 of GOOD 015: The Transportation Issue.