Articles
Changing Gears
On custom-built mountain bikes, Rwandan coffee farmers are finding their commute a little lighter.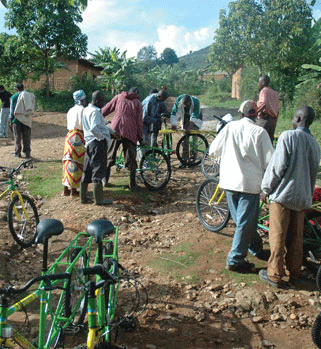 ---
Imagine walking
two miles over rough clay roads, lugging 300 pounds of coffee beans to a processing station. The faster you get the harvest in, the fresher the beans are and the more money you'll make. And since you make about $400 a year, money is an issue.This is the challenge faced by Rwanda's coffee farmers, and a new U.S. nonprofit thinks it has devised a brilliantly simple solution: the wheel.This spring,
Bikes to Rwanda
, an organization spun off from the Portland roaster Stumptown Coffee, dropped 400 enormous mountain bikes at Rwanda's Koakaka Karaba cooperative, one of Stumptown's suppliers. The bikes are not sleek urban cruisers. Featuring a huge, bridge-like rack and a latticework of braces for innumerable strapping and lashing options, the chunky warhorse design provides a smooth (if slow) ride, and makes it tough to fall even with that 300-pound load.Bikes to Rwanda is fundraising for future shipments (Rwandans help cover the cost by paying $120 worth of beans for one bike)-but is also monitoring its first delivery to see how they are used in the field. "We tend to assume a lot about developing countries," says BTR's Clara Seasholtz. "This is like any other tool. They'll figure out ways to use them we could never imagine."
VIDEO
Bikes to Rwanda
LEARN MORE
bikestorwanda.com