Articles
City Year: If You're Out There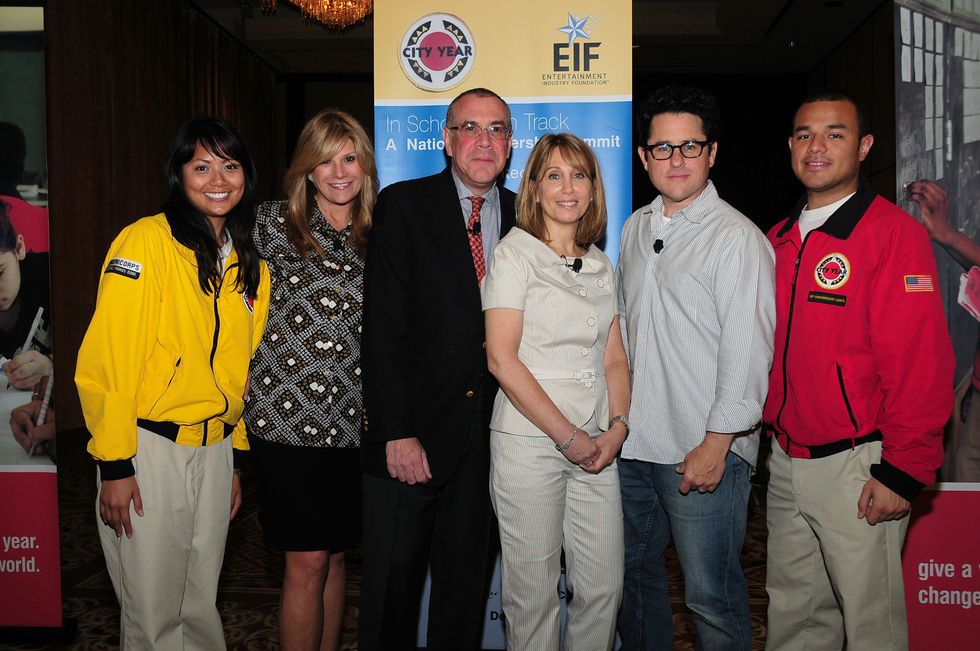 ---

City Year corps members based in Los Angeles write about their experiences.

"We have to stop lying to ourselves that we're going to keep doing the same things we've been doing and think we're going to get different results."

On Tuesday, Carmita Vaughan, chief strategy officer of America's Promise Alliance, exhorted an audience of several hundred to rethink educational strategies. At "In School & On Track," a national leadership summit hosted by City Year, Vaughan said that Americans had become "masters of incremental results," celebrating small percentage point increases instead of seeking large-scale reforms.

City Year places 17- to 24-year-olds in service as tutors and mentors in high-poverty schools, working to end the high school dropout crisis. The two-day summit brought together private and corporate sponsors, nonprofits, researchers focused on education, government officials, educators and administrators, and members of the entertainment industry. The diverse group focused on the common goal of better serving the nation's students, but also discussed strategies to build nonprofits and maximize the impact of both philanthropy and national service.

Vaughan's comments came from a panel focused on innovative approaches to helping educators and students succeed. During that session, Juan Sepúlveda, director of the White House Initiative on Educational Excellence for Hispanic Americans, discussed the importance of expanding effective models being implemented in niche areas. Sepúlveda asked: "How do we take these ideas and grow them to scale? How do we take these pockets of excellence and take them across the nation?"

The next day, leaders from corporate and entertainment-based philanthropic foundations continued the discussion of strategic growth, focused on supporting effective work, building capacity for successful organizations, and spreading efficient, effective strategies across nonprofits.

Ray Reisler, executive director of the S. Mark Taper Foundation, argued that philanthropy has a responsibility to create diversity by funding innovative ideas, as well as to create long-term databases to sustain impact and build collaboration. "Those things need to be done in addition to just pouring funds," Reisler said, pointing out City Year as an effective model built on strong leadership, attention to publishing data and sharing impact. Educators and foundations echoed praise for City Year's staff and corps members, as well as their financial support—$4 million in pledges from school districts and $15.7 million from the private sector.

At Tuesday's opening luncheon, Raul Vazquez, executive vice president at Walmart, announced a $1.2 million grant to support literacy training for its corps members. On Wednesday, the PepsiCo Foundation announced a pledge of $6 million to support Diplomas Now over the next three years, adding to its original $5 million grant to the program in 2008. The school-turnaround program unites City Year, Communities in Schools, and Talent Development to provide comprehensive support for students most at-risk of dropping out.

The event also highlighted the individual success stories about corps members' breakthroughs with their students. Those personal, emotional connections to service are the best way to motivate others to serve, said J.J. Abrams, the creator of "Alias" and "Lost." Abrams appeared in an entertainment industry panel on Wednesday that offered perspectives on mobilizing the nation. In his own work, Abrams uses his own emotional reality as a starting point to reach out to others. Even with films meant to inspire others, he said, the message should be "meaningful but not preachy," sending out ripples of inspiration.

The summit concluded with a musical performance by John Legend, who wrote and performed the theme song for "Waiting for Superman." Legend dedicated his final song, "If You're Out There," to the volunteers in the audience, urging them to continue their important work.

Audrey Kuo is a City Year corps member based in Los Angeles.