Articles
Community Arts Organizations Get Their Bailout Money
A pop-up dinner series is connecting art lovers with organizations who need funding.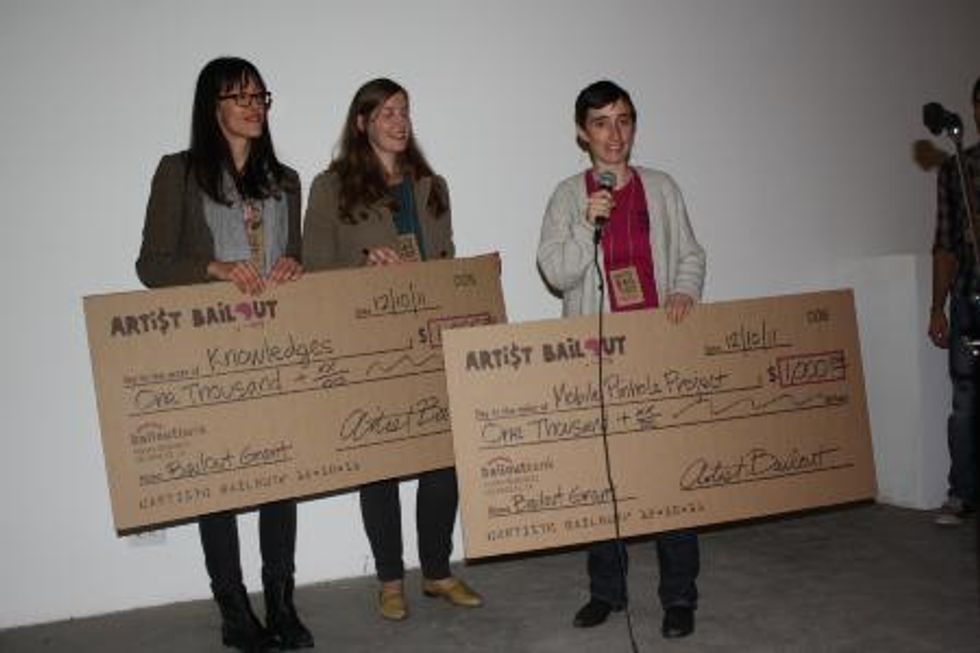 Last summer, Nina Becker (above, right) converted her van into a "gigantic pinhole camera." Now she needs $1,000 to use the "VanCam" for five photography workshops with students in Los Angeles. "We wanted to teach kids about photography on a scale that related to their own bodies," she explained to a crowd of 100 potential micro-investors gathered at Human Resources, a gallery in L.A.'s Chinatown, to consider her pitch over slices of sweet potato-bacon and coconut cream pies.
---
Becker's organization, The Mobile Pinhole Project, was one of seven local arts groups seeking funding at the third installment of an event series called Artist Bailout, which looks to "democratically fund new work by emerging artists." Attendees donated $10, or more if they were willing, in exchange for dinner and a ballot (GOOD matched donations with a $1,000 check). At the end of the night, participants cast votes for their two favorite organizations.
When all the votes were tallied, The Mobile Pinhole Project came out on top, along with Knowledges, a curatorial collective that's planning a weekend-long exhibition in June at Mount Wilson Observatory, a neglected telescope in the San Gabriel Mountains. The winning groups received $1,000 each, with $100 going to each of five runners-up.
With funding for local arts and community programs drying up because of the economic downturn, the Artist Bailout provides an alternative for artists whose work lies outside traditional funding mechanisms, and gets art lovers invested in their communities. Think of it as bringing Kickstarter to life for a night, plus pie. Elana Mann, one of the event's organizers, said she thought Saturday "went amazingly well... We were hoping to at least make $1,000, so we're thrilled," she said, while handing rolls of 20-dollar bills to presenters claiming their prizes. Past Artist Bailouts have funded projects like Stair Street Ghosts, a walking tour of L.A.'s historic Mt. Angelus neighborhood, known for its staircase sidewalks that typically remain closed to the public.
With $1,000 in the bank after Saturday night's success, Knowledges cofounders Christina Ondrus and Elleni Sclavenitis only need about $500 more to realize their event. They plan to host installations and film screenings by 40 artists whose work or aesthetic is inspired by astronomy. Ondrus and Sclavenitis hope the event will be the first of many site-specific exhibitions around Los Angeles. "Art doesn't happen in a vacuum," said Ondrus. "It happens somewhere. Not just in a gallery or a closed space."
Photo by Zak Stone