Never Underestimate the Power of Bell Peppers
They're not just for color anymore.
10.13.16
Red, yellow, and orange bell peppers can add color to your recipes but they also add crunch and a subtle sweetness to your favorite dishes. A good source of Vitamin C, bell peppers are no longer just on the sidelines but could be the star of the show too.
Plus, when you buy Whole Trade® bell peppers, you're supporting better wages and working conditions for farmworkers. Just look for the Whole Trade® Guarantee seal.
---
Roast an array of bell peppers in different colors and stuff them to make a good presentation on your table. This recipe for roasted bell peppers stuffed with quinoa also has mushrooms, spinach, and cashews.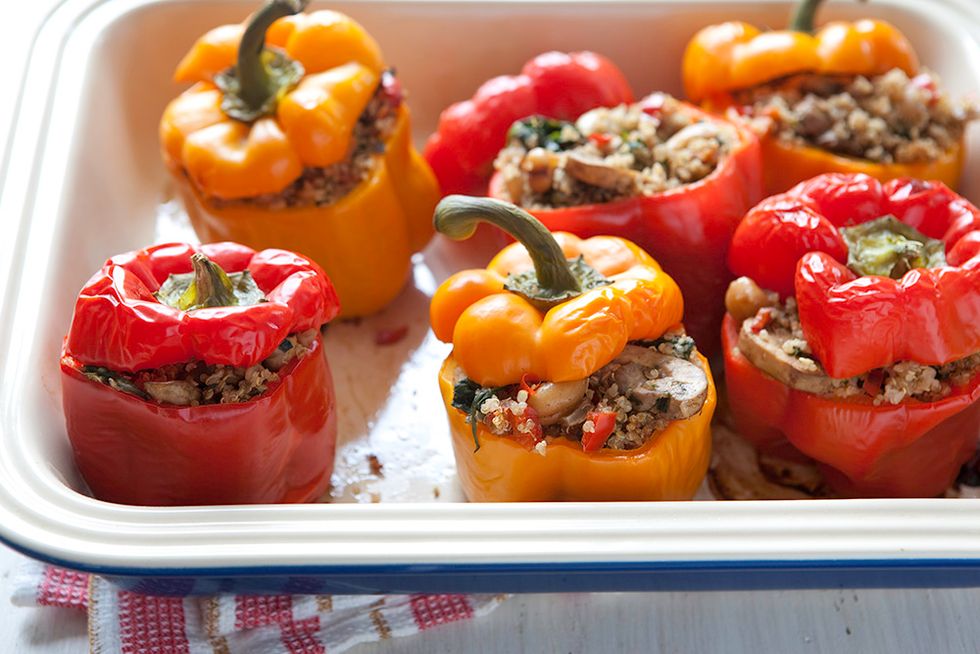 Ingredients:

1 tablespoon extra-virgin olive oil, plus more for oiling the pan
1 red onion, chopped
1/2 pound sliced mushrooms
1 cup chopped carrots
7 bell peppers, 1 cored, seeded and chopped; tops removed and reserved from remaining 6 then cored and seeded
1/2 cup chopped parsley
1/4 pound baby spinach
1 1/2 teaspoons ground cinnamon
3/4 teaspoon ground cumin
1 cup uncooked quinoa, rinsed and cooked according to package directions
1/4 teaspoon fine sea salt
1/2 cup roasted cashews
1/4 teaspoon ground black pepper

Method:

1. Heat oil in a large skillet over medium high heat. Add onion and cook, stirring occasionally until transparent, 8 to 10 minutes. Add mushrooms and cook until softened, 4 to 5 minutes more. Add carrots and chopped peppers, cook until just softened, then add parsley and spinach (in batches, if needed). Let spinach wilt then stir in cinnamon, cumin and cooked quinoa and toss gently to combine. Add salt, pepper and cashews and cook 1 to 2 minutes more. Set aside to let filling cool until just warm.
2. Meanwhile, preheat the oven to 350°F. Lightly oil a 9x13-inch baking pan; set aside.
3. Divide quinoa mixture evenly among remaining 6 bell peppers, gently packing it down and making sure to fully fill each pepper. Top each pepper with its reserved top then arrange them upright in prepared pan. Cover snugly with foil and bake, checking halfway through, until peppers are tender and juicy and filling is hot throughout, about 1 hour. Transfer to plates and serve.
Kick up the flavor of your game day dip with this Cajun bean dip with red bell peppers that's also vegetarian-friendly.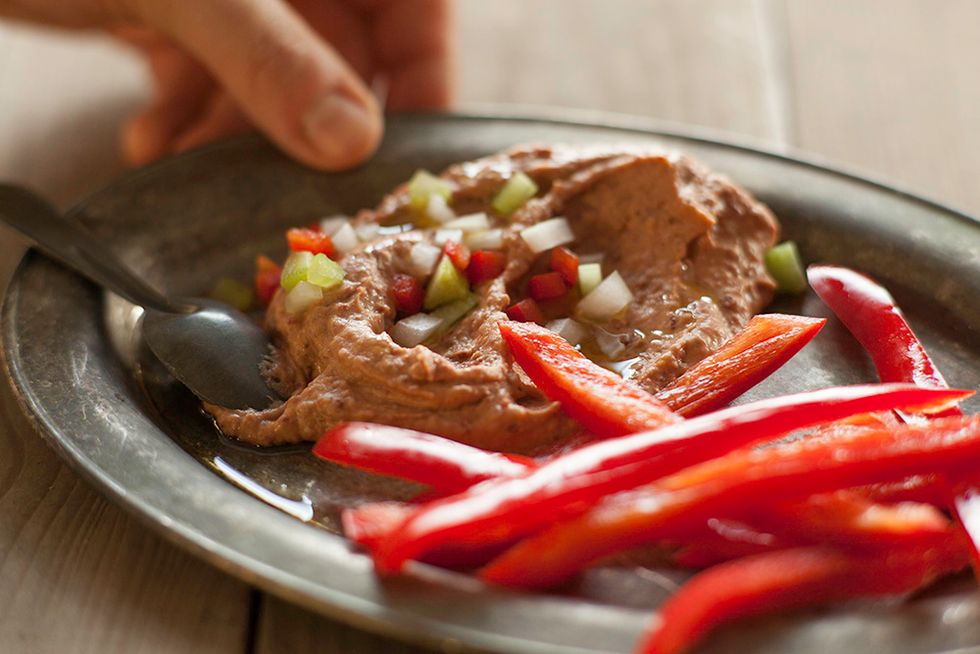 Ingredients:

2 (15-ounce) cans red kidney beans, rinsed and drained
1/4 cup lemon juice
4 tablespoons extra-virgin olive oil, divided
1 tablespoon mild Cajun seasoning
1 clove garlic, more to taste
1/4 cup finely chopped red bell pepper, plus 4 to 6 whole red bell peppers, sliced
1/4 cup finely chopped celery
1/4 cup finely chopped sweet onion

Method:

Purée beans, lemon juice, 3 tablespoons oil, seasoning and garlic in a food processor until very smooth and creamy. Transfer to a bowl. Garnish with chopped peppers, celery and onion. Drizzle with remaining 1 tablespoon oil and serve with sliced peppers for dipping.
Stir-fry thinly-sliced sirloin steak with a mix of bell peppers, carrots and snow peas and serve over brown rice for a quick yet healthy Asian-inspired meal in the middle of the week.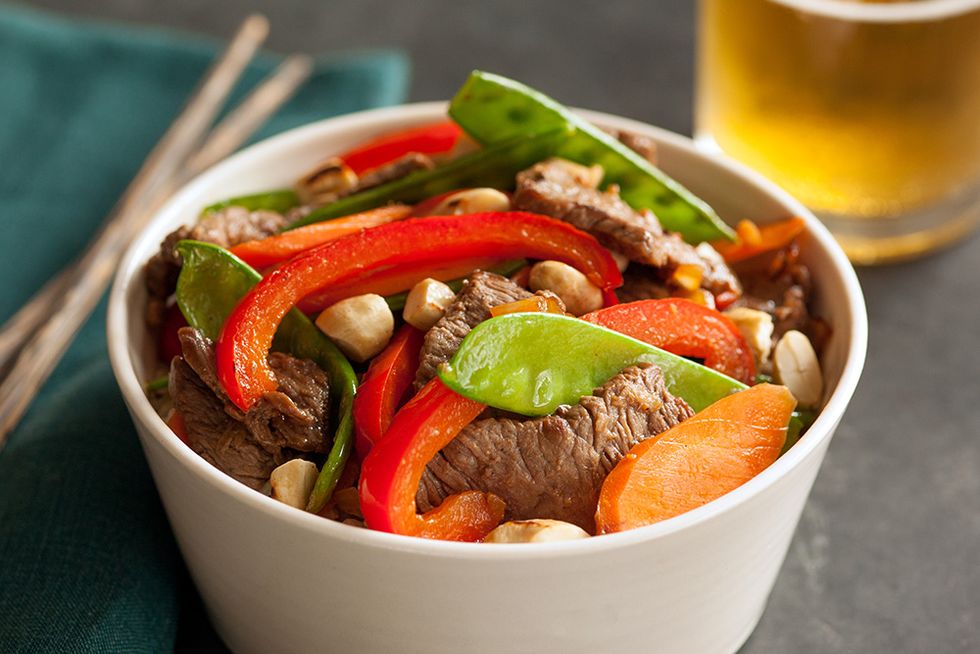 Ingredients:

2 tablespoons rice vinegar
1 tablespoon reduced-sodium tamari
2 teaspoons grated fresh ginger
2 cloves garlic, minced
3/4 pound top sirloin steak, thinly sliced against the grain
1/2 cup sliced shallots (from about 2 shallots)
2 red bell peppers, thinly sliced
4 carrots, thinly sliced
8 ounces snow peas, strings removed
3 cups cooked brown rice
1/4 cup chopped toasted cashews

Method:

1. Combine vinegar, tamari, ginger and garlic in a medium bowl. Toss sliced beef in mixture and marinate in the refrigerator for 30 minutes.
2. After beef has marinated, heat a large skillet over medium-high heat. Add beef and marinade and cook until beef is just done to your liking, about 5 minutes. Remove beef and juices to a bowl, cover and keep warm. Add ½ cup water to the skillet, bring to a simmer, add shallots and cook 3 minutes or until tender. Stir in bell peppers and carrots. Reduce heat to medium and cover. Cook until vegetables are just fork tender, 7 to 8 minutes, stirring once. Uncover and increase heat to medium-high. Add snow peas and cook 2 minutes longer. Return beef and any juices to skillet and cook 1 minute longer to heat everything thoroughly. Serve with cooked brown rice and garnish with cashews.
Go to wholefoodsmarket.com/recipes to find more delicious recipes. And don't forget to visit wholefoodsmarket.com/sales or download the app to enjoy great savings on Whole Trade® red, yellow, and orange bell peppers​ and other high-quality ingredients!
Articles