Articles
Coupons For College: Groupon Discounts Graduate School Class
Chicago's National Louis University is offering an introductory teacher education class through a Groupon deal.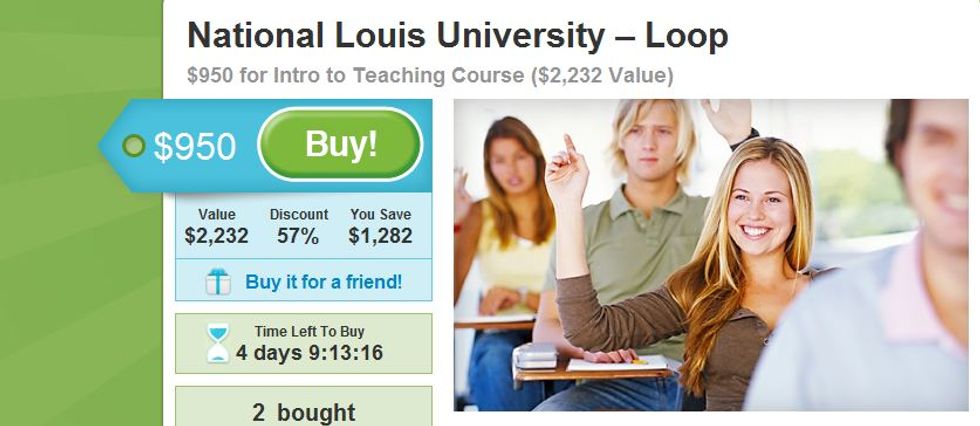 Modern students weren't known as coupon clippers until Groupon came around. Now, the website might help them pay for their education as well as tonight's dinner. Prospective teachers who decide to enroll in "Introduction to the Profession and Craft of Teaching" at National Louis University, a private teacher prep school in Chicago, could save some serious dough thanks to
a Groupon deal
offered this week.
Students who buy the deal will pay $950 for the 10-week graduate-level class instead of the normal $2,232, saving a whopping 57 percent. But is the class worth even the discounted price? The description says it will "guide you through making the right decision about whether this vitally important profession is right for you." Students will attend lectures and "complete a 15-hour field experience in a professional learning environment, where they will observe educators commanding their classrooms, tutoring centers, libraries, and more."
---
Call me old-fashioned, but you can figure out if you want to be a teacher for free. Thanks to budget cuts, schools are pretty short-staffed, so if you want some field experience, all you have to do is call a school and ask to volunteer in a classroom. You'll be able to talk to teachers about the pros and cons of the profession and learn how to earn your credential. Or you could head to the library and check out one of the many books written by teachers after their first year in the classroom, or read online about the issues and trends impacting the field.
Even if you count gas money, the cost of a DIY "class" will cost a tiny fraction of National Louis' $950 sale price. True, you won't earn three college credits for figuring out if you want to be a teacher, but students taking the class aren't guaranteed acceptance into the school's master's in teaching program. If they aren't admitted, they've paid a lot of money for credits they can't use. Wouldn't it be nice if a full education was affordable for everyone without a one-week coupon?