Articles
Encyclopedia of Life
A new web-based zoological catalogue will store information about every single plant and animal on earth. Plus Big Thinker Wendy Kopp.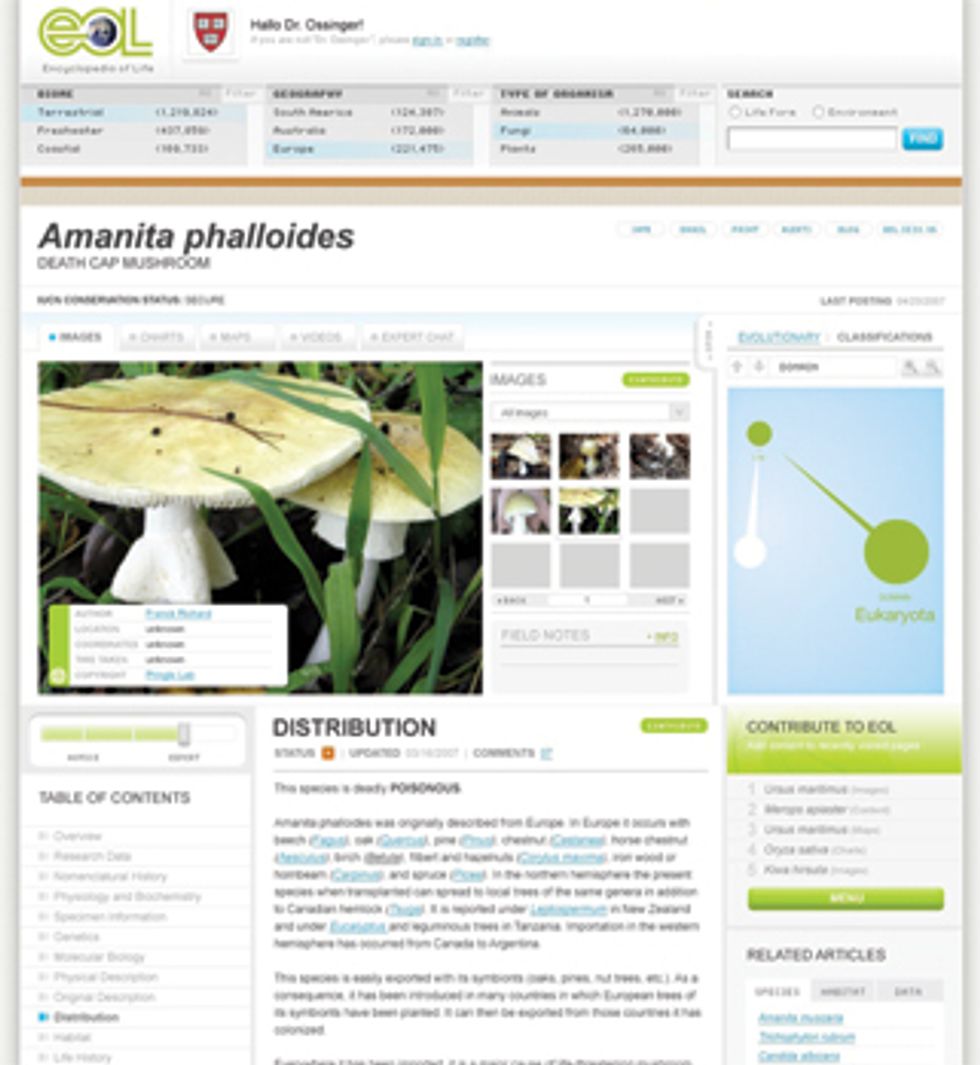 How do you squeeze more than a million species onto the internet in a way that is as interesting to a class of Australian kindergartners as it is to the world's leading expert on mushrooms? Scientists behind the Encyclopedia of Life, a new web-based zoological catalogue, aim to find a way, as they spend the next 10 years creating an online home for information about every single plant and animal on Earth.Equipped with a superstar spokesman (the renowned biologist E.O. Wilson) and state-of-the-art software (mash-up technology and wiki-style editing), the project is well on its way. At the Woods Hole Marine Biological Laboratory, in Massachusetts, taxonomists are sorting through a list of 10 million species names. And in centers in Boston, Washington, D.C., and London, more than a million pages of papers on dogs, beetles, and fish have been scanned and digitized.The first species pages will premiere on the site in mid-2008. On the polar bear page, virtual phylogenetic trees will link the bears to their relatives, maps will trace their Arctic migrations, and scanned reports will describe the first documented sightings of the beast. Categorizing species like the polar bear will be quite straightforward. Things like mushrooms might prove more challenging, but will ultimately validate the concept: There's no single expert on all kinds of the spore-bearing fungus, but the diverse knowledge of hundreds (if not thousands) of experts will combine on the site to paint a complete picture.
BIG THINKER:
Wendy Kopp
We see evidence every day-at every grade level, and in urban and rural communities all across the country-that when children facing the challenges of poverty are given the opportunities they deserve, they excel. This is the truth, and yet those who believe that it is impossible for schools to overcome the challenges of poverty consider it a radical idea. This is the idea I'd like to see our nation's leaders embrace-the idea that with a new approach to education, we can ensure that all of our nation's children, regardless of where they are born, have the opportunity to attain an excellent education.
Wendy Kopp is the director of Teach For America (one of GOOD's nonprofit partners).

---