Articles
Fred Upton's Own People Want Him to Leave the EPA Alone
House Commerce Chair Fred Upton wants to keep the EPA from regulating greenhouse gases. Turns out it's not a popular idea. With anyone, really.
I wrote earlier about the EPA's terrible, horrible, no good, very bad week. The broadest assault on the agency is a novel and illogical new "Energy Tax Prevention Act" that Fred Upton (R-MI) is trying to surface out of his House Energy Commerce Committee. The act would essentially strip away the EPA's right and responsibility (as determined by the Supreme Court and scientific consensus) to regulate greenhouse gas emissions.
Turns out it's not such a popular idea. According to some new polling data released today, 62 percent of respondents in Upton's own district opposed his proposal. Using broader terms, the survey found that 67 percent of Upton's constituents—including a full 60 percent of Republicans—agreed with the statement that "Congress should let the EPA do its job," as opposed to the minority who believe that "Congress should decide" what actions are taken to curb carbon pollution.
---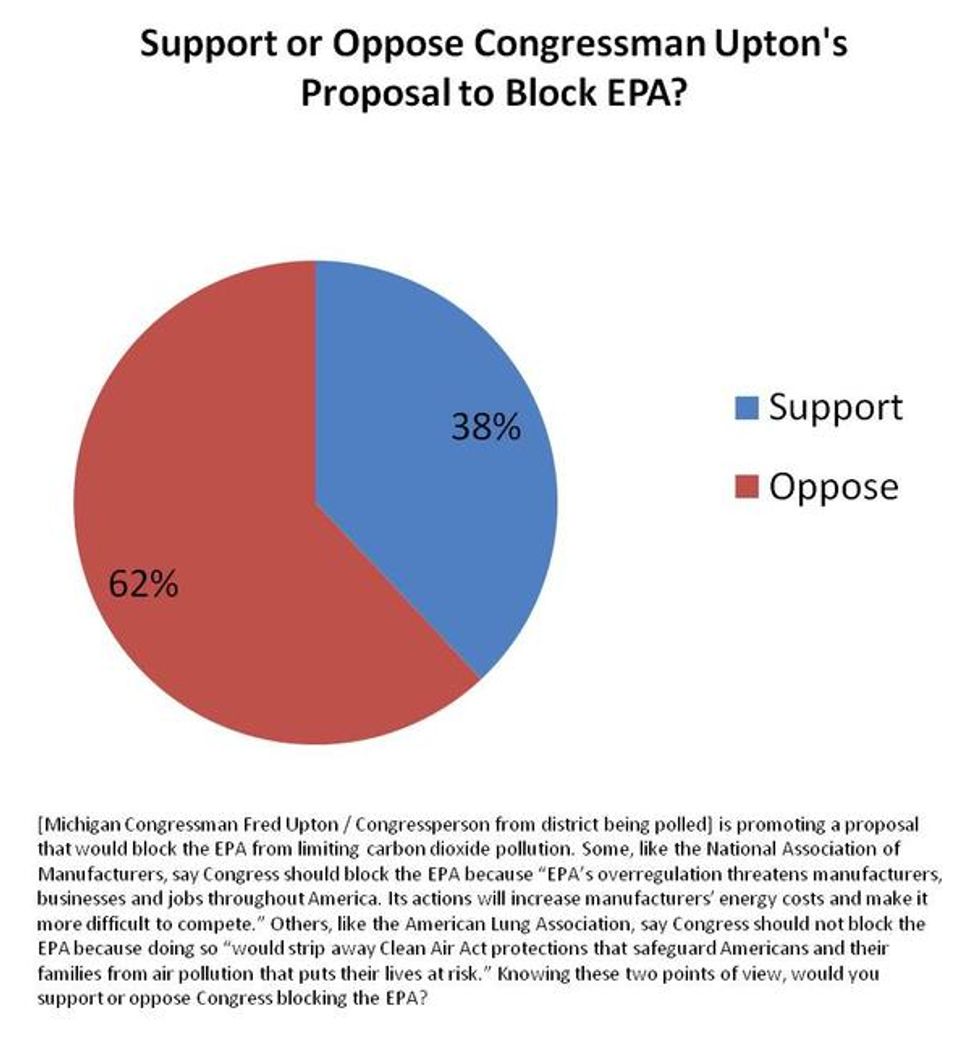 The survey was conducted by Public Policy Polling survey for the Natural Resources Defense Council. (To be clear, PPP is considered by some to have Democratic Party affiliations, but Nate Silver has them ranked 13th most accurate out of the country's 62 main pollsters.) You can see the wording of the question above (click on it for a larger view). I think it's pretty fair and unbiased.
NRDC's Pete Altman had this to say of the polls:
The bottom line is now clearer than ever: Democrats, Republicans and Independents across America want politicians to protect the health of America's children rather than the profit-driven agenda of big polluters. Chairman Upton and other members of the House Energy and Commerce Committee will now be hard-pressed to ignore the fact that their constituents want Congress to let the EPA do its job of safeguarding the health of American families."

\n
I already wrote about the widespread, bipartisan popularity of the EPA as a whole. Here's another indication that House Republicans might be overreaching with their assaults on the agency.