Articles
The Gardena School Shooting: Why Metal Detectors Aren't the Right Response
Yesterday's accidental shooting in Los Angeles has revived calls for metal detectors. But ending school violence isn't that simple.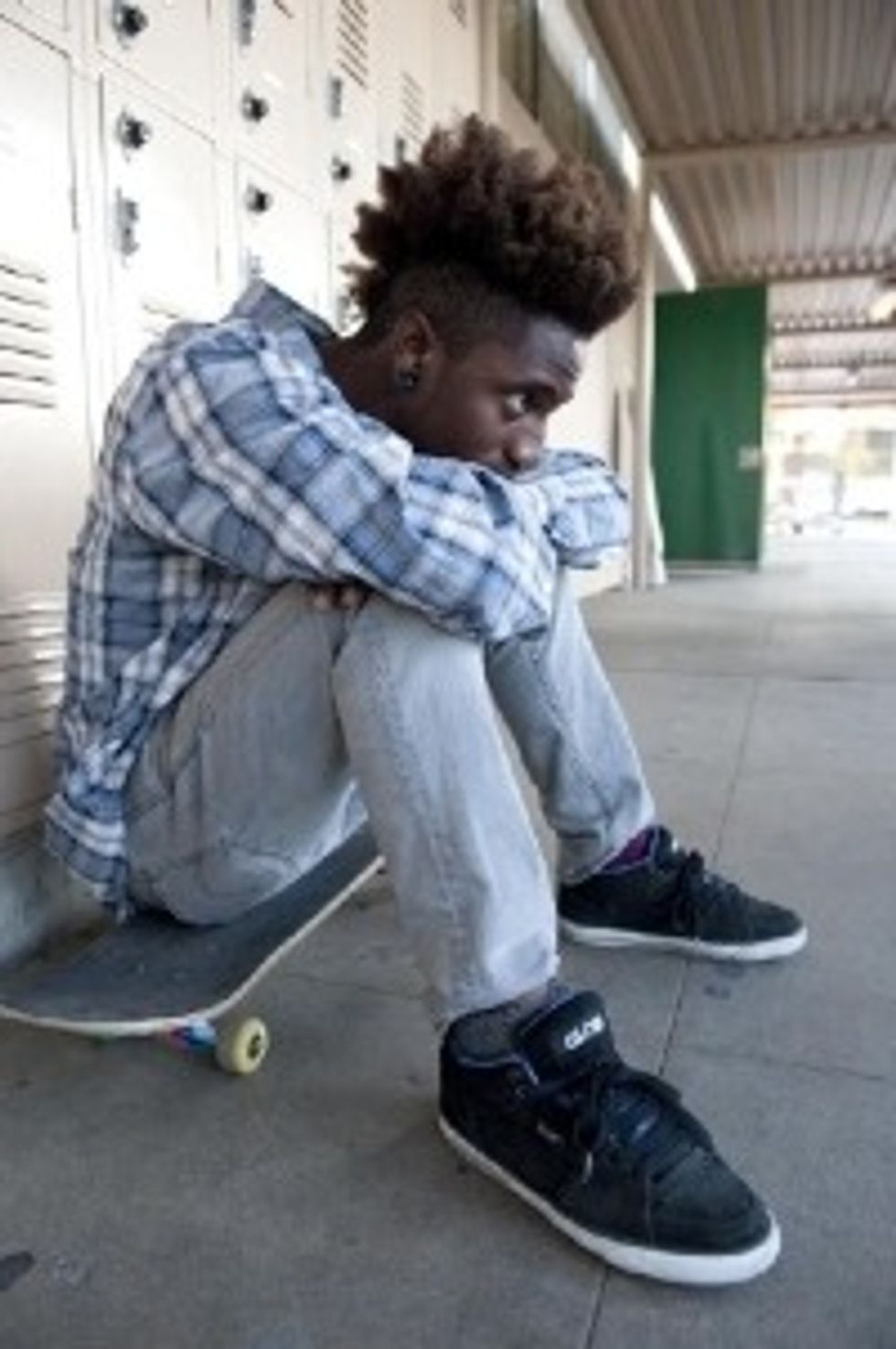 Yesterday's shooting of two students at Los Angeles's
Gardena High School
has left two 15-year-old students in the hospital—one in critical condition and one in fair condition. After a school lock-down, the LAPD took the 17-year-old male gunman into custody and are
charging him with assault with a deadly weapon
.
According to Los Angeles School Police Department Chief Steve Zipperman, the gun was an automatic weapon and was in the student's backpack. It accidentally fired in a health class when the student set the bag on top of a desk. The whole incident is raising new questions about school safety.
---
Since 1993, the Los Angeles Unified School district's policy has been to randomly search students and wand them with hand held metal detectors. That year a student at Fairfax High School, 16-year-old Demetrius Rice, was killed when a gun dropped out of a backpack and accidentally went off.
Rice's mother, Mildred Hunt, criticized LAUSD for not implementing more stringent security policies since her son's death, saying, "At LAUSD, they're doing business as usual. Nothing has changed."
One Gardena student, 15-year-old Jessica Santiago, told the Los Angeles Times that weapons searches only happen "once in a blue moon" and "only if you looked suspicious or someone heard something and told a teacher."
Some Gardena students like Andrea Tibbs, who says she's a friend of the student who brought the gun, described the school as "crazy," saying: "It's just too much. Honestly, we should have searches all the time. There are a couple students here who come here with guns."
Tibbs says the boy brought the gun to the 3,100 student campus as protection after a fight outside the school.
Although an armed school police officer was present on campus, "it is a possibility that today the student who walked on with that backpack was not checked," Zipperman says. It's up to individual school principals to decide how to search students.
Less than 10 percent of middle and high schools nationally use airport security style full body metal detectors. James Alan Fox, a criminologist at Northeastern University and the author of Violence and Security on Campus: from Pre-school through College, says the data doesn't justify adding full blown metal detectors and video surveillance systems to campuses.
According to Fox, from 1999 to 2005, "fewer than 100 school-age children were killed in school homicides, compared with 105 in storms, over 1,000 in bicycle accidents, and 800 in pool drownings."
But, Fox says, because of parent complaints, he's seen cash-strapped schools invest "in systems for which they didn't have enough money and had to cut back on the educational curriculum for which they exist—from teachers to books to after school programs."
Late Tuesday night, Los Angeles Mayor Antonio Villaraigosa issued a statement about the shooting saying he was "deeply saddened" by the events at Gardena High School. "No student should ever fear for his or her life within the halls and classrooms of our schools," he said. Villaraigosa added that the community must work together to help make schools safer, "so that all students can benefit from an environment conducive to learning."
Incoming LAUSD superintendent John Deasy says that in the aftermath of the incident, the district will be reviewing their safety policies and procedures and will be stepping up security on the campus. The district is also sending grief counselors to Gardena and the school's principal, Rudy Mendoza, is holding a meeting today for parents with questions and concerns.
LAUSD should undoubtedly do whatever they can to ensure student safety, but the reality is that violence in the form of fighting and bullying is a bigger problem than students being shot on campus.
Type "high school fight" into YouTube and you'll find a dizzying number of disturbing videos filmed by students. Ask any teacher and they'll tell you that many of the incidents of violence—like the 2009 Chicago murder of 16-year-old honor student Derrion Albert— aren't happening on campus. They're happening in the gang- and crime-plagued neighborhoods surrounding the schools.
Students don't bring guns—let alone automatic weapons—to schools like Gardena because they're trying to show off. They bring them because they're scared of other kids rolling up on them while they're walking to and from school, or waiting at the city bus stop to head home.
All the metal detectors LAUSD could buy (assuming they can buy any with the way the district's budget looks) won't change that reality. And, if metal detectors do come to campuses like Gardena High, good luck trying to get almost 3,100 students scanned and through the doors before 8 a.m.
unidentified Gardena student via Gardena High School photo album