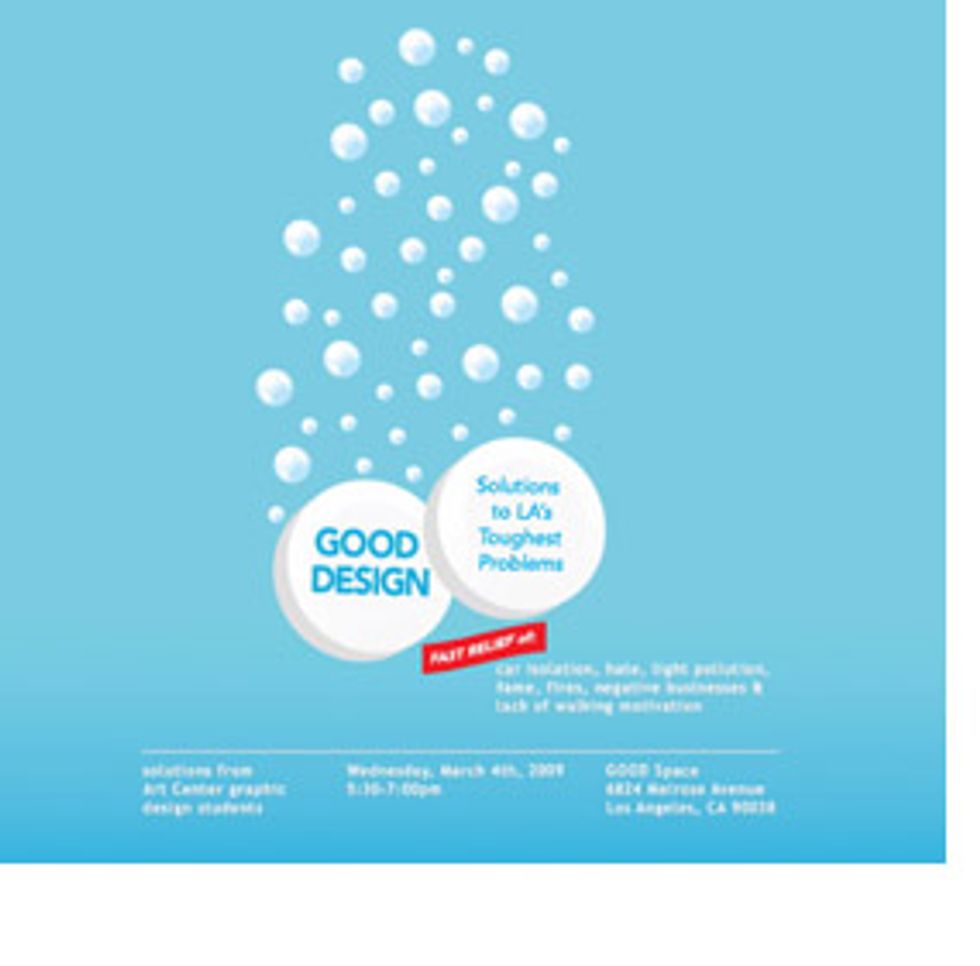 Back in December,
we hosted
GOOD Design L.A.
, a night where seven designers presented their solutions to Los Angeles problems. We had solutions ranging from walking kids to school to cut down on rush hour traffic (a few groups combined their efforts as a result of this event), to blasting open our seismic faults with explosives to prevent future earthquakes (we're still looking for funding for this idea). After the event,
Art Center
professor Petrula Vrontikis approached us with an idea to recreate the event as an assignment for her class. For eight weeks, a few of us at GOOD and a group of Art Center advisers worked with Petrula's students to zero in on L.A. problems and craft presentations for their ideas. On March 4, Art Center students, local designers, and friends converged upon GOOD for another evening of talking about solutions for the city.
Art Center's current
Visionary-in-Residence
(and
Twitterer-in-Perpetuity
)
Kurt Andersen
opened the evening by telling us this was the longest he'd been somewhere besides New York since he was 21 years old (seven weeks). He said he agreed to come to Art Center only when 1) his kids were all out of high school and 2) it was winter. He's truly enjoying his time here as a student of Los Angeles, and we're lucky to have him.
We then had another special guest, Krista Kline, Planning and Urban Design Coordinator for the office of L.A.'s recently-reelected
Mayor Antonio Villaraigosa
. Krista works closely with urban planners and designers on a range of issues, including energy, transportation, and green technology. She was very excited about the L.A. projects that will spring from the stimulus plan, and she encouraged every designer to download the briefing from the new
Recovery.gov
(bottom of the page
here
) and see what kinds of solutions we can design for the money that's being allocated.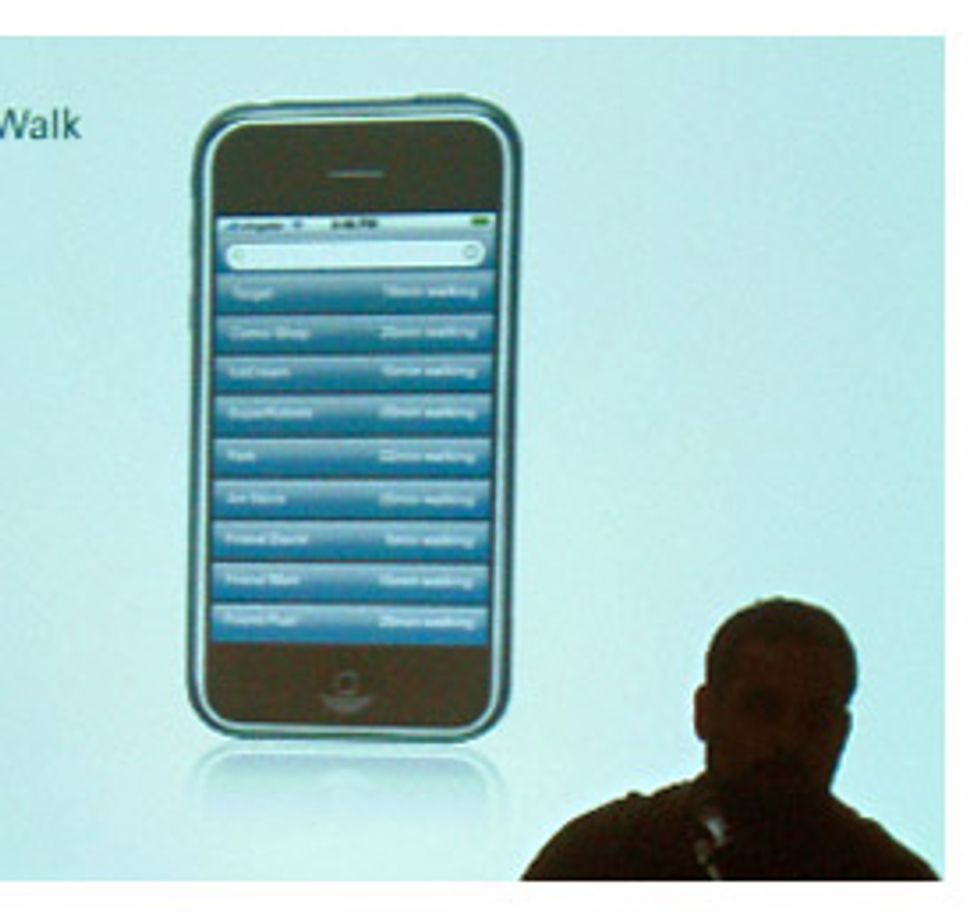 ---
Our first presenter was
Rafael Amador,
who was frustrated about the fact that Angelenos spend so much time isolated in their cars. He hoped to get people out of their cars and interacting on the streets, so he created an iPhone app, iWalk, that could calculate routes and destinations and also allow fellow walkers to meet up along the way.
But, according to Rafael, robotics will solve more of our transportation problems in the future. Robot suits-manufactured by the Japanese company
Cyberdyne
(no relation to
Terminator
)-are already in production that allow people to walk farther, faster. Rafael envisions personal robot suits that would allow us to stroll down the freeways at a brisk pace and, eventually, to fly. Some in the audience thought robot suits were actually just as isolating as cars, but Rafael believed that they still allowed interaction on a much more human scale than an automobile.
Irma Leon
had been struck by the devastation of the wildfires near her home last summer and wanted to find a way to prevent this kind of damage to the city in the future. Her idea was simple and low tech: Operation G.O.A.T. would bring herds of goats-yes, goats-to hillsides that needed brush clearing. Goats are cheap, effective, sustainable, and most importantly, they can clear the steep local hills much faster than human workers. Pilot programs have already launched in a few areas around L.A., and Krista Kline said that the Community Redevelopment Agency had already successfully used goats to
clear Angels Knoll
downtown. Another audience member noted that her neighborhood in Laguna Beach, hit hard by wildfires a few years ago, also had their own herd. Everyone thought this was an idea that really had legs. (Apologies for the baaaaaad joke.)
Mira Yang
moved here from Korea and was disappointed that it wasn't easier to walk to places near her house. Studying neighborhoods in the Valley and Glendale, she noticed that some streets didn't have sidewalks at all. She wanted to find ways for pedestrians to maneuver alongside cars without having to get in one. The audience loved her suggestions that we focus on sidewalks as works of public art, akin to the
Hollywood Walk of Fame
, in a way that would bring attention to them and make people want to use them. We'd love to see a pilot program started in L.A. where designers can be unleashed on new sidewalks, embedding them with cultural information or wayfinding graphics. (The audience was less taken with her idea that portable overpasses could facilitate walking during high-traffic events at the Hollywood Bowl and Staples Center.)
Jeane Chen
never cared much for stars until she went on a vacation to Fiji and was dazzled by the constellations she wasn't able to see back home in L.A.. Her idea was Blackout L.A., a night where all the lights would go out in the city and people would gather for stargazing parties. She also created an iPhone app that would use GPS technology to allow users to see the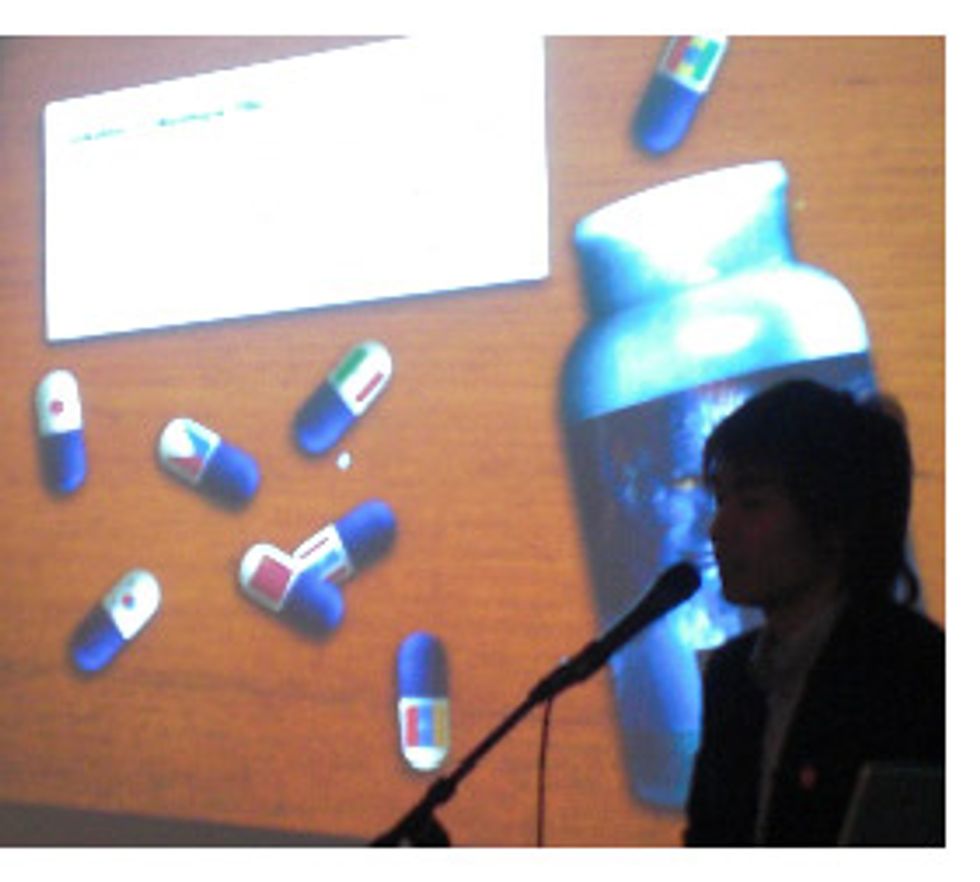 stars that are, in principle, visible in their local night sky. In a great surprise to everyone there, Krista Kline mentioned that this idea was already in motion: The city is working on
Lights Out L.A.
, a version of the
Lights Out America
program that launched in San Francisco, which will be a night focused on saving energy. Maybe Jeane can do the branding?
Kidon Bae
started out his presentation a little differently than the others: "I hate L.A., I hate it!" While others move here specifically to engage with our cross-cultural stew, Kidon thinks having multiple languages-and especially signs in all different languages-keeps people of different backgrounds from interacting. Instead of burning down all the signs he didn't understand (his first impluse), he proposed an iPhone app (iPhone apps apparently will save the world) that you can aim at a sign for an instant translation (apparently this technology is
well on its way
). Perhaps more intriguing were a series of "mystique" pills-yes, named after the shape-shifting X-Men character-people could ingest to absorb another ethnicity of their choice, helping them relate to different cultures. I'm still not sure what the side effects of that drug would be.
Orlando Sanabria
began to notice an unusual proliferation of what he calls "negative businesses"-liquor stores and fast food restaurants, e.g.-in his hometown of
El Sereno
, a neighborhood to the east of Pasadena. After investigating, he realized that the process for opening a business in El Sereno required very little community approval compared to nearby independent cities. Orlando proposed allowing kids-one of the most affected groups-to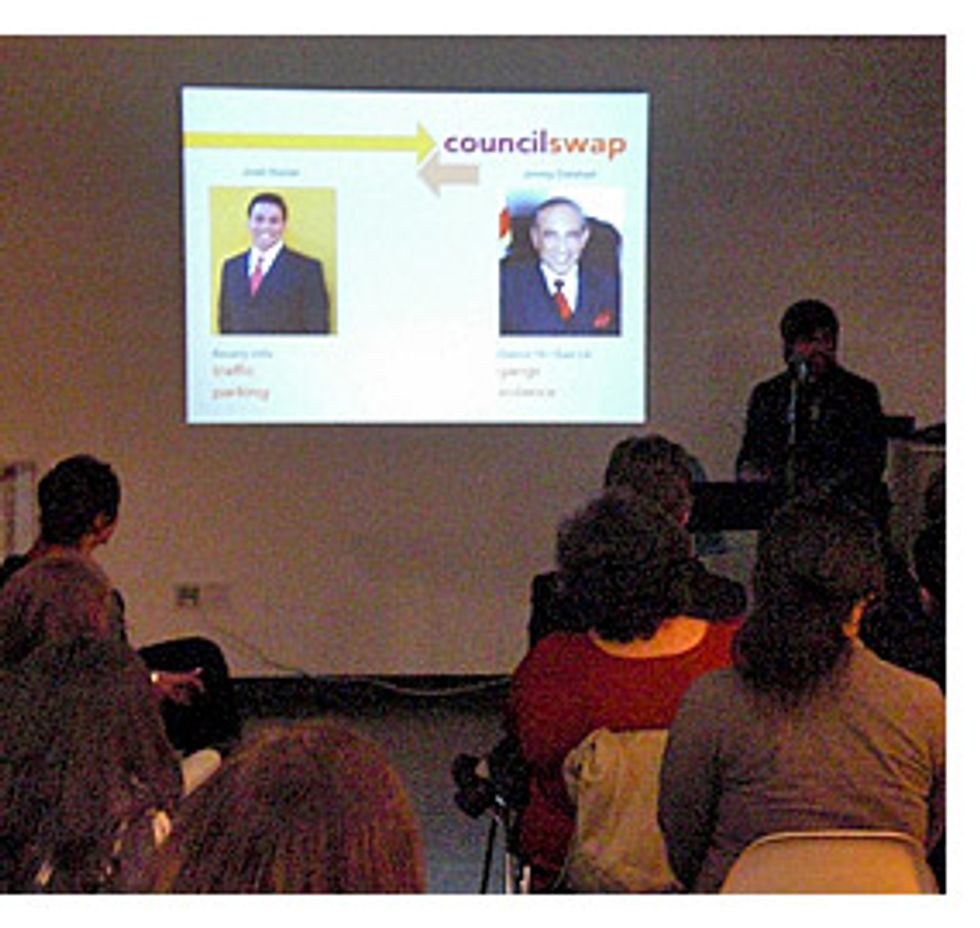 weigh in on the appoval process for business. The biggest cheers came, however, when Orlando proposed pitching a reality show to FOX called CouncilSwap in which El Sereno would swap a city councilman with one from Beverly Hills, and we'd see how the respresentatives deal with unfamiliar problems (gangs and violence versus parking and traffic). Orlando has been getting involved with local government himself-he's building a website for his El Sereno neighborhood council. Orlando for City Council!
Finally,
Conor Hunter
recounted a childhood visit to L.A. during which he and his father were so absorbed with their quest to see celebrities that they completely missed seeing the city. Conor investigated the problem of fame, contrasting the glamorous celebrities of the past with the dubious, internet-fueled version of fame we have today.
He also critiqued L.A.'s new tourism campaign "
That's So L.A.
," which he interpreted as "That's so LAzy" or "That's so pLAyed out." The crowd roared. His solution would be a new website, LostAngeles.com, where you can find the city's "real celebrities," like the legendary
Harry Perry
of Venice Beach, and have interesting real-L.A. experiences, like finding the
Kogi Korean BBQ
truck.
We also should mention these presentations were some of the most polished and professional student presentations we've ever seen. They all handled the questions from the audience with aplomb. Congrats to all the students on their fantastic solutions, some of which seem to be finding their way into the city already. Lastly, many thanks to Petrula Vrontikis for structuring her class around this great idea. If you're interested in doing this with your Los Angeles design students, let us know!