Articles
Guerrilla Gardening for Gamers
"The Earth laughs in flowers." -Ralph Waldo Emerson In most videogames, plant life is merely party of the scenery-which is why...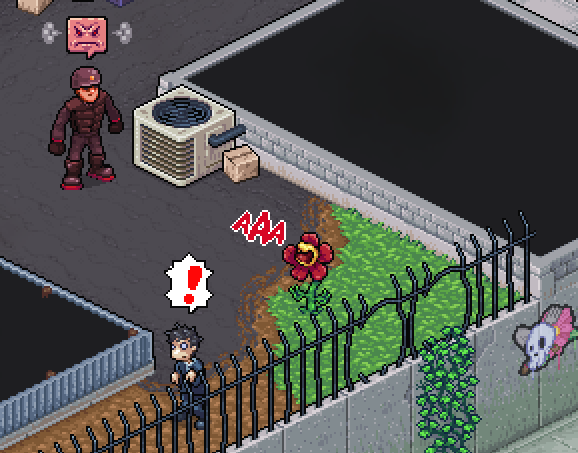 "The Earth laughs in flowers." -Ralph Waldo Emerson
In most videogames
, plant life is merely party of the scenery-which is why I was surprised to find that in the new action shooter game
Battlefield: Bad Company 2
, players can actually knock down trees to clear the way for tanks. It's not quite the model of conservation the Sierra Club has in mind, but at the very least it reminds us that plants are more than a prop.Game designer Miguel Sternberg wants to take that a step further. In
Guerrilla Gardening: Seeds of Revolution
, General Bauhaus has removed all of the city's plant life and it's up to Molly Greenthumb to reclaim urban space in the name of nature. The
game preview
shows flowerbeds brightening up desolate town squares, public parks projects, and characters hiding behind trees to sneak past cops. Sternberg says that originally the idea stemmed from an interest in street art, but changed course when he read about a group of renegades covertly turning urban plots into flowerbeds. "I wanted to explore the relationship of public space and private space," he says.Sternberg was one of the early founders of Capybara Games, which has gone on to gain renown for its successful
Critter Crunch
. Wanting to step out on his own, he left to start Spooky Squid Games. Right now, the gardening game is still a prototype-about "half-way finished." Sternberg hopes to be able to sell Guerrilla Gardening on digital distribution platforms like Steam, Direct2Drive, and Xbox Live Arcade.While Sternberg's game is decidedly lo-res, one of the benefits of the increase in graphical capabilities in games is the realism of plantlife. I had a friend who would often invite girls to his apartment to show them the remote African landscapes in
Far Cry 2
. To him, it was no different than a walk in the park or a sunset on the beach-you sit, look, and reflect. He saw the beauty on-screen as a worthy echo to places he didn't have immediate access to, and he wanted to share them with others.Thatgamecompany's
Flower
shares the theme of reclamation with
Guerrilla Gardening
. In the downloadable game for PlayStation 3, you control a flock of petals and turn fallow ground into lovely pastures of wildflowers. The game's final level sends you to an abandoned city which soon becomes overrun with plants: a scene from Alan Weisman's
The World Without Us
that projected the planet's reaction to mankind's disappearance.Sternberg hasn't played
Flower
, but says he plans to. In fact, he only recently tried his hand at guerrilla gardening and signed up to do a project with the Toronto Public Space Committee. Thankfully, he was assigned to a detail close by. "It was a median at the end of my street," he says. It's probably not a bad idea for Sternberg to stay close to home. He's got a lot of work to do.

---