Articles
Is 50 Cent the new Sally Struthers? The gangsta rapper wants to feed a billion people in five years by selling energy drinks.
[youtube]http://www.youtube.com/watch?v=oA-MKPjsYYw
"I want to feed a billion kids. It's your boy, 50 Cent." That's the call to action to buy a new energy drink in one of several promo videos from the gangsta rapper. Mismatched as that might sound, the plan appears to be in earnest; Fiddy wants to be the new Sally Struthers.
---
His new energy shot drink, Street King, hit store shelves this week. The company will donate a portion of the revenue from each bottle sold to the United Nation's World Food Programme, enough to feed one child.
"This is our world, our streets. I need your energy," 50 Cent says in another video. But he also needs your money—while the donations will make some difference, this is a classic case of using feel-good marketing to sell an otherwise undistinguished product.
50 Cent hasn't specified how much money will go to World Food Programme, which should raise questions about how serious he is about charity. Tony Sellars of Feed the Children says he's waiting for more details. "Unless there's a plan behind it and a structure, people are going to be skeptical," he says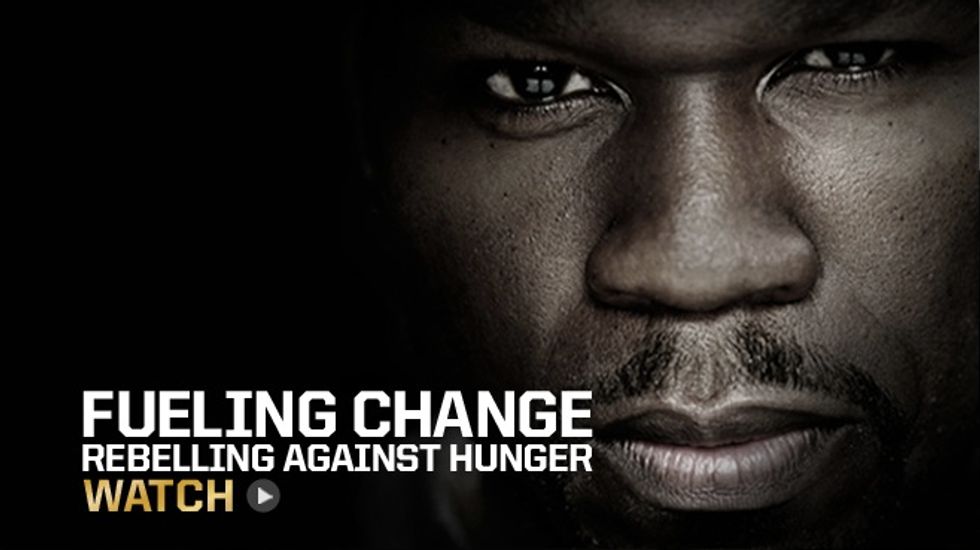 Of course, any attention the rapper can bring to the issue of world hunger is beneficial. Somalia faces its worst famine in 60 years and the world community is doing far less to help than it has in previous crises. "Anything that brings a spotlight onto the problem is good news," Sellars says. His organization has been around for more than three decades, delivering 133 million pounds of food last year to everywhere from the slums of Kenya to forgotten corners of America.
Sellars says Street King and its robust marketing campaign will reach a younger demographic than most hunger outreach, and that's good for his sector. "It's everybody's goal now to reach that next generation of givers," he says.
On the company's slick new website, Fiddy explains that he became interested in hunger issues after encountering poverty as a spectator at the World Cup in South Africa. Once back in the U.S., Fiddy and his manager concocted the idea for the new energy beverage. "I grew up without money, but I didn't grow up hungry," says the rapper, who was infamously shot nine times in a robbery that helped create his image as a street-hardened lyricist. "A lot of people out there are actually hungry right now, actually dying of hunger. I feel like it's our responsibility to come together and do things to create a solution for this actual problem."