Articles
Picture the Past: Historypin Mashes Up Archived Photos with the Present Historypin App Uses Augmented Reality to Visualize the Past
A collaborative new website and app take us back in time. All you need is a smartphone and a city.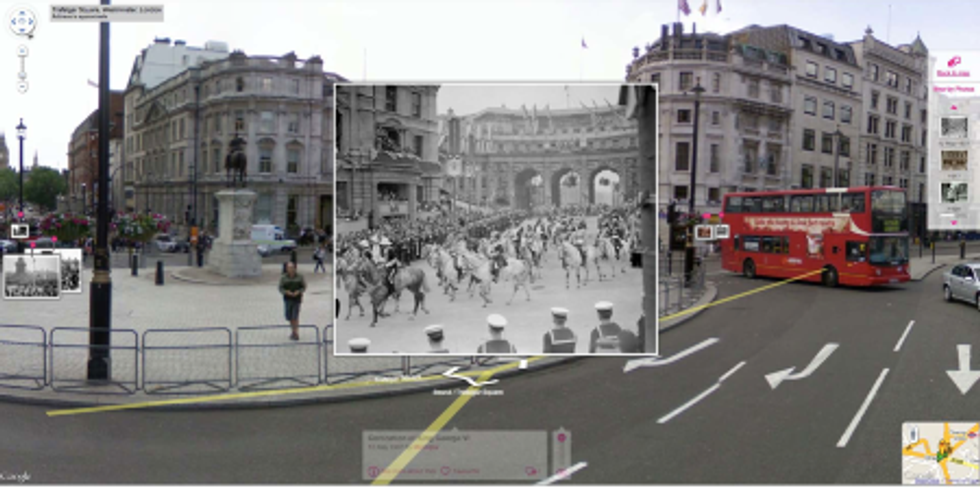 Google Maps Street View can already make you feel like you're in two places at once—the desk where you're physically sitting and the street that you're digitally exploring. A new app and website, Historypin, translocates you one step further, enabling you to experience places around the world at distinct moments in the past. Use the free website to mash-up the street view of today's Times Square with the Times Square of the 1930s. Or, with the smartphone app, you can wave your phone through the air to see layers of historical photos superimposed upon wherever you happen to be.

According to Historypin's CEO, Nick Stanhope, the project "aims to make billions of pieces of historical material the subject of mass-participation—to allow everyone to see the world through the amazing lens it provides." A collaboration between Google and the UK-based organization We Are What We Do, the Historypin has been running in beta for the past year but just launched formally this week with parties in New York and San Francisco. More than 20,000 users have already geotagged over 50,000 pieces of content on the site, including photos, videos, audio, and written commentary. Partner institutions, like the Museum of the City of New York, are adding content from their archives as well.


---
The next step for Historypin will be a series of local initiatives to help neighbors come together and share their communities' stories, starting with Harlem and East Palo Alto, California. The project also intends to let institutions freely search and work with the information in its archives, which are growing constantly.
The service is now open to everyone, so gather up your dusty photos from the attic and share them on Historypin.