Articles
Hollywood Restaurant Tender Greens Is Going Whole Hog This Sunday
An L.A. restaurant hosts a series of "whole animal" roasts so attendees can learn about their unique partnership with farmers and ranchers.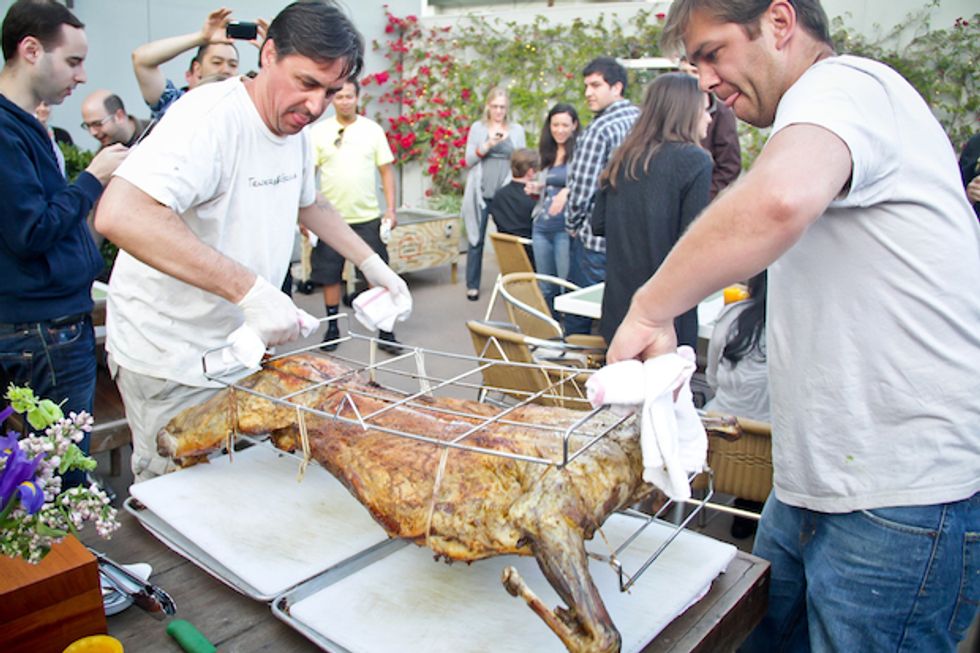 Chefs are becoming
more and more invested
in the livelihood of the farmers they buy from, but how about getting involved with the actual care and feeding of the animals they raise?
Tender Greens
, a Los Angeles restaurant with several locations around the city, is doing just that with local ranchers, and to demonstrate their commitment to the process, they're holding a series of "whole animal" roasts which happen monthly at their Hollywood location. In March, attendees watched in awe as a
whole goat
was seasoned, roasted, and served onto their eager plates.
This Sunday, the restaurant will feature a whole pig, specifically, a Red Wattle pig raised by ReRide Ranch, a farm in Lake Hughes, California, just about an hour north of L.A. Re Ride's proprietor Lefty Ayers will be on hand to talk about how the pig lived, as well as how Tender Greens has given him financial support to raise his livestock in a unique, win-win partnership. The pig will be roasted in a La Caja China, a traditional Cuban fire box, and chefs will then carve the animal in front of a live audience. And they assure us they're going to prepare every last bit of that hog—hoof to snout.
---
Tender Greens will throw open the patio of their Hollywood location this Sunday around 5:00 p.m. until the last bit of headcheese is consumed around 9:00 p.m. The dinner is $35 and includes sauces and sides, plus dessert, as well as beer from Orange County craft brewers The Bruery. The chefs also prepare a whole roasted fish and plenty of veggies. More details here. Reservations are strongly recommended since last month's lamb-fest sold out. Email heidi[at]tendergreensfood[dot]com
Live in Los Angeles? Sign up for our one-good-L.A.-thing-a-day email and become a member of GOOD LA. You can also follow GOOD LA on Facebook and Twitter.
Photo by Tommy Brockert