Articles
Freelancers, Alone No More: Coworking Is Going Big Business How Big Business Are Using Coworking Spaces
There's a seismic shift in how large companies they are envisioning their own internal real estate. That shift is toward mobility.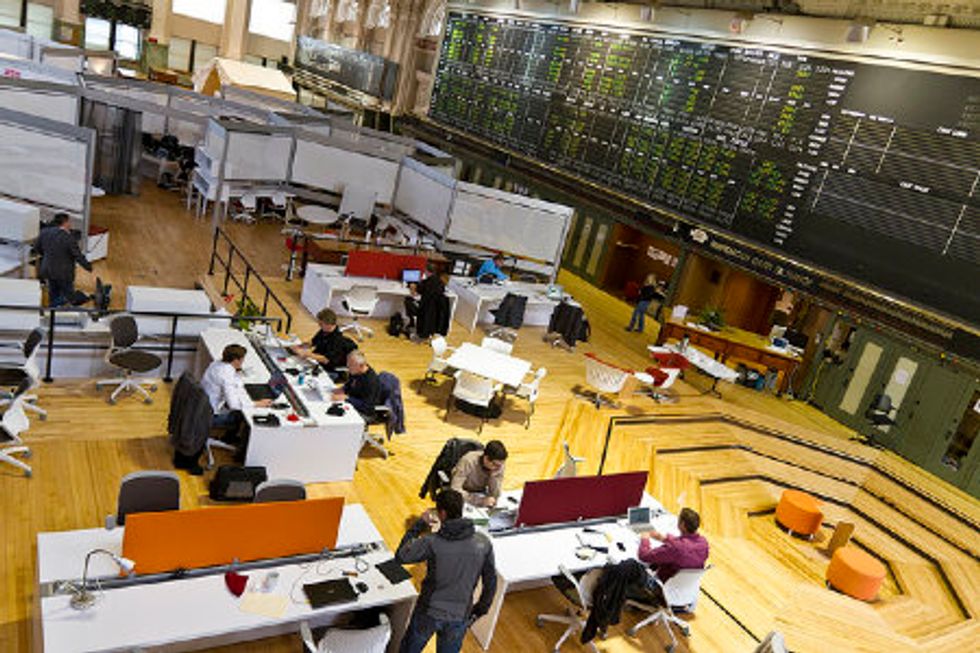 When it came time for Warecorp to finally have a physical headquarters, CEO Chris Dykstra decided against the traditional office space route. Instead, the software and web services company bought a group membership at a downtown Minneapolis coworking space for its 10 U.S. employees to use when they aren't visiting clients.
"I just thought, you know, there's really no reason why you couldn't just embed all of your infrastructure in existing coworking spaces," says Dykstra, whose office is now a "campsite," a hexagon-shaped pod partitioned from others like it with semi-transparent screens.
---
Coworking spaces were initially conceived to give independent workers an alternative to the coffee shop, providing reliable Internet connections, printers, meeting space and other office amenities. Today, there's growing interest in coworking spaces from larger companies as an alternative to the cube farm, as a way to lower real estate overhead, boost sustainability and stimulate workers who thrive on the spaces' entrepreneurial energy.
Dykstra's workspace sits inside a three-story-high, gymnasium-sized room shared with dozens of freelancers and entrepreneurs, giving the space a pulse that would be hard to replicate in a standalone office for ten people. It was once the trading floor of the Minneapolis Grain Exchange; today, people call it the "brain exchange." Officially, it's the CoCo Coworking and Collaborative Space, which has fast become a social and networking hub for Twin Cities entrepreneurs and freelancers (including this writer).
Last week CoCo and five other U.S. coworking spaces announced they've formed the League of Extraordinary Coworking Spaces (LEXC), which means they will honor each other's memberships and let users reserve spaces online. The move is aimed in part at making it easier and more appealing for larger companies to get into the game.
The concept has existed informally in coworking culture from the beginning. If you're traveling and drop by another city's coworking hub, they're likely to welcome you for the day. LEXC is an attempt to make that process more simple and transparent, while also adding a layer of formality expected by many larger companies.
Kyle Coolbroth, one of CoCo's co-founders, says they've been approached locally by most of the Twin Cities' Fortune 500 companies, including US Bank, which has purchased memberships and rented meeting space at CoCo, a short walk from the bank's headquarters. "They understand that there is a fundamental shift of culture, and they understand they need to create and provide a collaborative environment for their work teams," says Coolbroth. "The problem with coworking, prior to LEXC, was that it lacked a central organization for corporations to engage in."
That culture shift is the growing expectation among employees that they be able to work when and where they want to. More than four out of five companies on Fortune's "Best Places to Work" list offer some type of alternative workplace program. For some workers, this means telecommuting on days when it is more convenient. Others simply feel happier (and more productive) working outside the traditional cube-farm.
Nine percent of regular users at U.S. coworking spaces already work for companies with more than 100 employees, according to Emergent Research. But there are more than a billion mobile workers worldwide, and one study by Telework Research Network estimates that 45 percent of U.S. jobs could be done with at least part-time telework.
As the economy improves, some of the independent workers who have populated coworking spaces are likely to be snapped up as larger companies begin to hire again. Co-working organizers are looking to corporate customers to provide a longer-term revenue stream.
"I think the potential there is extraordinarily large," says Mark Gilbreath, founder and CEO of LiquidSpace, whose technology serves as the online reservation platform for LEXC. "There's a seismic shift underway in large companies with respect to how they are envisioning their own internal real estate. That shift is toward mobility."
That new thinking is being driven by everything from real estate uncertainty to sustainability goals—shared workspaces often mean smaller environmental footprints. But above all it's being viewed as a recruiting and retention strategy.
"It's easier to recruit top talent, because they're already there," says Dykstra, referring to the freelance developers, engineers and other skilled entrepreneurs working in these spaces. Warecorp's coworking experiment in the Twin Cities was so successful that Dykstra decided to convert the company's 60-employee office in Minsk, Belarus, into a coworking space, too.
LEXC's founding members include NextSpace in Los Angeles and the San Francisco Bay Area; BLANKSPACES in Los Angeles; Link Coworking in Austin; WorkBar in Boston; CoCo in Minneapolis and St. Paul; and 654 Croswell in Grand Rapids, Mich. The league is looking to expand and is already recruiting and vetting new members in the top 25 metro areas in North America.
Coworking is a "radically fast growing" niche, but so is telework, says Gilbreath. A the mobile workforce outgrows home offices, coffee shops and airport lounges, LEXC and LiquidSpace hope to be part of the new infrastructure that will support our desire for the necessary parts of an office—without, you know, the office itself.
Photo by Anders Holine courtesy CoCo Minneapolis