Articles
The 12 Bookmarklets Your Social Media Life Is Missing
Bookmarklets are free, minimally invasive, time-saving applications, yet a small fraction of internet denizens are using them.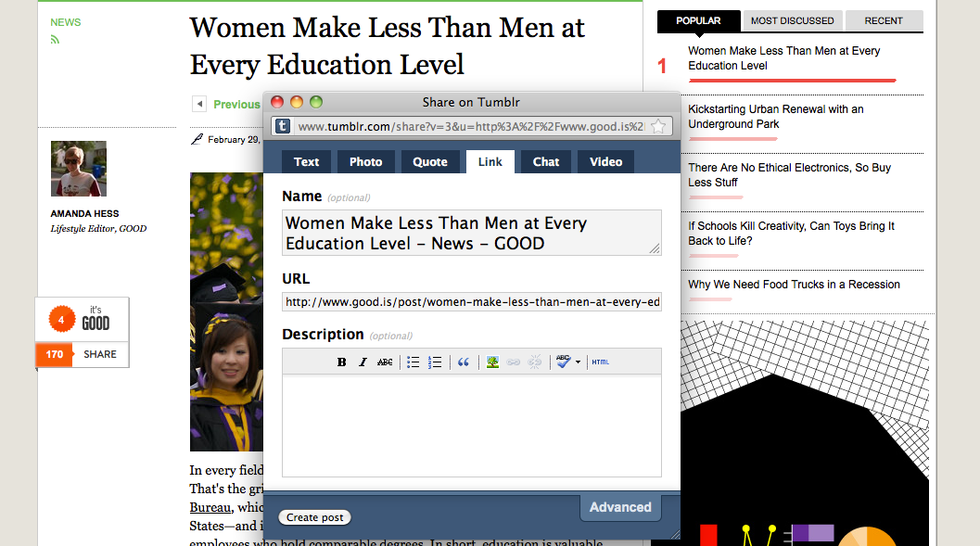 If you juggle multiple social media presences (and these days, who doesn't?), you're almost certainly spending more time clicking back and forth than you need to. Bookmarklets are free, minimally invasive, time-saving applications, yet a small fraction of internet denizens are using them. They make sharing and posting content while surfing the Web as easy as clicking a button—without leaving the page you're on. These tools do everything from creating Tumblr posts to tweeting links—all without requiring you to be on the social media site itself. So whenever you have a desire to "share" an Internet gem with your fellow culture vultures, the bookmarklet will get the job done in the time it takes you to open up a new tab. We've compiled a list of social media bookmarklets (with links to install them, natch)—drag them to your toolbar now, and watch your social media life all but maintain itself.
---
When you click the "Pin It" button while browsing the Web, a matrix of images from the page will appear. All you have to do is select the image you like and which board you want to pin it to, and voila!
Just hit "Share on Tumblr" and a post box will pop up. It works exactly like posting from the site—you can post text, photo, quotes, links, chats, and video—except it's already got the information pre-filled from the web source.
The button reads "Buy Later," because you're literally building up a limitless online wish list pieced together from any store you like. Rather than racking up items in an individual store's shopping cart, Svpply compiles all your favorites on a single site. Once you click the bookmark, a lightbox shows up—all you need to do is select a category and price range.
After reading a great article, you can submit it directly onto Digg by clicking "View on Digg." It will change the page you were reading the article to a "Submit to Digg" page, pre-filled with information from the site. All you need to do is choose a topic and hit "Digg it."
Share web pages, videos, and music with your friends even when you're not on Facebook.
It doesn't matter whether there's a "Tweet" button next to an article. With the "Share on Twitter" bookmarklet, you can share any link to your Twitter audience just by clicking the button.
Send links to your professional networks and groups with "Share on LinkedIn."
Google buttons help you fill your homepage with sites you'd like to read and add your favorite sites to your reader list.
Add to community-generated stacks or create your own. A pop-up box appears filled with suggested tags, title, and photos pulled straight from the article.
Hit the button when you find something you want to share on Reddit. A thin blue bar that reads "click to submit" will appear on the top of the page. Then it's up to you to pen a witty title and select a "subreddit."
Select articles to read later—a "Saved!" message will flash briefly on the page.
When you find good stuff across the web—anything clever, inspirational, thought-provoking, or mind-blowing—click the "GF" logo to add it to Finder. And if you're not using Finder at all yet, it's time to get started.