Articles
In Burlington, Vermont, Pedal Power Pays Dividends
In Burlington, Vermont, a growing interest in cycling is reducing traffic, creating jobs, and improving residents' quality of life.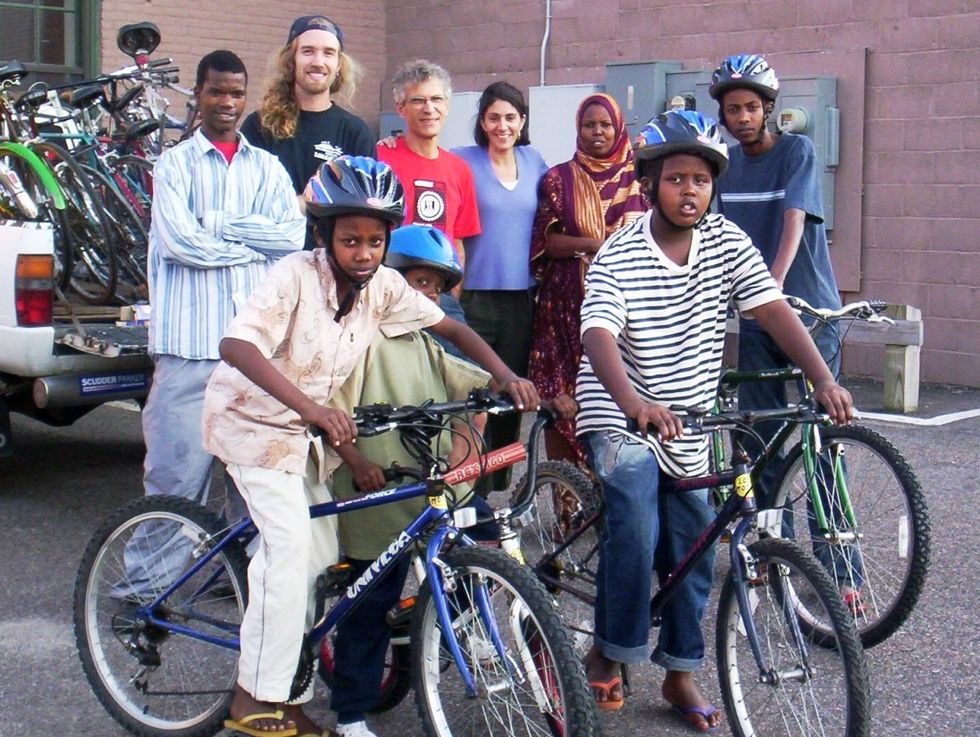 By late October snow and ice pound down along Burlington, Vermont's roadways from the nearby Green Mountains, while wind knifes up from Lake Champlain, not letting up until May. Burlington's 39,000 hearty souls are better known for rocking out for hours in flannels and Tims at Phish concerts than pedaling from point to point. No matter. Bicycles have become a local vehicle of choice even when winter storms make the plowed roads impassable. For some, like University of Vermont student Christine Hill, big drifts just mean fatter tires and more layers of clothes.
---
Hill works in an AmeriCorp VISTA-funded job at Bike Recycle Vermont's (BRV) lakeshore shop. She repairs used bicycles for sale there at minimal cost to people who otherwise can't afford one. She also guides young people at BRV through ten mandatory hours of training in bicycle repair and refurbishing the bicycle they'll ride away on. Every year more than 500 people—along with the kids, recently resettled Somali refugees, homeless men and women, and convicts released from jail—can acquire a recycled bike of their own for twenty-five dollars or get one in exchange for labor, a price that also includes a new helmet, lock, and lights. Nearly 3,000 bicycles have been distributed since BRV was founded in a local backyard in 2004.
Both state and local government have been working to make Burlington, the state's largest urban center and economic heart, a more bicycle-friendly place. In the past couple years, they have added extensively to Burlington's network of bike lanes and bike racks, enacted tough new laws on road-sharing to protect cyclists, and extended the Burlington Bikeway to twelve paved miles (including a weekend bicycle ferry) over an old rail line along the city lakefront and out to the surrounding island towns and rolling farmlands.
Pushing pedal power has also generated a surprising economic boon. A University of Vermont study estimated visitors biking the Waterfront and Island Trails spent as much as $2.5 million during a five-month biking season in 2008. More two-wheeling has also reversed a fifty-year upward trend of solo-operated cars on the road.The mounting bicycling enthusiasm also meshes well with the city's local and environmentally sustainable business ethos that is helping Vermont and especially Burlington buck the national recession. Vermont enjoys some of the strongest job growth and lowest unemployment rates in in the country. Statewide, the unemployment rate of around 5.8% is nearly half the national average, and falling.
It was Ron Manganiello who started BRV in his backyard six years ago. "The biking climate has changed dramatically in the 30 years I've been biking here," he says. "Now you see pedicabs and bikes hauling things and people selling local organic produce and fresh bakery bread on bicycles. People are finding ways to make productive things happen by bicycle in every season that didn't seem obvious before."