Articles
In London, Riding the Underground Turns Into a Game
Commuting: not fun. Playings games: fun. A new app combines the two for Londoners, visualizing a path through the city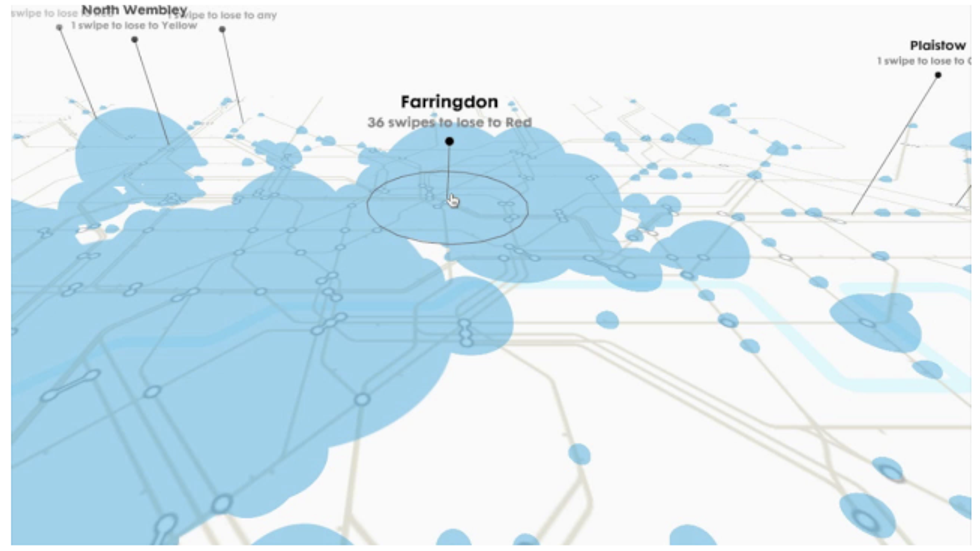 Life is often about the journey, not the destination. But that's not the story told by location-based games like FourSquare and Gowalla, which only pay attention to the places we end up, like restaurants, parks, and shops. The result is a collection of data representing points around the city—a useful record of where you've been, but without the information about how you got there.
---
A new app called Chromaroma has extended the logic of treating city life as a game to London's public transportation system. It allows users to track their journeys in technicolor visualizations, earning points for each trip throughout the transportation system. Every time Chromaroma players swipe their Oyster Card for access to the city's underground, the Tube, they earn points and update their location and movement on Chromaroma. Users can join a team to help "capture" a station, complete missions by checking in at places that represent strange moments in London's transit history—like the Tube station where talk-show host Jerry Springer was born (true story)—and maybe even connect with fellow passengers who are playing the game. At the very least, the app can spice up a drab commute and help people think about public transportation in new ways. Perhaps the coolest part is the way Chromaroma uses the data it collects to map a user's progress around the city.
The game, which debuted late last year and was featured at MoMA's Talk to Me exhibit on interaction design this summer, was developed by Mudlark, a gaming studio that's "building ways to create entertaining games from the data we create and leave behind without noticing." Past projects include the Birmingham Civic Dashboards, which lets users "connect to the city almost like a friend" by charting dialogue among residents and local officials.
[vimeo][/vimeo]
via PSFK