Articles
The Canary Project documents the ravages of climate change with breathtaking pictures.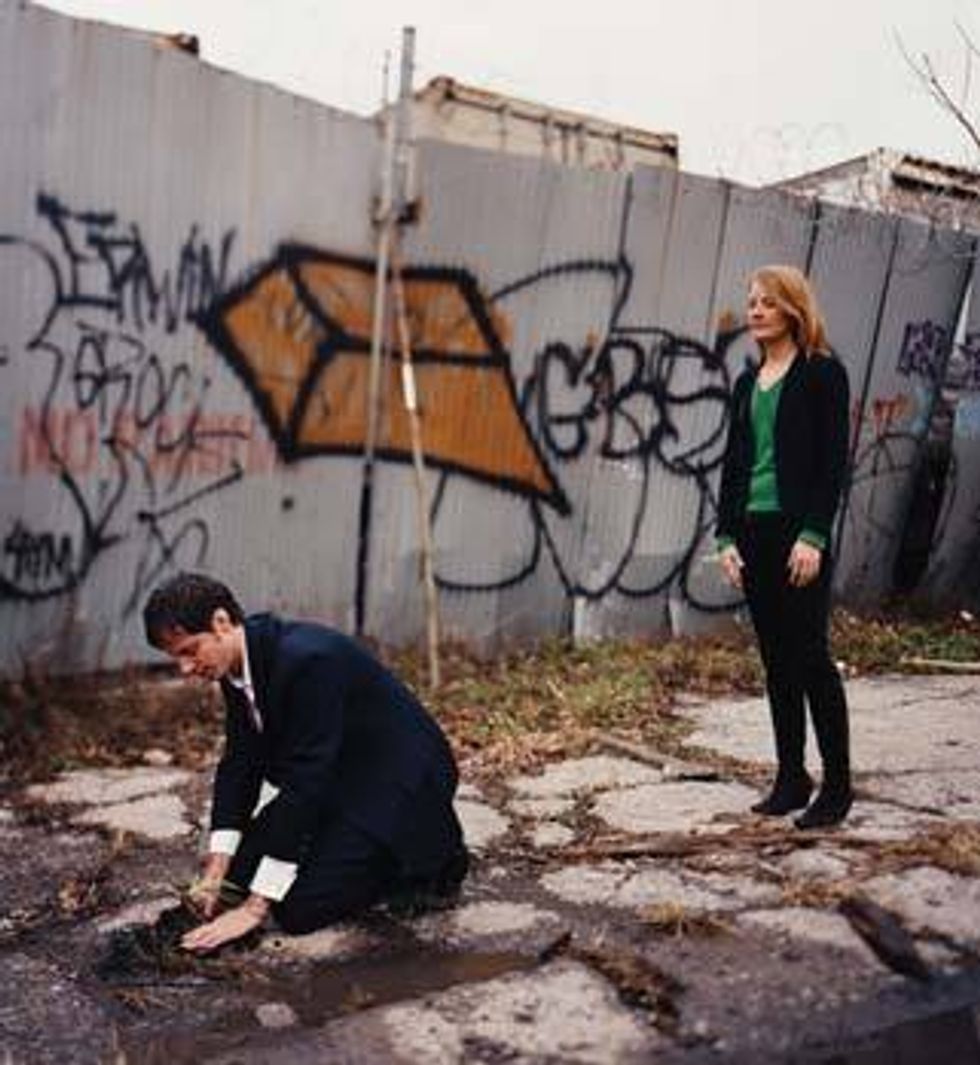 In the summer
of 2006, city buses in Denver were plastered with images of a dead, desiccated horse hanging upside down from a tree in Plaquemines Parish, Louisiana. The horse had been deposited there by the 25-foot floodwaters accompanying Hurricane Katrina. Adjoining this photo was another, of a desolate stretch of bleached-out coral reef in Belize. And next to that, a photo series of 1,600-foot-wide ponds formed by a melting Austrian glacier. A caption read, "This Is What Global Warming Looks Like."An estimated 300,000 people saw the pictures, the first major commission for the Canary Project, a group of artists who tell the story of climate change through their work. Its founders, Ed Morris and Susannah Sayler, have collaborated on various projects for the past 14 years, starting with Morris's senior English thesis in college: an exhibition that combined his poetry and her photographs in an investigation of three arbitrarily selected Steins: Ludwig Wittgenstein, Sergei Eisenstein, and Gertrude Stein (this was Wesleyan, 1994). Morris and Sayler are now married.They were inspired to create the Canary Project after reading a series of three 2005
New Yorker
articles on climate change by Elizabeth Kolbert. At the time, Sayler, 36, was working as a travel and landscape photographer and Morris, 34, was a private investigator. "We both thought of global warming as something that would be happening in the future," says Sayler. Kolbert's articles "were like an alarm clock." Morris and Sayler decided to do with pictures what Kolbert had done with words-visit places threatened by climate change in order to convey the real-time experience of a warming planet.\n\n\n
Quote:
There's a reason that I don't shoot polar bears.
Three years later, the pair has traveled to 12 locations, with Sayler taking the photographs and Morris guiding their overall organization and display. Dead horses notwithstanding, Sayler's subjects tend to be sparse and unsentimental: a glacier's flank, a stand of smol-dering trees, a smoke-filled sky, a shack in the desert. They're mysterious, not chilling; eerie, not alarmist. "There's a reason that I don't shoot polar bears or people in a landscape," she says, "which is that we do also want to convey the sense of nature's autonomy and separateness."The images resonate on a visceral level, but they're also ground-ed in the data of climate science-the captions are sprinkled with references to
Nature
articles and papers from the Intergovernmental Panel on Climate Change. This is partly a result of their approach: Before traveling to each new location, Morris and Sayler consult with experts at NASA and Harvard who then put them in touch with local scientists. Most of these scientists have years of data on how their particular region is responding to global warming."It's not hard to start seeing every picture as a portal," notes Morris. "If you could just walk through that photograph, you'd find yourself in a room full of stories and charts and graphs." His next goal is to include this kind of information in their shows.
In addition to stark pictures of the effects of climate change, the Canary Project presents potential solutions, like wind turbines in California.
---
Much of their task so far has been to simply learn how to navigate the tension between the aesthetic and scientific aspects of their material. When they exhibit at art galleries, for example, curators try to pressure them to select their most "high-concept" pictures, while at science museums, kids amble up to and slap Sayler's photos, searching for flashing lights and audio prompts. In the course of adapting to these two disparate worlds, the Canary Project has grown from a two-person nonprofit into a clearinghouse for climate-related art, providing creative and financial support for other artists working with the theme of climate change.
But, the question lingers: How much of an impact can art, even art as evidence, really have? Morris cites historical examples of images that have lead to political change, from the Ansel Adams prints that built Congressional support for the creation of Sequoia and Kings Canyon National Parks to the war photographs that rallied opposition to Vietnam. "But even beyond that," he says, "I think there's an interesting moment in art now where there's a bunch of artists who conceive of their job as being one of communication. Museums want to obfuscate the message so it seems more intellectual or something. We just want it to be clearer."
LEARN MORE
canary-project.org