Articles
Is Your Favorite Song a Torture Device?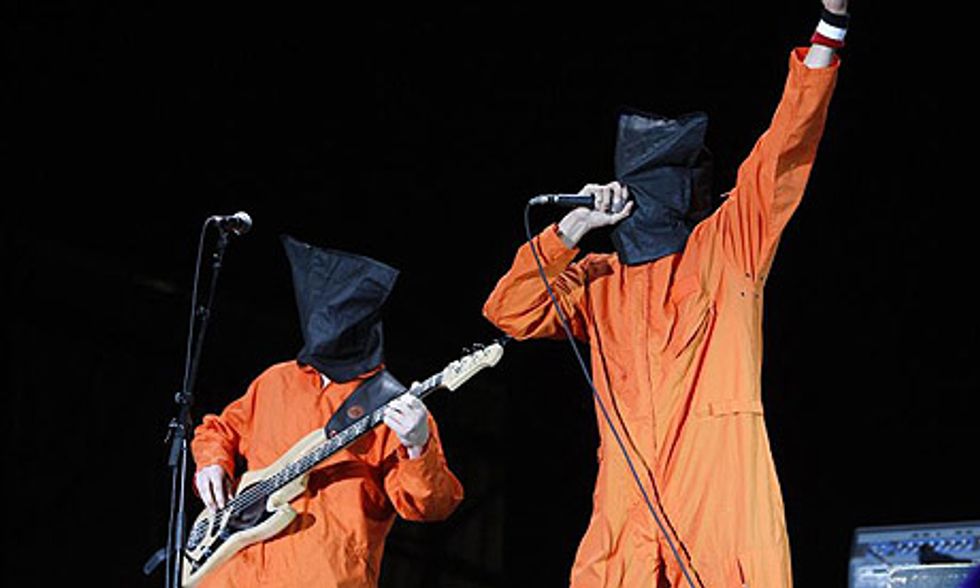 ---
A group of musicians today endorsed a Freedom of Information Act request to
find out what songs were used in torture at Guantanamo Bay
. There is ample evidence that the constant playing of loud music was used to break down prisoners. Detainees say that:
"the music they most often described hearing was heavy metal, rap and country. Specific songs mentioned include Queen's "We Are the Champions" and "March of the Pigs" by industrial rockers Nine Inch Nails. Another former prisoner, Binyam Mohamed, told Human Rights Watch that he had been forced to listen to the rapper Eminem's song "The Real Slim Shady" for 20 days."
From
this post,
I've come across this list of some of the songs allegedly used:"• "Enter Sandman," Metallica.• "Bodies," Drowning Pool.• "Shoot to Thrill," AC/DC.• "Hell's Bells," AC/DC.• "I Love You," from the "Barney and Friends" children's TV show.• "Born in the USA," Bruce Springsteen.• "Babylon," David Gray.• "White America," Eminem.• "Sesame Street," theme song from the children's TV show.Other bands and artists whose music has been frequently played at U.S. detention sites: Aerosmith, Britney Spears, Christina Aguilera, Don McLean, Lil' Kim, Limp Bizkit, Meat Loaf, Rage Against the Machine, Red Hot Chili Peppers and Tupac Shakur."Understandably, no artist wants to feel like their beautiful art can have the same effect as waterboarding. We'll see if the government actually releases this data. If they do, get ready for a bunch of tasteless torture mixes.
Photo of Rage Against the Machine protesting their songs use at Guantanamo, by Chiaki Nozu via The Guardian.