Articles
It's the Most Wonderful Time of the Year: Why We're Pro-Carmageddon
Construction work is shutting down L.A.'s 405 freeway and people are being told to stay out of their cars. Sounds like the perfect new holiday.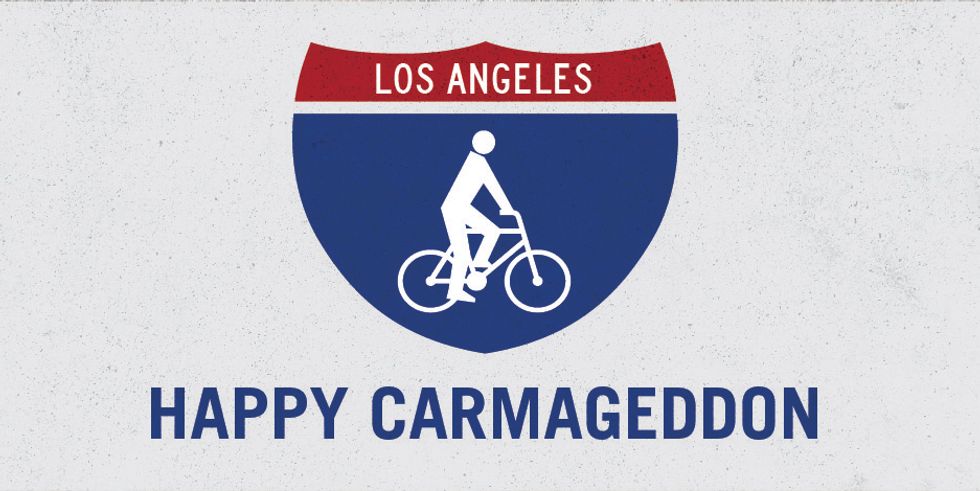 OMG, have you heard? Construction work in Los Angeles is
shutting down the 405 freeway
this weekend. They're calling it
Carmageddon
. With
huge delays expected
, the city has spent the last month sending its population a single, oft-repeated
message
: People, stay out of your cars that weekend.
We think this sounds like L.A.'s greatest new holiday.
---
While our fellow publications equate Carmageddon to a natural disaster, with guides to "survive" and "handle" the closure, we know that it's really not that big of a deal to not use a car for the weekend. In fact, we do it a lot. One of our favorite L.A. events of all time, CicLAvia, involves closing streets and getting out of our cars. To us, this is just another weekend to experience all that L.A. has to offer without having to drive.
We know you have plenty of great ways to enjoy Los Angeles without a car, but if you need help, here are some of our ideas for making the most of this exciting holiday weekend. How are you celebrating Carmageddon?
Shop as Locally As You Possibly Can: There are all kinds of deals encouraging people to use the services closest to their homes. Try using Yelp to find and only eat and shop at places within a one-mile radius of your home. Forage something. Hold a food swap or a clothing swap with your neighbors.
Host a Farmer at Your Westside Home: For many parts of the city, business will go on as usual. Here's an interesting way to help someone get to work. The Santa Monica Farmers' Market is looking for volunteers to host farmers at their houses during that weekend so they can vend at the markets.
Ride Public Transportation: Metro is celebrating Carmageddon with free Metro fares and added service on all trains and most of L.A.'s buses. You can ride just about anywhere in the city for no money! If you've never tried it, this is your chance to take public transportation for the first time. Grab a friend and ride far, far away. Even Metrolink is adding more trains to take you farther afield.
Walk Along the 405 from the Valley: Who needs cars to get over Sepulveda Pass anyway? A walk is scheduled to go from the Valley to the Mulholland Bridge and back, along Sepulveda. Meet on Saturday, July 16 at 9:00 a.m. on the south side of Kester and Ventura, near Mel's Drive-In in Sherman Oaks. Details here.
Throw a DIY Block Party: Since we're celebrating a weekend of closed streets, there's no more appropriate place to throw a party. Break out the sidewalk chalk and organize a water balloon toss. Grill in your driveway. Plan a progressive dinner with your neighbors. If you live on a cul-de-sac, get permission from everyone on the street to close the street for some real fun and games.
Bike the Empty Streets: If, in fact, everyone keeps their cars in their garages like they're supposed to, the streets should be wide-open for biking. The group ride 4PACOLYPSE is departing Saturday night at midnight from Mom's Bar and Lounge in Santa Monica. We've heard at least one rumor there will be an attempt to ride some of the closed 405 freeway, which we do not condone. But we'd like to see.
Make Carmageddon an Annual Event: Think about it. If L.A. can do such a great job telling people to stay out of their cars for one weekend, why not do it again? How about we make Carmageddon an annual event? Attend our Let's Make Carmageddon an Annual Event Facebook event and pledge to help make the third weekend in July car-free for Los Angeles every year. It's like CicLAvia, except instead of closing the streets, we just don't use our cars!
Update: It may be an annual event already! This NBC Los Angeles article says the freeway will have to be closed again to demo the other side of the bridge... in about 11 months.
Live in Los Angeles? Join GOOD LA and you'll get one good L.A. story (like this one!) delivered to your inbox every day. As if that's not enough, you can also follow GOOD LA on Facebook and Twitter.