Articles
Join a Bike Ride to LAX for Safer Streets (and True Love)
A long-distance relationship built on two wheels wants to show L.A. that all of its streets need to be made safe for bikes. Bike to LAX this Sunday.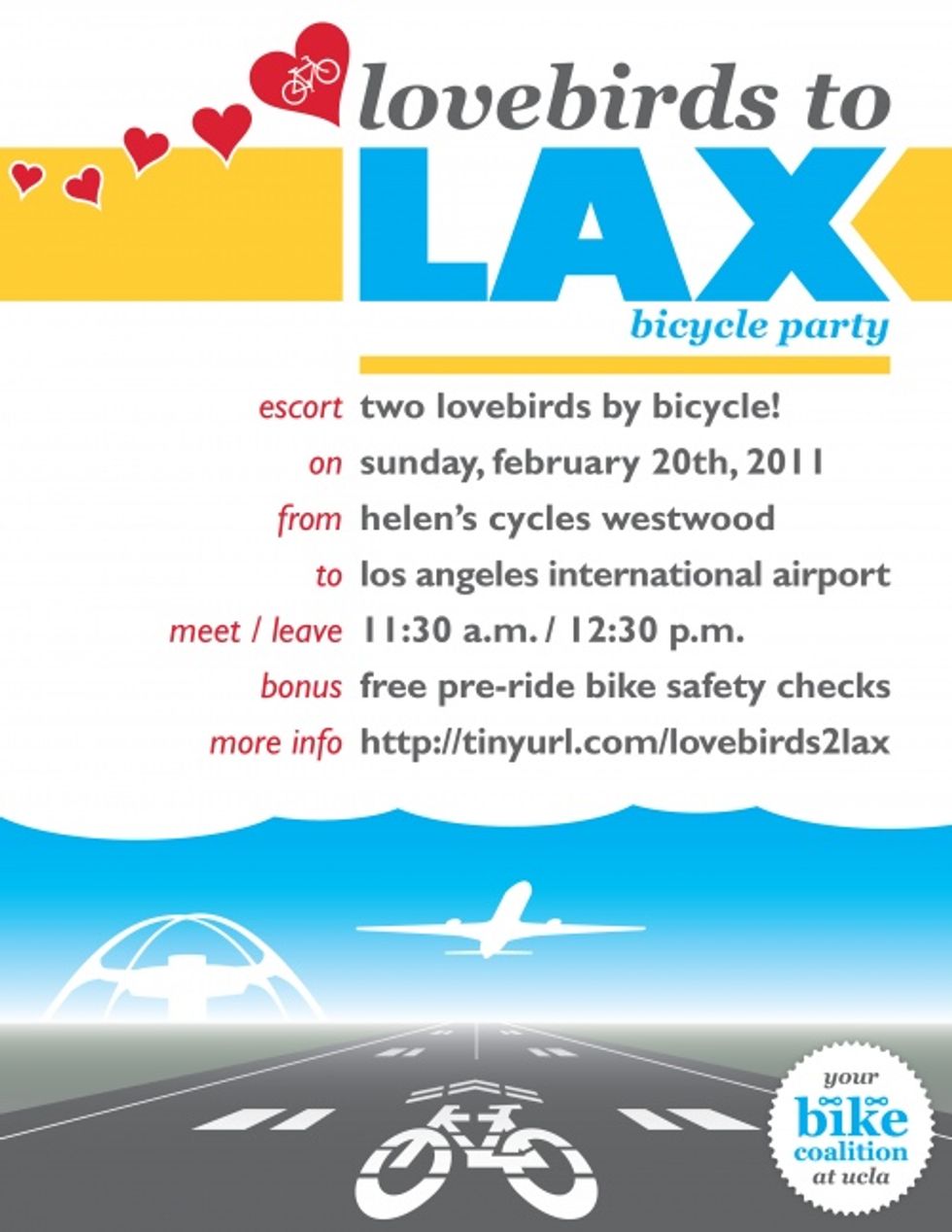 Omari Fuller, who goes to grad school at UCLA, is in a unique long-distance relationship. His girlfriend, Aileen Chang, lives in Oakland, and when she comes to visit, she brings her own wheels—her own two wheels. So when Chang leaves Fuller this weekend to go back to Oakland, she'll be riding her bike to the airport.
Chang has a folding bike that fits in a suitcase that attaches to her bike as a trailer. In theory, she should be able to ride her bike right up to the terminal at LAX, pack up her bike, and board a plane for Northern California. But as anyone who lives in L.A. knows, the streets around one of the country's biggest airports are about as bike-unfriendly as they come. We're talking seven-lane side streets with no shoulder to be found.
---
So Fuller decided to turn Chang's bon voyage into a message to the city: The Lovebirds to LAX Bike Party. A group will bike together from Westwood to LAX, ensuring that their numbers will both raise awareness to those in cars and provide safety to Chang on her departure.
Interestingly, according to an airport representative interviewed by NBC Los Angeles, there are several bike lanes around the airport, and they're exploring adding a bike lane from Century Boulevard into the airport itself.
Want to join? Meet at Helen's Cycles, 1071 Gayley Avenue, at 11:30 a.m. on Sunday, February 20. Helen's is even throwing in free bicycle tuneups for those making the journey. You can also check out the route here.
via NBC Los Angeles