Articles
Douglas Gayeton creates detailed, annotated photo collages that tell stories about the people of Pistoia, Italy, progenitors of slow food.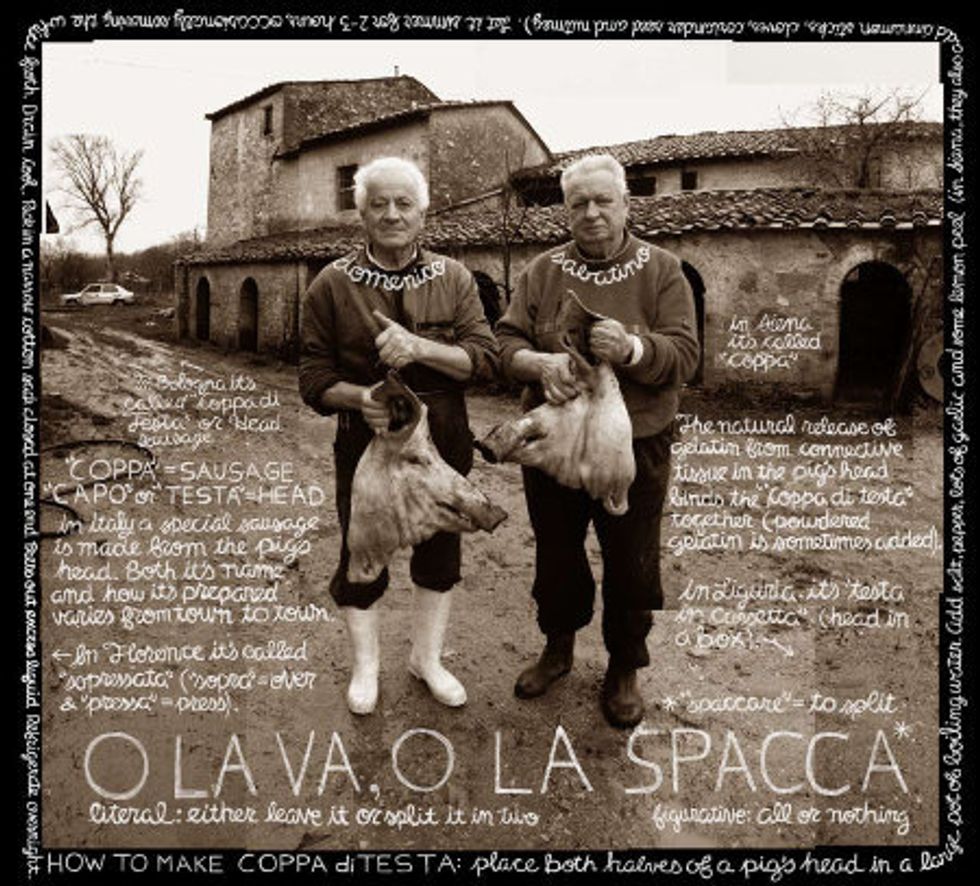 Douglas Gayeton creates
detailed photo collages annotated with round, hand-drawn letters that tell stories about the landscape and the people of Pistoia, Italy. These so-called "flat films" depict cheese-makers, butchers, and cooks who practice the
Slow Food
philosophy.
Gayeton hasn't always focused on traditional, analog culture—in 2007, he created the machinima (a movie filmed in a virtual world)documentary, Molotov Alva and His Search for the Creator: A Second Life Odyssey—but it's certainly his bread and butter. He started the project in Italy while he was working for an online PBS series called "My Shoes Are Caked with Mud," which won a Webby in 2004. His book on traditional ways of life in Italy, SLOW: Life in a Tuscan Town, comes out next week.
---
I chatted with Gayeton about his background in food, about going slow, and how he's applied what he learned from Italian grandmothers, butchers, and foragers.
GOOD:How did you end up in Italy?
DOUGLAS GAYETON: I was working in Paris and I didn't really want to buy a place there. I bought a place in Pistoia, which is between Florence and Lucca, at the end of 1990s. But it wasn't really part of a grand scheme to work on a book.
G:Were you into food and cooking at the time?
DG: I really wasn't. I didn't know how to cook. I appreciated good food, but I couldn't tell the difference between Burrata or mozzerella cheese; I kind of knew what ricotta was. These are things that any Italian would know. The last five minutes of any news program in Italy is dedicated to food. Because the ingredients they use are so limited—they're known as the materia prima [the basics]—everyone makes the same cuisine. It's a very traditional country.
G:So was your introduction to the country your introduction to Slow Food?
DG: I was eating at a restaurant near my apartment and after the meal, I went into kitchen and I said to the chef, "Everything was very good. I wish I could cook like this." And he said, "Come back tomorrow morning." So, the next morning at eight o'clock, I met him at a café and we went to a butcher. We went to buy all these vegetables. Then, I found myself working for six months at his restaurant. At the time, PBS asked about doing a piece on Slow Food, which was going to be a documentary with a bunch of talking heads. The people in my town, they all lived philosophy of Slow Food, but they didn't even know what Slow Food was. I tried to capture that.
G:It seems like these images took a lot of time.
DG: All the words were written by hand. If you look closely, there are many, many lines to each letter. It could take two, three months. All puns aside, it was a slow process.
G:The images are a mix of analog and digital. It's almost like David Hockney meets Artusi.
DG: I never really thought of it as a cookbook—as a book about food or a book of recipes. I was really just trying to document something. Food just plays a big part.
G:One of your first images, Le Sei Donne Di Rolando (pictured above), shows six woman sitting around a table. How did you construct the image?
DG: It was the first one that I did where figured how to get all the pieces together with people in them. I had never tried to create a moment out of many moments. To me, creating the image was a distillation of so many things I'd seen in classic Italian paintings—the palm with stigmata, the idea of rays of light—which permeate so much pre-Renaissance Italian art. I gravitated to these narrative tools in painting. I shot during the course of the meal, so there are plates from first course, the second course, and dessert there. That, more than anything, showed passage of time. The idea of introducing time to photography really interests me.
G:Has this changed your life?
DG: My wife and I moved to Petaluma. My wife started Laloo's, a goat milk ice cream company. We basically took a lot of these principles—of food production, of Slow Food—and applied them towards making something. We have goat and chickens and horses and lots of vegetable gardens.
G:Could it be a primer for someone who doesn't live in the Tuscan farmland—to be more like them?
DG: The book is a primer. Plain and simple. Slow is the story of someone who goes from knowing nothing about Italian culture, Slow Food, or even cooking to by the end of the book owning a farm.