Articles
Leo DiCaprio Tours L.A.'s Affordable Housing on "Oprah"
The actor reports on Colorado Court, the first green affordable housing project in the country, with its architect, Lawrence Scarpa.
[youtube]http://www.youtube.com/watch?v=RjV50AtsDv0
We knew Leonardo DiCaprio was an enviro-minded filmmaker—he was responsible for the climate change documentary The 11th Hour, and produced a show about rebuilding tornado-ravaged Greensburg, Kansas, as a sustainable community. But he's also passionate about providing environmentally-friendly, affordable housing for residents in his hometown of Los Angeles. This week he went on Oprah to report on one such project.
---
DiCaprio was joined by architect Lawrence Scarpa, principal of the Santa Monica firm Brooks + Scarpa, who has worked on many affordable housing projects, including designing a house for the Make It Right Foundation in New Orleans sponsored by Brad Pitt (wow, double celebrity whammy!).
The two toured Colorado Court, one of many striking residences for low-income families in Santa Monica, and the first green affordable housing project in the country. The 44-unit building includes 200 solar panels to help offset energy costs, which is exceptionally important, says Scarpa, because low-income families spend a great deal of their money on utilities.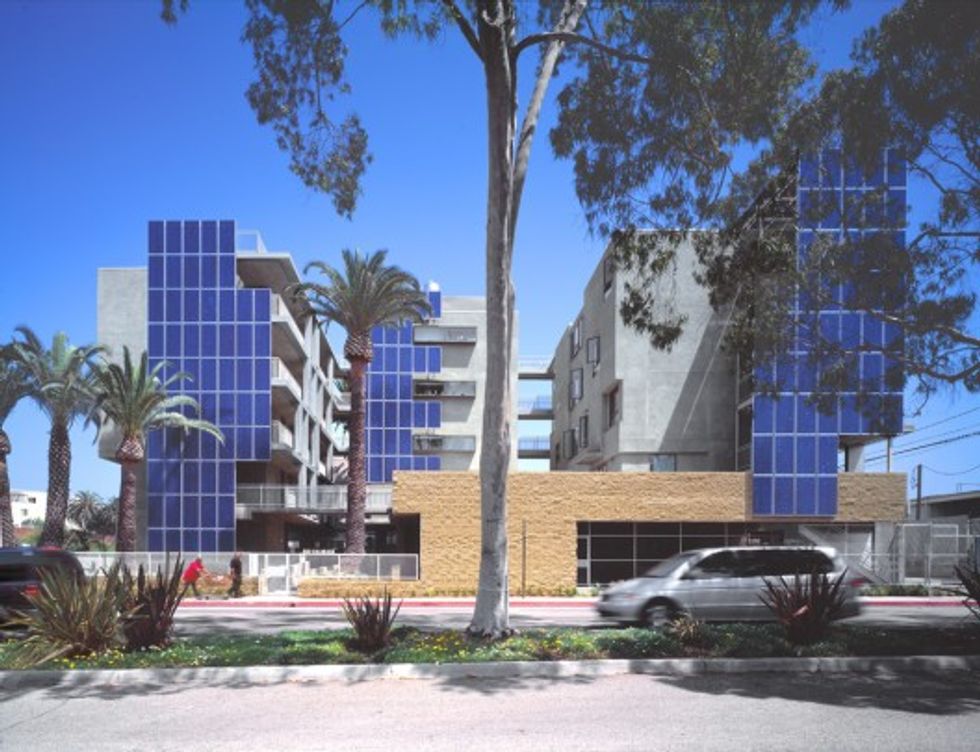 Los Angeles is filled with affordable residences like Colorado Court that do more than just shelter residents in a sustainable way. Thanks to the hundreds of local architects who are often donating their time, these buildings are able to transcend the typical housing project, becoming landmarks in their own right. This brings awareness for those who pass by these places on the street, and a deep sense of pride for those who call these places home.