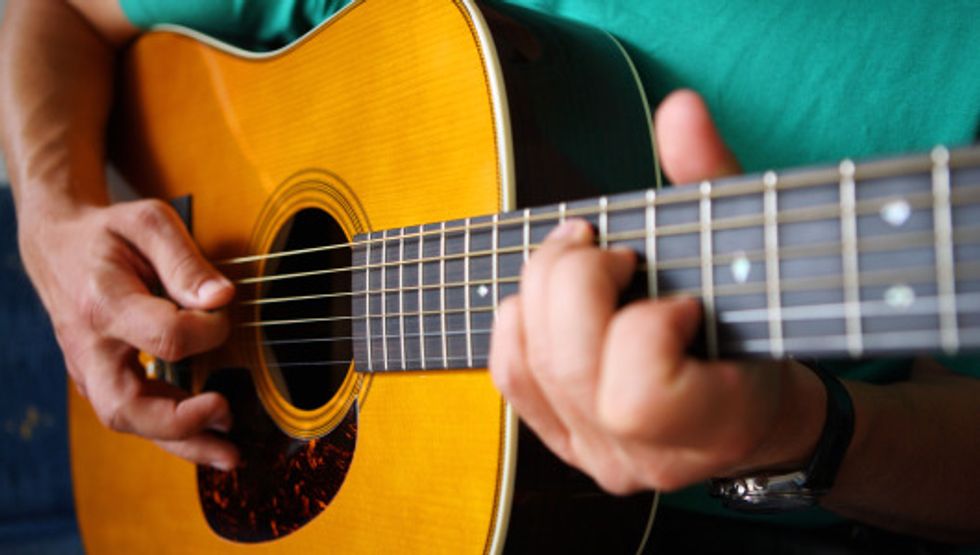 ---
A tour of the
Martin Guitar
factory in Nazareth, Penn., is a glimpse into the rarefied world of craftsmanship and artistry behind some of the century's most groundbreaking and enduring music. The company's coveted acoustic guitars - played by
music's crème de la crème
(Paul McCartney, John Mayer, Buddy Guy, Johnny Cash and Eric Clapton, to name a few) - are still made largely by hand, just as they were back in 1833 when German immigrant Christian Frederick "C.F." Martin first set up shop in America.C.F. Martin never imagined running out of the fine woods he used to craft his guitars; the planet's old-growth forests were still mostly intact.Fast-forward six generations to the founder's great-great-great-grandson,
Christian "Chris" Frederick Martin IV.
A while back, Martin, CEO of his family's 177-year-old company, noticed the price of many precious woods going up and order sizes were down. The reason, he soon discovered, was a disconcerting reality-check for someone who relies on rare ebony, mahogany, rosewood and spruce to create that rich Martin sound and lustrous beauty. Supplies of these trees were dwindling because of rapacious - often illegal - logging to feed the world's relentless demand for buildings and consumer goods."We've survived this long," says Martin, 55. "I'd hate to think we couldn't continue surviving because we can't get the raw materials."According to Greenpeace, less than 10 percent of the planet remains covered with intact forests - half of which were destroyed just in the last 80 years. There are fewer trees and fewer large enough to construct guitar bodies. For example, spruce trees used to create guitar tops (the side with the hole where the strings are), must be 300 to 350 years old to yield a large enough section of wood."The number of trees we use is minimal [Martin makes only 70,000 to 90,000 guitars annually], but they're very specialized," says Nicholas Colesanti, director of supply chain management. "When you cut them down to make lumber for construction or grind them up for fiberboard, those are trees you're probably never going to see again because people don't like to wait 350 years for them to regenerate."Faced with this 21st-century reality, Martin and other guitar makers have begun altering their traditional craft. Words like "sustainable" and "green" have crept into their vocabularies.Recently, Martin and others, including
Taylor
,
Gibson
,
Fender
and
Yamaha
, joined
Greenpeace's MusicWood Coalition
to encourage loggers like Sealaska Timber Corp. (which owns some of
Alaska
's remaining old-growth Sitka spruce forests) to harvest them responsibly and seek eco-certification through the
Forest Stewardship Council
(FSC).Guitar makers also have put some money where their emerging green values are. Gibson, for instance, was first with its eco-certified SmartWood Les Paul electric guitars. Martin has collaborated with
Sting
on certified wood signature models. It also produces guitars made of high-pressure wood laminate, a Sustainable Wood series using eco-sourced alternative woods, and last year launched 100 percent FSC-certified traditional-wood models, including the D Mahogany 09.But just because you build it, doesn't mean they'll come. Other than Sting, guitarists haven't snapped up sustainable models for fear they won't sound as sweet without traditional woods - though more are beginning to, like
Australian guitarist/singer Orianthi
,
reggae musician George Wesley
and
folksinger Rik Palieri
."Surprisingly, musicians, who represent some of the most savvy, ecologically minded people around are resistant to anything about changing the tone of their guitars," says Martin's director of artist and public relations
Dick Boak
. "We now require our dealers to carry sustainable models."Another problem is the recently expanded Lacey Act, a wildlife-trafficking law that includes wood-product importers. Guitar makers must obtain documentation that wood is harvested legally - especially difficult in politically unstable countries - or risk fines and prison time. All eyes are currently on Gibson after federal authorities seized what they claim is illegally imported Madagascar rosewood from its Nashville guitar plant last November.Interestingly, the Lacey Act - along with dwindling wood supplies - likely will mean more eco-certified forests and guitars down the road (eco-certification not only ensures ever-replenishing forests but also legal harvests - two things guitar manufacturers need).Chris Martin acknowledges that only 5 percent of his guitars are currently sustainable, but he envisions major growth in the future. "If we don't increase the percentage, it will increase on its own because I'm convinced some traditional materials just won't be available," he says. "I might as well admit it and get consumers and dealers to understand this train's coming. Get on board or get out of the way."
Sidney Stevens, a regular contributor to the Mother Nature Network, writes from Pennsylvania.
Related Articles on Mother Nature Network:
Photo via ZUMA Press