Mixology Mailbag Ages Gracefully
Are barrel-aged cocktails worth the wait?
09.16.11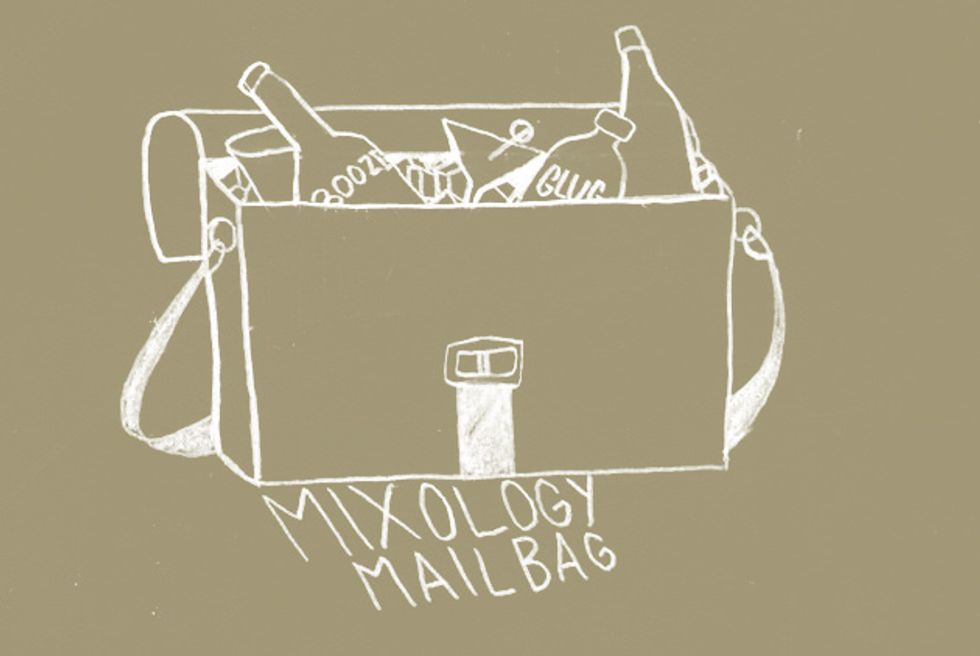 I keep seeing pieces on the Internet about barrel-aged cocktails. What are they, and are they a good idea? –Bottled in Bond

---

\n
With the exception of gods, elves, and Avril Lavigne, we all must come to terms with getting older. While moments like the 20th anniversary of Nevermind or the conferment of a "lifetime achievement award" on Britney Spears hurl the passage of time painfully into our increasingly wrinkled faces, drinking brown spirits like whiskey and dark rum provide a more enjoyable way to contemplate the aging process.
Most aged spirits get their color from the years they spend holed up in a charred wooden barrel (the exceptions include certain especially crappy whiskeys, which add caramel color to simulate the appearance of age). The barrel also sets the stage for the peculiar mingling of flavors that only time can impart—what I call the Pasta Sauce Is Always Better the Next Day Effect.
When you sip a fine single malt Scotch, BiB, you're tasting the ingredients poured into the distillate (water, peat, and malted barley). But you're also sipping flavors from the wood used to make the barrels (likely American oak), the char applied to the barrels before the booze is poured in, and the spirits (often bourbon or sherry) aged in fresh charred barrels before they were repurposed to house your Scotch. You're also tasting the PSIABtNDE. The component flavors of the barley, peat, and alcohol get to know each other in that barrel just like the basil, olive oil, and garlic have a chance to acquaint themselves while your leftover tomato sauce coalesces in your fridge.
Think of your friendly neighborhood whiskey distiller as a musician who writes and performs a song (the unaged "white dog" that rolls off the still), then hands it off to a producer to flesh it out with session musicians, effects, and studio engineering. High West's 16-year-old Rye is to "Come as You Are" as its unaged version, Silver OMG Pure Rye, is to "Come as You Are (Unplugged)." Like the best producers, certain barrels are capable of creating stars in any genre. Kentucky distilleries make a killing reselling their once-used bourbon barrels for aging Scotch, beer, rum, tobacco, and even Tabasco sauce.
Cocktails aged in barrels benefit from this same alcoholic collaboration, just on a smaller scale. Bartenders began mixing and bottling cocktails in the 1880s for their customers' convenience, then started storing them in barrels in the 1910s for the taste. A cocktail's varied flavors combine seamlessly in both bottles and barrels thanks to the PSIABtNDE, but certain notes—like the vanilla and honey released by American oak—are only imparted by the breakdown of the sugars and other compounds (called congeners) of a wooden barrel. Of course, the aged drinks on the menu at your local watering hole have only been mellowing for a matter of weeks, not years, so you shouldn't expect the giant dose of wood-derived flavors you would get from, say, a Highland Park 25.
The drinking world has recently rediscovered barrel-aged mixology, and more and more casks are popping up on specialty cocktail lists. I first encountered barrel-aged cocktails a year or two ago thanks to the work of Jeffrey Morgenthaler, the blogger/bar manager/rock star at Clyde Common in Portland, Oregon who's spearheaded their return. I sampled a barrel-aged version of Morgenthaler's Norwegian Wood cocktail at Blackbird in San Francisco, and found it very smooth and satisfying. Try the unaged version, below, at home.
Norwegian Wood, from JeffreyMorgenthaler.com.

1 oz aquavit
1 oz applejack
¾ oz sweet vermouth
¼ oz yellow Chartreuse
1 dash Angostura bitters

Stir ingredients with ice and strain into a chilled cocktail coupe. Garnish with a large twist of lemon peel and serve.

\n
I assume that when you ask if barrel-aged cocktails are "a good idea," BiB, you mean: What do they taste like, and are they worth the extra dollar or two I might have to spend on them? The tipsiest way to find out is to sample an aged and unaged version of the same cocktail side by side. Our motto here at Mixology Mailbag: You're never too old to double-fist.
I'm kind of on a roll with this method—I've performed highly scientific aged-versus-unaged taste tests with both the Norwegian Wood and a Negroni at Blackbird, and with a Rosalind Russell (made from aquavit, dry vermouth, and bitters) at The Beagle in Manhattan. If none of the fancy-drinks parlors near you are aging cocktails, you can go the rough-and-tumble route. Pick up a bottle of High West's barrel-aged Manhattans, available in liquor stores as The 36th Vote, then mix up the unaged ingredients at home to mount your own time-warp taste test:
High West Manhattan, from information provided by the High West Distillery (measurements are my own estimates).

2 oz High West Double Rye
½ - ¾ oz Martini & Rossi sweet vermouth
2 dashes Dr. Adam Elmegirab's Boker's bitters

Pour into ice-filled cocktail shaker or pint glass and stir; strain into chilled cocktail glass. Garnish with a brandied cherry or a twist of orange peel.

\n
Perhaps my willingness to fully embrace cocktail trends has diminished with age, but I'd say that the barrel-aged cocktails I've tasted have been different from, but not necessarily better than, their unaged counterparts. Aging all these drinks mellows them, rounding out the sharp edges of herbaceous ingredients like aquavit, vermouth, and Chartreuse. So if you are one of the many tipplers who finds the caraway-flavored aquavit to taste too much like swallowing a slice of rye bread, the age-softened version of the Rosalind Russell or Norwegian Wood should appeal to you. Ditto for drinkers who recoil at any detectable hint of the herb-and-citrus notes that make vermouth more than just wine. But if you've sipped a Rosalind Russell in the past, and you crave the distinct citric tang of the dry vermouth and those bracing-but-hearty caraway flavors, then "unplugged" is the way to go.
That may explain why the Negroni is the most commonly and most successfully barrel-aged cocktail (you can sometimes find it prepared in large batches and served "on tap"). The Negroni is justly renowned for its classic structure, its harmonious flavors, and the fact that most any tweak to its proportions and/or ingredients results in a different, but still delicious, drink. The Negroni is a bit like the Bob Dylan of cocktails. Even his bad stuff is pretty good (exceptions include a certain especially crappy Christmas album), and it turns out the mellower, wise-old-man persona suits him well.
Negroni

1 ½ oz gin
¾ oz Campari or Gran Classico bitters
¾ oz. sweet vermouth and/or Dubonnet Rouge

Stir in an ice-filled cocktail shaker and strain into a chilled cocktail glass, or over new ice cubes in a rocks glass. Garnish with a flamed orange peel or if, like me, you are forbidden from playing with matches in the house, an orange wheel. For a Negroni Sbagliato ("Mistaken Negroni"), substitute 2-3 oz. Prosecco for the gin. Stir the other two ingredients with ice and pour over new ice, or into a Champagne flute, and top with Prosecco. Garnish as before.

\n
Since barrel-aging at home is extremely cumbersome, expensive, and risky—you're sacrificing gallons of liquor to the possibility of a failed first attempt—I'd save the barrel-aged cocktail experiences for your nights out, and restrict your Negroni experiments to finding your favorite ingredients and proportions sans barrel. Mix up a couple of variations, put on Time Out of Mind, and think about how you're not getting older, you're just letting your component flavors mellow.
Are you looking to bridge the generational drinking divide with your 21-year-old kid? Need a drinking strategy to survive a work function? Looking to adapt your liquor cabinet to the autumn months? Let us know! Post a drinking quandary in the comments, or e-mail the Mailbag at mixologymailbag@gmail.com.
Articles