Articles
Obama's Budget Could Increase Clean Energy Funding by One-Third
The budget may not pass through Congress, but it shows Obama's commitment to renewable energy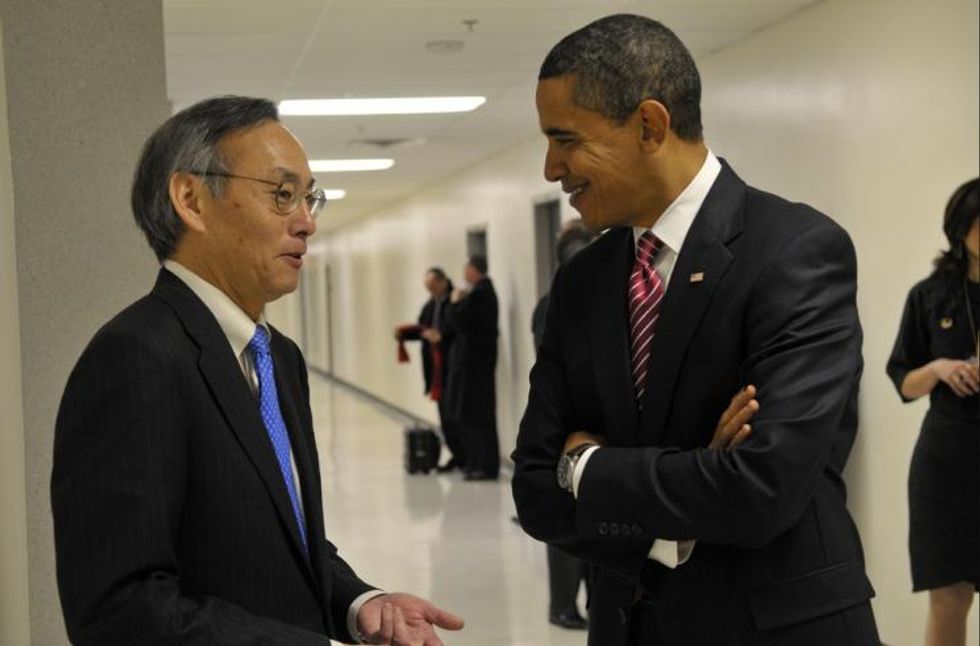 Obama with Secretary of Energy Steven Chu
---
In Washington, money matters more than words, so no matter what politicians say, budgets provide the best way to judge their intentions. President Obama has been touting clean energy, highlighting it in his State of the Union address and touring Western states to promote initiatives like installing clean energy projects on public lands. But the best indication that he's serious about clean energy comes in his 2013 budget, which includes a request for a 29 percent bump in funding for renewables.
The president won't get everything he asks for in the budget, and in the grand scheme of funding, the $2.3 billion he wants to put towards renewable energy is pocket change. But it could make a big difference for solar, wind, and geothermal projects and research. The budget directs funds towards energy efficiency, which could receive 80 percent more money than it did last year. Research into electric vehicles is poised for a big bump, as is funding for commercial building efficiency. The president's budget also ties these funding increases to an overall goal of increasing clean energy's share of the nation's overall electricity market to 80 percent by 2035.
To reach that goal, which would draw on natural gas and nuclear power as well as solar and wind, the president needs to convince Congress to pass a clean energy standard, which would require utilities to start shifting to clean power sources. In addition to the political hurdles, there are the practical challenges of building renewable energy projects, improving renewable energy technology, and making sure that energy sources like natural gas and nuclear power are as safe as possible. The increased funding would help ensure that those logistical issues won't derail progress if the politics fall into place.
This budget doesn't make President Obama an environmental hero. While renewable energy could gain funding, the Environmental Protection Agency's budget will remain stagnant, with small cuts the administration attributes to streamlining government inefficiency.
And although the budget indicates the administration wants to support renewables, National Journal points out that Congress is eager to take a knife to any clean energy proposal the president can come up with. The budget also proposes cuts to oil and gas subsidies, which won't disappear without the kind of knock-down political fight unlikely to be resolved in an election year.
The alternative for the Obama administration, though, was to call for renewable energy funding to stay flat or decrease, which wouldn't have demonstrated any commitment. If Congress wants to slash the numbers, the president won't have much power to stop them. But President Obama said he would make clean energy a priority, and today he indicated he meant it.
Photo courtesy of the Department of Energy