Get a Lift with Grapes
Shake off mid-day blues with the perfect in-between snack
09.21.16
How do you deal with mood slump every afternoon? It's not really exact science, but most people are generally upbeat around breakfast until the day starts to wear out on them, hitting its lowest point just before dinner.
Shake off those mid-day blues with grapes, the perfect in-between snack when your mood declines throughout the afternoon. Beyond their crunchy texture and sweet flavor, grapes provide antioxidants to promote a healthy heart and they're also packed with vitamin C and potassium—that's more than you can say about that chocolate bar you're contemplating eating.
---
When you choose organic grapes you can be assured they're grown without toxic and persistent pesticides or herbicides. Add them to a drink, a salad or baked goods for perhaps the easiest decision you'll make today for your health.
Enjoy them now while they're abundant and in the peak of the season.
This simple Spicy Grape "Salsa" will make your packed lunch a little bit more exciting. If you have leftovers, save them for snacking when the flavors have had a chance to meld. Add a dash of crushed red chiles for an extra kick before your last corporate meeting of the day.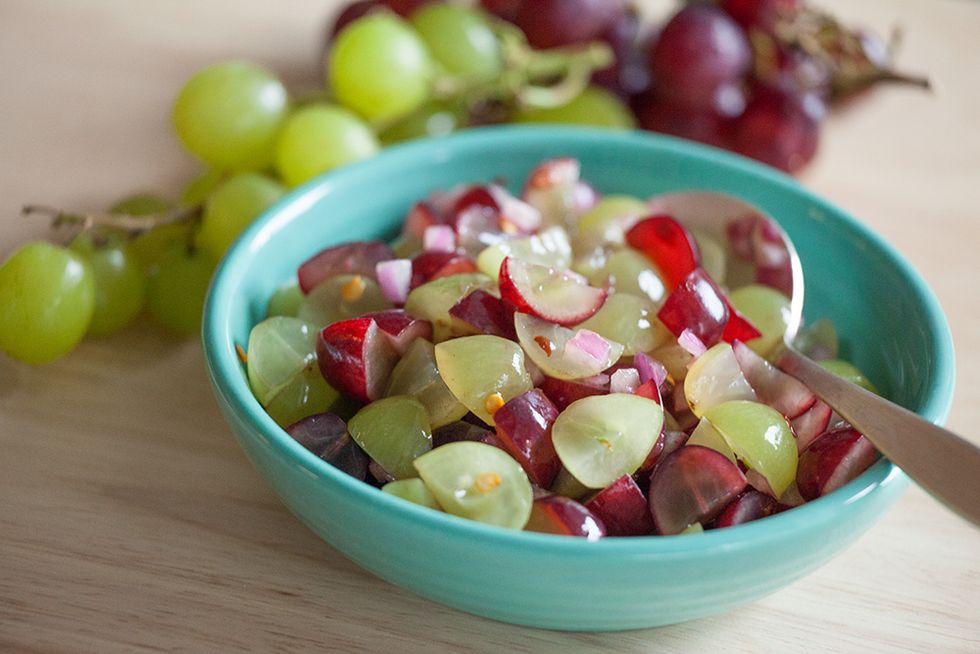 Ingredients:

2 tablespoons finely chopped red onion
1 cup seedless green grapes, quartered
1 cup seedless red grapes, quartered
1 tablespoon red wine vinegar
1/4 teaspoon crushed red chile flakes

Method:

1. Place onion in a small bowl, add cold water to cover and let soak for 10 minutes. Drain well.

2. In a bowl, stir together onion, green and red grapes, vinegar and chile flakes until combined.
An appetizer or a light meal like this Savory Fall Flatbread can lighten up your early evening. Grapes added at the end of baking give it a sweet and juicy bite.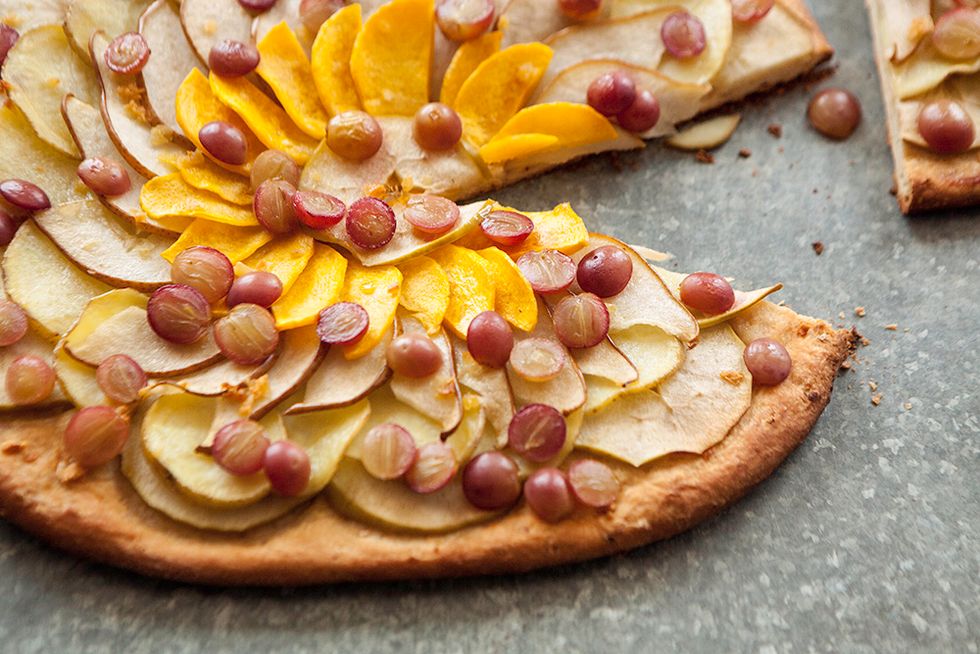 Ingredients:

2 tablespoons extra-virgin olive oil
2 cloves garlic, crused with a press
1/4 teaspoon fine sea salt
Flour, for rolling dough
1 pound whole wheat pizza dough
1 Granny Smith apple, halved and thinly sliced
1 Bartlett pear, halved, cored and thinly sliced
1 cup thinly sliced Yukon Gold potatoes
1 cup thinly sliced butternut squash
1 cup red grapes, halved

Method:

1. In a small skillet, heat oil, garlic and salt over medium heat for 2 minutes until garlic is golden brown. Remove from heat.

2. On a lightly floured surface with a lightly floured rolling pin, roll dough out to a circle about 14 inches in diameter. If the dough pulls back strongly, stop rolling, cover the dough with a kitchen towel and let rest 10 minutes before continuing. Transfer dough to a round pizza pan, stone or large baking sheet; reshape dough as needed.

3. Preheat the oven to 400°F and place a rack in the lowest position of the oven. Brush dough with 1 tablespoon garlic-infused oil. Spread sliced apple, pear, potatoes and butternut squash in concentric circles, leaving a 1-inch border. Brush entire surface with remaining oil. Bake 20 minutes. Add grapes and bake 10 minutes longer. Let cool for 5 minutes; slice and serve.
Long afternoon hauls don't just happen on weekdays. Hit refresh on your Saturday afternoons with a crowd-pleaser for entertaining and serve a glass or two of this Rosemary and Grape Sparkler. Garnish each with a rosemary sprig and make an impression on your friends.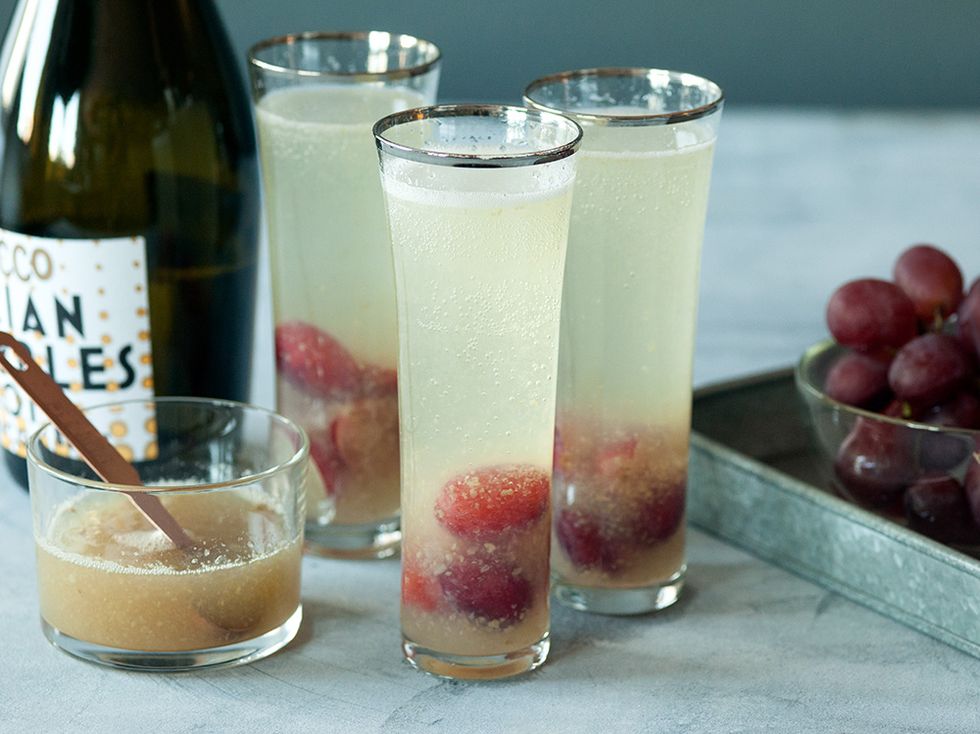 Ingredients:

1 cup green grapes
1/2 cup sugar
2 sprigs fresh rosemary, plus more for garnish
1/4 cup red grapes, halved horizontally
1 (750-ml) bottle dry sparkling white wine, such as Prosecco

Method:

1. In a small food processor or blender, purée green grapes until they are the consistency of loose jam.

Combine grape purée, sugar, 1/2 cup water and rosemary in a small saucepan and bring to a simmer over medium heat, stirring occasionally until sugar is dissolved, about 5 minutes. Cool syrup completely and remove rosemary sprigs before serving. Makes about 1 cup simple syrup; refrigerate in an airtight container for up to 2 weeks.

To serve, divide red grapes among 6 flutes. Pour 1 to 2 tablespoons simple syrup into each flute and top with sparkling wine. Garnish each with a rosemary sprig.
Go to wholefoodsmarket.com/recipes to find more delicious recipes. And don't forget to visit wholefoodsmarket.com/sales or download the app to enjoy great savings on organic grapes and other high-quality ingredients!
[Top grape photo: Corey McLean]
Articles