Articles
Our 10 Favorite Innovations for Reducing Plastic Consumer Waste
The practice of individually packaging consumer products may not have originated in the 20th Century, but that's certainly when it was perfected;...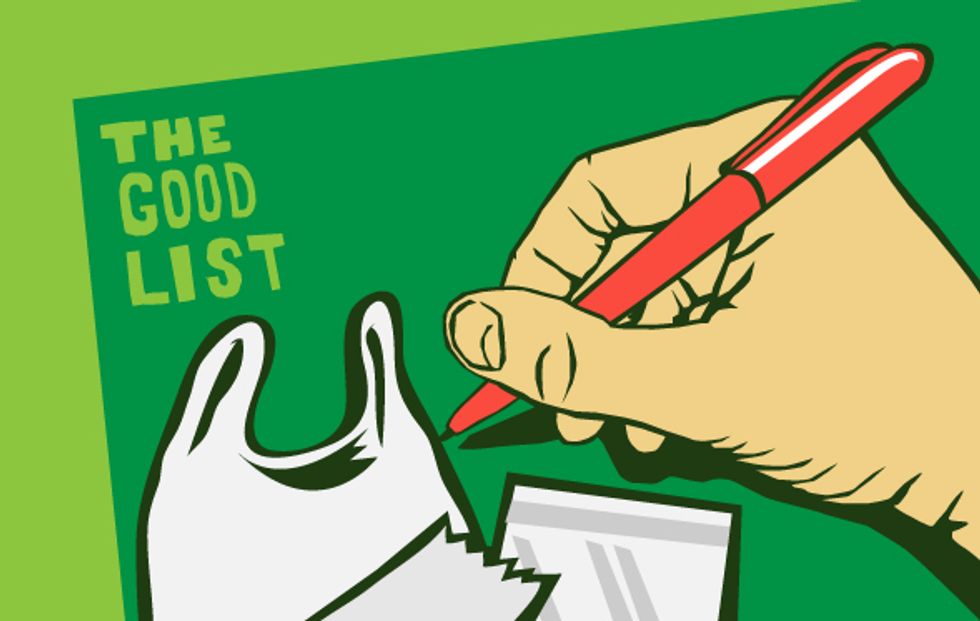 ---
The practice of individually packaging consumer products may not have originated in the 20th Century, but that's certainly when it was perfected; our landfills are stacked with unconscionable mounds of plastic waste as a reminder. Fortunately, there are those among us working to buck the trend and put a dent in our masses of trash.
What follows is a round-up of our
favorite innovations for reducing plastic consumer waste
-some you've heard of, some you haven't, but all of which could help this century be remembered as the time we learned to scale-back.
1. Tax plastic bags
:
Although this program is generally accompanied by gripes, moans, and outcries of socialism, it's undeniably effective. As you've seen in our
ongoing coverage
of the
a controversial but effective implementation
in
Washington, D.C.
, a mere 5-cent fee for plastic bags has reduced bag consumption by 50 percent and looks to generate $3.5 million for the District. You can find similar efforts everywhere from
Ireland
to
California
(pdf).
2. Ban the bags outright:
From
the city of San Francisco
to the entire nation of China, bans on thin, single-use, store-provided plastic bags have been immensely successful. In the case of the latter, through June of last year,
the use of 40 billion bags has been avoided
, saving China 1.6 million tons of petroleum (per the NRDC).
3. Ban other plastics, like bottles:
GOOD 100
winner
Bundanoon, Australia
, was the first city anywhere
to ban single-use plastic water bottles
. As we wrote in GOOD 017, "Bundy's ban won't destroy the entire bottled-water industry, but it will reduce plastic trash, mobilize the city to develop its public-water resources, and-perhaps most important-spark communities around the world to follow suit."
4. Sell products without packaging:
At London's
Unpackaged
grocery store,
food is sold without packaging
. No ban or tax needed, the market, quite literally, changes behavior.
5. Try take-out, without:
Take-out Without
is an online campaign to get people to use their own plates or Tupperware when they order take-out and to inspire restaurants to accommodate the behavior. Like Unpackaged, the idea is simple and spot-on. That it's an opt-in campaign (as opposed to a government mandate) should help with the live-free-or-die crowd.
6. Wastefree lunches:
The
Wastefree Lunches site
reminds us that an average child's lunches will produce "67 pounds of waste per school year. That equates to 18,760 pounds of lunch waste for just one average-size elementary school," and offers simple solutions to cut back.
7. Use packaging that can be used again:
For
its new Voodoo line of Laptops, HP
hopes its sturdy, beautifully designed packaging will inspire consumers to save the boxes and use them again.
8. Turn existing plastic waste into something useful, like art:

There are shining examples of artists using reclaimed materials all over the world, and the abundance of plastic waste makes this a no-brainer. With examples form
Chris Jordan
to
Dianna Cohen
to
students at Carnegie Melon
, there might be a movement afoot.
9. Or turn it into something practical, like fuel:
Pennsylvania State University professor James Garthe
developed a prototype machine to convert waste into Plastofuel
-dense, plastic nuggets intended eventually for co-firing with coal at a power plant. According to Garthe, "the burner takes the granulated plastic, sized in diameter between 2 and 10 millimeters, from a solid to a liquid to a gas immediately in the combustion chamber…the gas is actually producing the heat we need to transfer into the boiler system." See also,
Environ's Oil Generator
.
10. Or turn plastic waste into a road:
The architecture graduate student
Henry Miller has found a way to transform plastic waste into concrete
. Meanwhile, in India,
Ahmed Khan's company, K.K. Plastic Waste Management
"is trying to solve two of the biggest problems in India: battered roads and overflowing landfills. His solution: streets made with recycled plastic."
Thanks, Alicia!