Articles
People Are Awesome: Superintendent Tells Critics of Lesbian Homecoming Couple to Buzz Off
San Diego Superintendent Bill Kowba says he's "furious" people are complaining about a lesbian homecoming couple.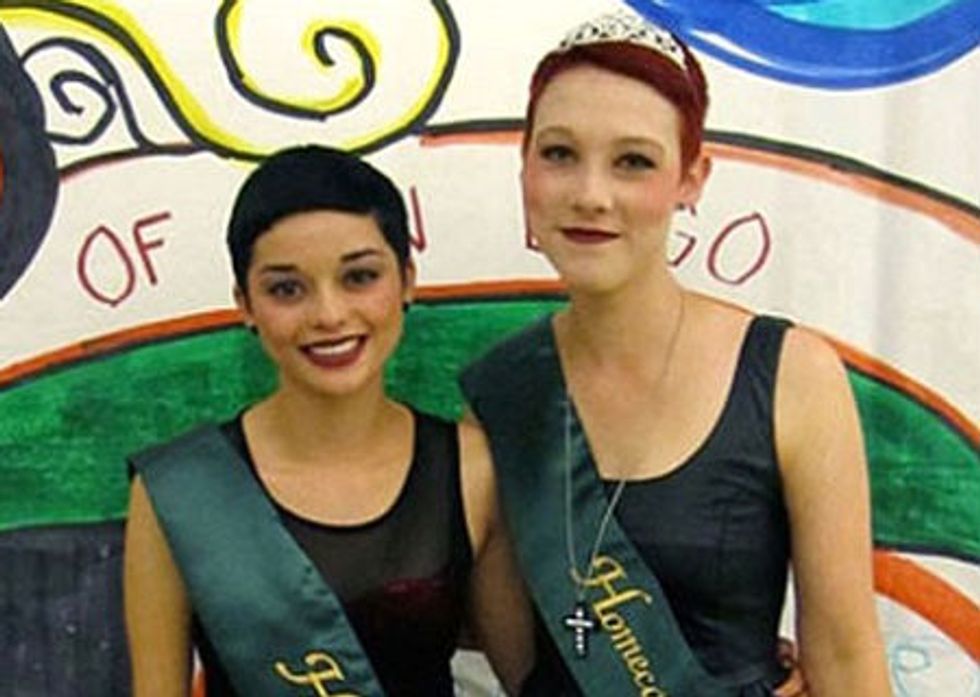 When students voted a lesbian couple as homecoming king and queen at San Diego's Patrick Henry High School last week, perhaps they were too young and naïve to know that controversy was inevitable. If it had just been Haileigh Adams, at right, elected queen, nothing would have been the problem. But when Adams' girlfriend, Rebeca Arellano, won king at a big pep rally on Friday, the bigots started complaining.
---
Adams and Arellano's peers cheered for the girls at the homecoming dance, and a teacher reportedly told Arellano, "Today school is a bit better because of you girls." Nevertheless, Patrick Henry High School has been subjected to a deluge of hate mail, angry emails, and threatening phone calls since news of the lesbian homecoming couple broke. Some of the calls are coming from people who don't even live in California.
But rather than cower from criticism, as many administrators are wont to do when facing charges of immorality, San Diego Unified School District Superintendent Bill Kowba is digging in his heels and fighting back. In a press conference about his district's budget on Monday, Kowba took a few moments to tell reporters how "furious" he was about the hate directed toward Adams and Arellano, whom he called just as important as the budget. "What is essentially disappointing is that adults who have contacted the school, many not even San Diego residents, are demonstrating such a lack of tolerance and such a negative role model for children with their hateful comments," Kowba said. He later called the naysayers "bullies."
Most polling shows that acceptance of gay marriage increases as respondents' ages decrease, which is why it's no surprise Adams and Arellano's classmates could care less that lesbians are homecoming royalty. But Kowba's unwavering support, both because of his age and his title, is unexpected. Every school kid learns the adage "what is popular is not always right and what is right is not always popular," but seldom does an educator get to prove that point.