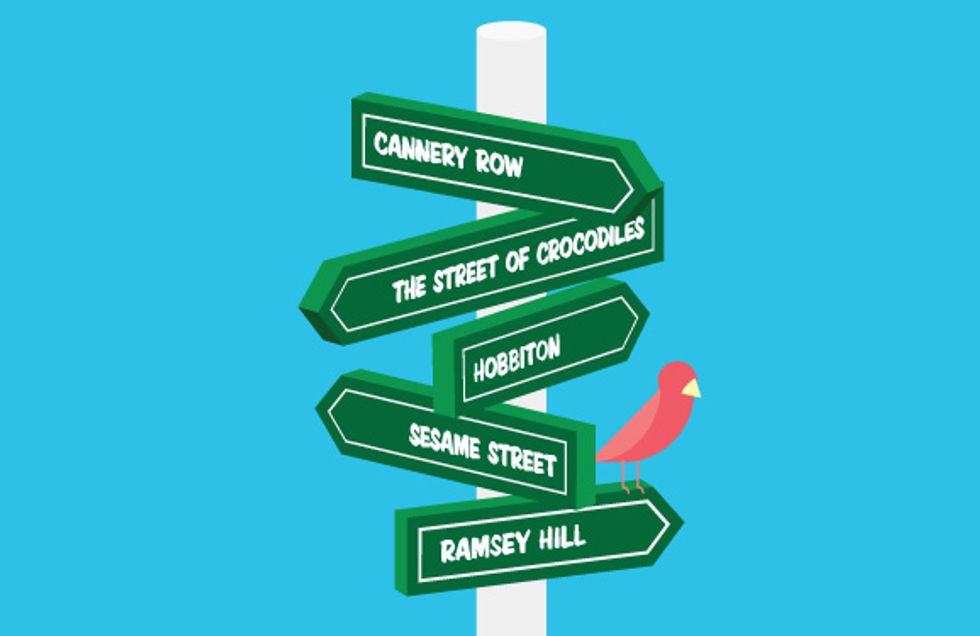 GOOD's favorite fictional neighborhoods

---
Appears in: Cannery Row, by John Steinbeck. The neighborhood is arguably the main character in this story. Writes Steinbeck: Cannery Row is "a poem, a stink, a grating noise, a quality of light, a tone, a habit, a nostalgia, a dream. Cannery Row is the gathered and scattered, tin and iron and rust and splintered wood, chipped pavement and weedy lots and junk heaps, sardine canneries of corrugated iron, honky tonks, restaurants and whore houses, and little crowded groceries, and laboratories and flophouses."

For more boulevards of broken dreams, see: the Hoboken, New Jersey of On the Waterfront; The Wrong Side of the Tracks in Springfield of The Simpsons\n



\n
Appears in: "Good Neighbors," a chapter in Jonathan Franzen's forthcoming novel Freedom that was published in The New Yorker. Ramsey Hill's transition from blighted suburb to enclave of stroller-pushing public-radio listeners is an object lesson in the potential pitfalls of gentrification—and the perfect grounds for one family's psychological unraveling.

For various dystopic takes on the American suburb, see: Stepford, Connecticut, in The Stepford Wives, by Ira Levin; the suburb in Edward Scissorhands inspired by Burbank, California; Brewer, Pennsylvania, in John Updike's Rabbit series



\n
Appears in:Cinnamon Shops: And Other Stories, by Bruno Schulz. Somewhere between Kafka and Gabriel Garcia Márquez is Bruno Schulz, the author of a magical-realist semi-memoir that sends its child narrator on a midnight journey through the labyrinthine Polish village of Drohobych, where shops literally come to life.

For other impossible architectures, see: any of Italo Calvino's invisible cities; Jorge Luis Borges's Library of Babel; the character Caden Cotard's New York City within a warehouse in the movie Synecdoche, New York\n



\n
Appears in: The Hobbit and The Lord of the Rings, by J.R.R. Tolkien. Sure, one could read the Shire as a Luddite retreat from modernity, but damn, those hills are bucolic. Who wouldn't want to spend a weekend in Bag End?


For more back-to-the-land adorability, see: Whoville from various Dr. Seuss books; the Ewok Village in Return of the Jedi; the planet Pandora in Avatar\n

\n
Appears in:
Sesame Street
. It's so diverse that people of all races and ages work and play together—and they do so alongside a slew of monsters, a gigantic bird, a woolly mammoth-like creature, and a filthy grouch.
For more educational puppet sets, see:
The Neighborhood of Make-Believe from
Mr. Rogers' Neighborhood
;
Fraggle RockThis article first appeared in GOOD Issue 19: The Neighborhoods Issue. You can read more from the issue here, or find out what it's all about by reading the issue introduction.

\n