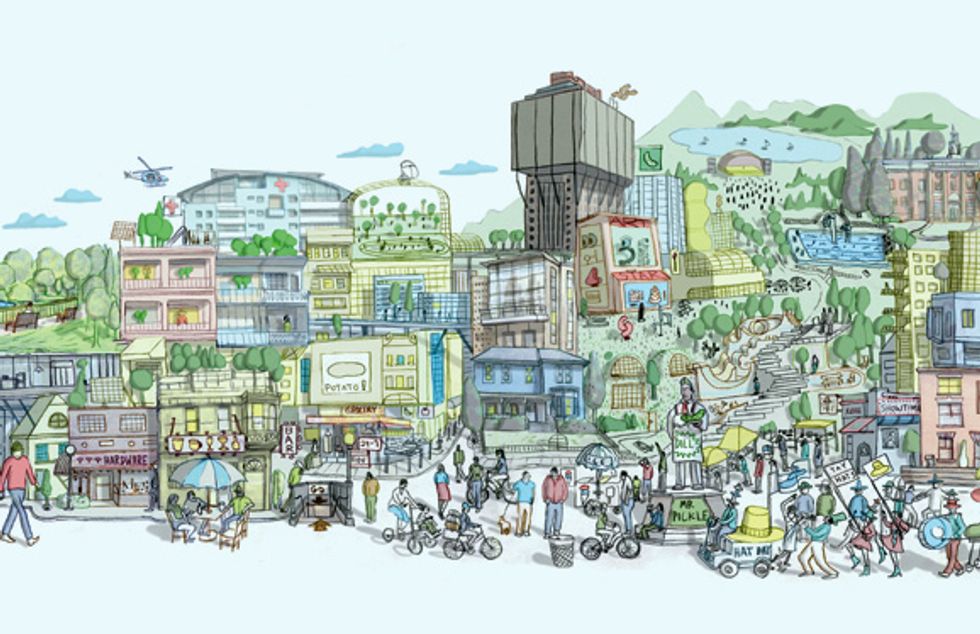 ---

GOOD imagines the perfect neighborhood

History and science fiction have taught us that there's no such thing as a perfect society. The term "utopia," you will remember, roughly translates as "nowhere," and problems exist everywhere people do. Yet this country is full of extraordinary neighborhoods with extraordinary people that do some things exceptionally well. Taking cues from a few of the best in the nation, we envision an ideal neighborhood, looking past low-hanging fruit like pretty architecture and access to nature (both of which are awesome), in favor of the more essential components of a truly great place.

A Signature Event \n

There's nothing like a recurring event to celebrate and shape a neighborhood's identity—though everything needn't be as massive as, say, Munich's Oktoberfest . Anything works—from the Shakespeare Festival in Ashland, Oregon, to 1st Fridays in the Abbot Kinney neighborhood of Venice Beach, California, to the annual ArtPrize competition in Grand Rapids, Michigan—as long as it gets people out of their houses and interacting.



Third Places \n

If your first place is home and your second place is work, you still need a third place, where you might become a regular, and eat, drink, read, write, or simply be merry in the presence of others. Habana Outpost in Fort Greene, Brooklyn, is a sustainable restaurant with cheap booze and ample outdoor space that becomes a veritable block party every weekend in summer.

Public Spaces \n

When you look at places like Chicago's Millennium Park or the High Line in New York's Chelsea neighborhood, what stands out is how marvelously nature and urban density can interact—and how that union can serve community gatherings. A neighborhood with true immersion in or great access to nature is also a plus.

A Human Scale \n

It's important to be able, in a human-powered way, to find everything from hardware to health care without resorting to big box stores. Think of the walkability of any dense urban center, or more bucolic settings like South Main , in Buena Vista, Colorado. But the scale isn't just about walking; the community should also be small enough that you can actually get things done. See Chattanooga, Tennessee, and its CreateHere endeavor, a paragon of civic engagement and achievement.



An Anchor Institution \n

What makes some college towns so great is their ability to galvanize civic spirit through the symbiotic relationship those institutions maintain with residents. When the success of the neighborhood and the success of the school or company are one and the same, everyone wins. Nowhere is this more evident than in Greensboro, Alabama, where for 17 years students at the Rural Studio have learned how architecture can be a vehicle for positive change—and put their ideas to work in the community.

Diversity \n

Whether you're talking about architecture, food, income level, or race diversity is a good thing. In 2002, the Civil Rights Project at Harvard found Village Park in Sacramento, California, as the most ethnically diverse—and integrated—neighborhood in the country, creating an atmosphere of tolerance and an exciting synthesis of cultures. Remember: Integration doesn't have to mean forgetting cultural tradition or erasing heritage.

Illustration by Leif Parsons.





This article first appeared in GOOD Issue 19: The Neighborhoods Issue. You can read more from the issue here , or find out what it's all about by reading the introduction .