Articles
Preschool For All
Universal pre-kindergarten programs are sweeping the country, one state at a time.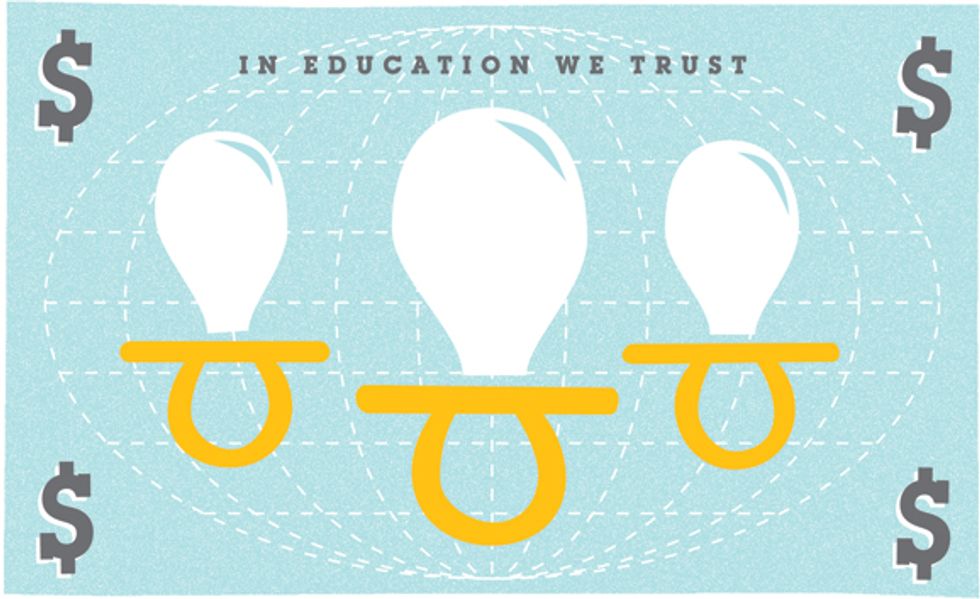 How universal pre-kindergarten programs are sweeping the country, one state at a time.

---
On the campaign trail in 2007, Barack Obama laid out ambitious goals for American education. The first step in his educational plan, he told an audience in New Hampshire, was to provide "quality, affordable early childhood education to every American child." And while he observed that states had already enrolled nearly 1 million 4-year-olds in pre-kindergarten programs, he urged Americans to do better.

In championing pre-kindergarten education, Obama was giving voice to a movement that's been percolating for years. Proponents of "universal pre-K" advocate for a publicly funded half or whole day of preschool to be made available (but not mandatory) to every 4-year-old in the country. Unlike existing programs such as Head Start, the popular initiative founded in 1965 to provide early childhood education and health services to children from low-income families, universal pre-K would be open to all children, regardless of income. And the initiative would largely be run out of public schools.

About 74 percent of American 4-year-olds currently attend some form of preschool. But supporters of universal pre-K are concerned not just with scope, but also quality. "Many kids are in day care now, but there are a large number of children who still don't have access to high-quality pre-K," says Marci Young, Project Director for Pre-K Now, a campaign that advocates for school-based pre-K.

The National Institute for Early Education Research at Rutgers University has published a list of criteria that high-quality preschools should meet: Teachers and staff that are highly educated (ideally holding a bachelor's degree in early education), low student-to-teacher ratios, well-equipped facilities, a living wage, and age-appropriate academic instruction.

More than anything, pre-K is about educational preparedness. "The most immediate benefit is that children are better prepared to succeed in kindergarten," says Steven Barnett, co-director of NIEER. He cites decreased behavior problems and adds, "I think these things can create a kind of positive cycle of improvement all the way through the school system." And perhaps even beyond: Many pre-K supporters envision valuable benefits to society including fewer students repeating a grade, lowered crime rates, and a boost to America's ability to compete in the global labor market.

T oday, Oklahoma leads the nation in public pre-K education. Close to 75 percent of its 4-year-olds are enrolled in programs available through the local schools. Most Oklahoma pre-K classrooms are in public schools, but in some cases, a teacher paid by the school system gives lessons in a Head Start center, an existing childcare center, or even in one of two new classrooms donated by a corporate partner in its office building in downtown Tulsa.

Oklahoma pre-K adheres to NIEER's criteria for quality. William Gormley, a professor at Georgetown University and the co-director of the Center for Research on Children in the United States, has been studying Oklahoma pre-K since 2001. "The program is working extremely well," says Gormley, who found that students in Tulsa pre-K posted gains over and above what would have occurred through simply aging a year. Gormley noted that while all students benefit from pre-K, disadvantaged children benefit most.

Ramona Paul, Assistant State Superintendent of the state's Department of Education, who helped to implement the state's first pre-K pilot program in 1980, is proud of Oklahoma pre-K's universality. "There's no reason to separate children out early," she says. "Children learn from one another, and parents learn from one another. That's the American way, to try to give the best to all." Like many pre-K advocates, she believes that a universal approach is preferable to a patchwork of programs that single out only low-income kids.

But universal pre-K has its detractors as well. Opponents say that that universal pre-K would limit parental choice in educational arrangements, as resources are moved away from voucher programs that allow many low-income parents to select a preschool at will. Another common complaint is that it lavishes resources on middle-class children instead of focusing on those who need them most. Finally, that the educational boost provided by a half-day program is not intensive enough to close the achievement gap that President Bush's No Child Left Behind Act demanded school districts close. For these reasons and many more, in 2006, voters in California overturned a proposition that would have given all the state's 4-year-olds access to a half day of publicly funded preschool.

Despite facing opposition in California, the movement is gathering steam nationwide. There are now more 4-year-olds enrolled in state pre-K programs than in Head Start. Pre-K Now currently has campaigns underway in 17 states. It considers Oklahoma, Florida, and Georgia to be "pre-K for all," when more than 50 percent of a state's children are receiving services. The second tier consists of states that are gradually phasing it in: West Virginia, New York, Illinois, Louisiana, Iowa, and the District of Columbia.

Last year, it seemed that the movement might get a decisive push from the Early Learning Challenge Fund, a congressional initiative that would have channeled $8 billion over as many years to states with plans to improve early childhood education. Ultimately, it didn't survive the merging of the higher education bill with the health-care bill earlier this year.

But pre-K advocates see opportunity in the defeat. Marci Young says the setback "offers a tremendous opportunity to reauthorize our nation's education law, the Elementary and Secondary Education Act," amending it to include universal pre-K.

Illustration by Parliament of Owls .