Articles
Recipes for Living: Making It Features Tips from L.A.'s Most Famous DIY Couple
Kelly Coyne and Erik Knutzen think things like learning how to make your own household cleaners and keepin your own bees can help transform the world.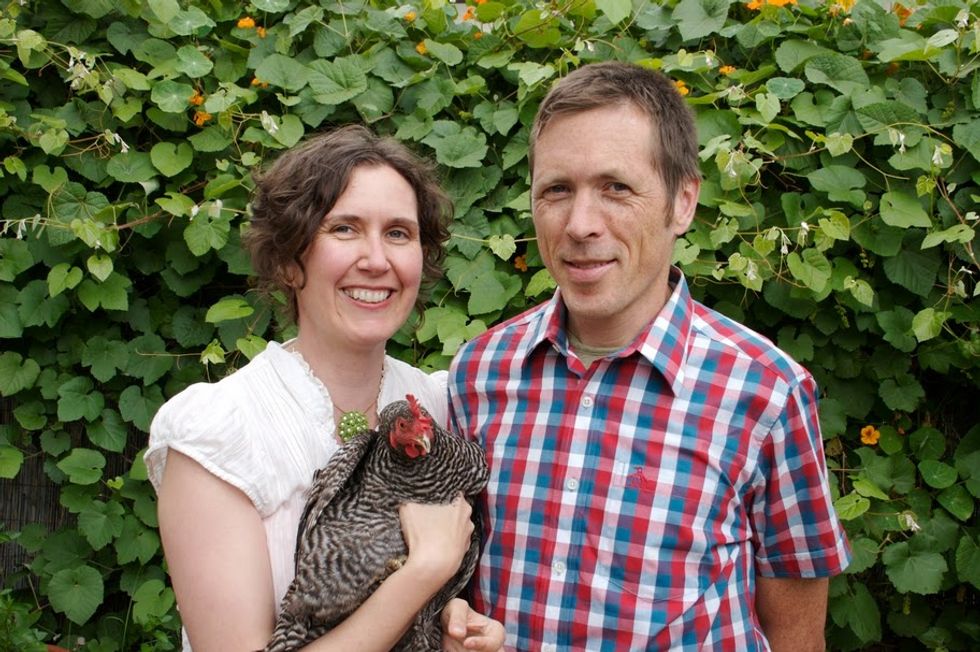 Erik Knutzen and Kelly Coyne exude the warm confidence you might expect from a couple who shares their Los Angeles home with chickens. Best known to many as Mr. and Mrs. Homegrown on their popular blog Root Simple, Knutzen and Coyne have spent years passing along their wit and wisdom on urban homesteading issues and beyond to eager, enthusiastic readers. Now they're the authors of Making It: Radical Home Ec for a Post-Consumer World, a cookbook-style DIY manual that covers everything from making your own household cleaner to keeping your own bees.
---
What began with growing tomatoes on their apartment porch in grad school has become a full-time affair at their Silver Lake residence, complete with a homemade solar dehydrator on the garage roof. "We've always been tinkerers," says Coyne. The recipes in Making It are as simple and accessible as the couple could make them. Home Depot's inventory became Knutzen's barometer for easy-to-find materials. Coyne, in turn, shortened the ingredient list as much as possible, paring it down to the most basic of basics. "We use olive oil for everything," says Coyne. A glance at the book shows she's not kidding. Olive oil is an ingredient in candles, shaving creams, condiments and one-bowl dinners.
Knutzen and Coyne see these everyday activities as ways to create incremental change with significant long-term impact. "I really believe that what we're after here is an inner transformation of people and their household. That transformation moves out into the community, in getting involved in neighborhood-level activities. That ultimately changes the world," says Knutzen. Making It covers of a wide range of projects from the straightforward soapmaking to the more complex beermaking. Coyne says, "It's like a smorgasbord. I hope that everyone going through it will find something they love."
Download Coyne's two-ingredient No-Nonsense Lip Balm [PDF]
Photo courtesy Kelly Coyne and Erik Knutzen. Excerpt reprinted from Making it: Radical Home Ec for a Post-Consumer World by Kelly Coyne and Erik Knutzen. Copyright (c) 2010 by Kelly Coyne and Erik Knutzen. By permission of Rodale, Inc.
Live in Los Angeles? Join GOOD LA and you'll get one good L.A. story per day (like this one!) delivered to your inbox. You can also like GOOD LA on Facebook and follow GOOD LA on Twitter.