Shrimp Is Not Just For Seafood Lovers
Go beyond shrimp cocktail for your next party.
10.05.16
Looking for an affordable option to throw a casual get-together? An easy and quicker way to throw a dinner party? Impress your friends and serve these shrimp recipes as appetizers and your guests will never ask when the main course is being served again.
Whole Foods Market's seafood buyers visit shrimp farms across the country and around the world to find producers that meet their strict standards for responsible aquaculture. They track their farm-raised shrimp from pond to store to make sure it comes from approved farms. Fresh or flash-frozen within hours of harvest, you can count on delicious, sweet and tender shrimp without preservatives.
---
Cut down on prep time and just worry about keeping your tail-on and partying!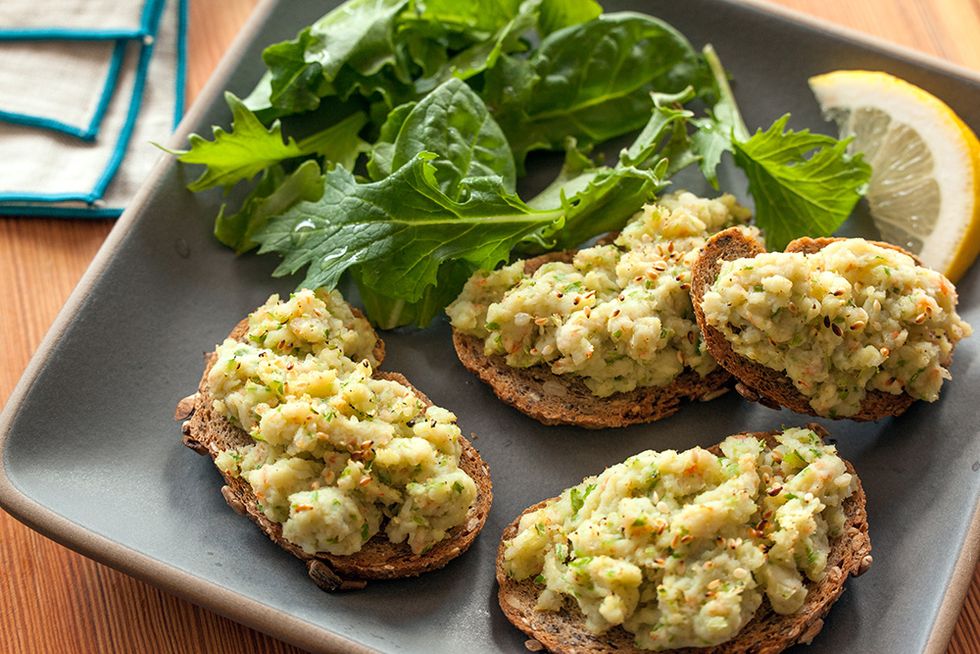 These broiled shrimp toasts with greens make impressive hors d'oeuvres that your guests can pass around while you finish up in the kitchen.
Ingredients:

3/4 pound medium shrimp, peeled and deveined
2 teaspoons Dijon mustard
4 green onions, light green and white parts, chopped
1/8 teaspoon coarse sea salt, divided
12 slices (about 12 ounces) sprouted whole grain bread
1 1/2 tablespoons sesame seeds
8 cups lightly packed mixed greens (about 4 ounces)
2 tablespoons lemon juice
1/4 teaspoon ground black pepper

Method:

1. In a food processor, combine shrimp, mustard, green onions and 1 pinch salt, and pulse until you have a paste. Preheat the broiler. Place bread on a sheet pan and broil just until lightly toasted on one side, 1 to 2 minutes. Remove from the broiler, turn slices over, and spread untoasted sides with about 2 tablespoons shrimp mixture. Sprinkle with sesame seeds. Broil 6 to 7 inches from heat until shrimp is cooked through and browned, 2 to 3 minutes.
2. In a large bowl, toss greens with lemon juice, pepper and remaining salt and serve with the toasts.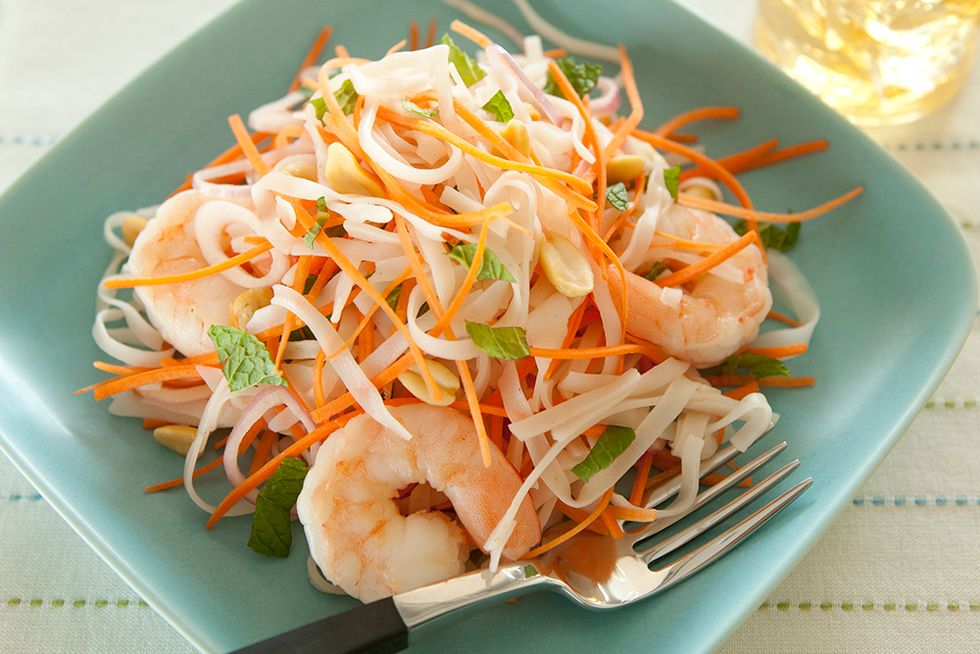 This Thai-inspired shrimp salad is refreshing as a starter. Marinate the shallots in the dressing to make a quick pickle before tossing in the rest of the ingredients.
Ingredients:

8 ounces uncooked brown rice noodles
1/4 cup lime juice
1/4 cup rice vinegar
1/8 teaspoon crushed red chile pepper
1/2 pound cooked, peeled and deveined medium shrimp with tails removed
3 cups shredded carrots
1/2 cup dry-roasted unsalted peanuts
1/2 cup sliced shallots
1/3 cup chopped fresh mint

Method:

1. Cook noodles according to package directions. Rinse until cool, then drain and place in a large bowl. In a separate large bowl, combine lime juice, vinegar and crushed red pepper to make a dressing. Toss noodles with 2 tablespoons of dressing. Toss remaining dressing with shrimp, carrots, peanuts, shallots and mint. Serve shrimp mixture over rice noodles.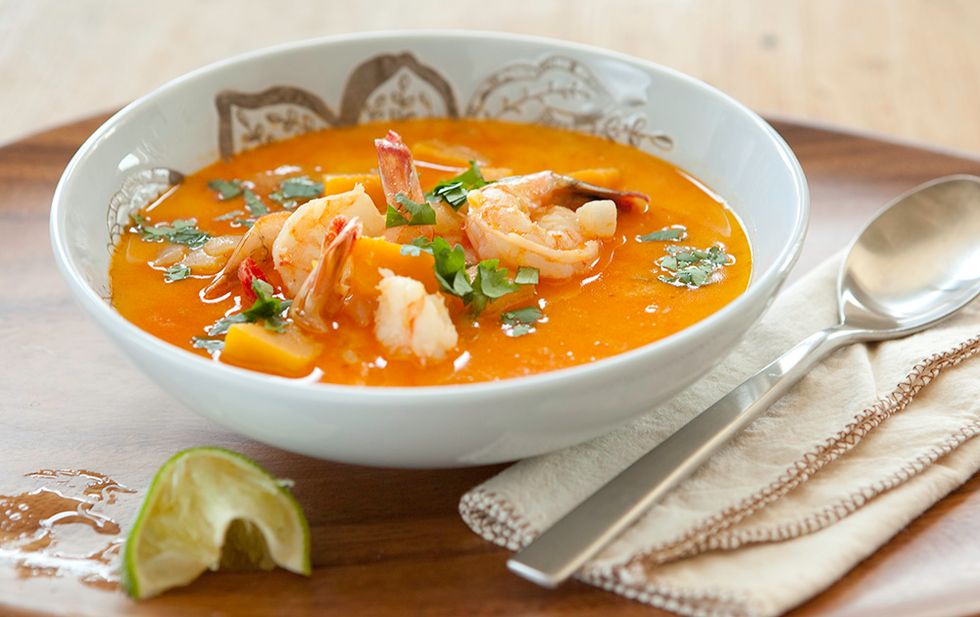 For your soup course, this curry and coconut-based shrimp soup will make a splash with a seasonal vegetable superstar, butternut squash.
Ingredients:

2 teaspoons expeller-pressed canola oil
1 small yellow onion, chopped
1 clove garlic, finely chopped
2 teaspoons finely chopped fresh ginger
1 teaspoon red curry paste, more to taste
2 teaspoons light brown sugar
1/2 teaspoon fine sea salt
1 medium butternut squash, peeled and cut into 1-inch pieces, about 4 cups
2 cups low-sodium gluten-free chicken broth
1 (14-ounce) can coconut milk
1 pound medium shrimp, peeled and deveined
1/4 cup chopped fresh cilantro
1/4 cup shredded coconut, toasted (optional)
Lime wedges

Method:

1. Heat oil in a large soup pot over medium-high heat. Add onion, garlic and ginger. Cook, stirring frequently, until fragrant and onion is translucent, about 5 minutes. Stir in curry paste, sugar and salt and cook 1 minute longer. Stir in squash, broth and coconut milk and bring to a boil. Reduce heat and simmer until squash is tender, 20 to 25 minutes.
2. Stir in shrimp and simmer just until cooked through, about 2 minutes. Stir in cilantro, sprinkle with coconut and serve with lime wedges on the side.
Go to wholefoodsmarket.com/recipes to find more delicious recipes. And don't forget to visit wholefoodsmarket.com/sales or download the app to enjoy great savings on responsibly-farmed cooked shrimp and other high-quality ingredients!
Articles