Articles
Right Clicking: Why Doing Good Online Just Got Easier
A new browser plug-in replaces traditional website advertising with socially-minded alternatives Which messages would you rather see while you...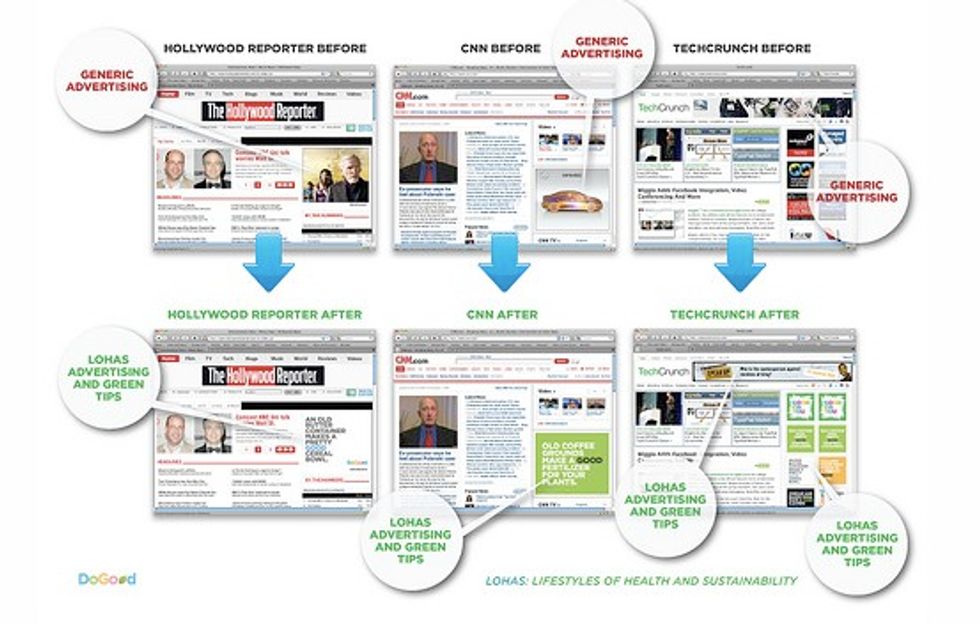 A new browser plug-in replaces traditional website advertising with socially-minded alternatives
Which messages would you rather see while you were browsing online?
Buy a Chevy Malibu! Get the New American Express Gold Card! Watch the Real Housewives of New Jersey on Bravo! Eat ReddiWip!
Or:
Ride your bike to work. Support urban farms. Fertilize your garden with used coffee grounds. Donate your old phone. Pee in the shower.
DoGooder
, a new browser plug-in, hopes you'll choose the latter option. The Canadian company empowers its users by giving them the choice to replace the advertising on the websites they view in favor of something more reflective of their lifestyle and values. Founder and head DoGooder Faisal Sethi explained, "DoGooder helps people transition from social and consumer pacifists to social and consumer activists." ?The plug-in is free, takes 10 seconds to install, and generates money for progressive causes: the company donates a whopping 50 percent of its profits back to green initiatives, charities, and nonprofits.Their business model is straightforward. DoGooder is banking on the idea that many users would rather have their online activity improve the bottom lines of green movements and social initiatives than giant corporations. As more plug-ins are downloaded, the company builds its network. "We fill our impression inventory with media buys. The campaigns will continue to rotate regularly, although we will always show simple, good ideas as well." And there is plenty of room for DoGooder to grow. "Our ad network is completely scalable to accommodate any number of advertisers and end-users."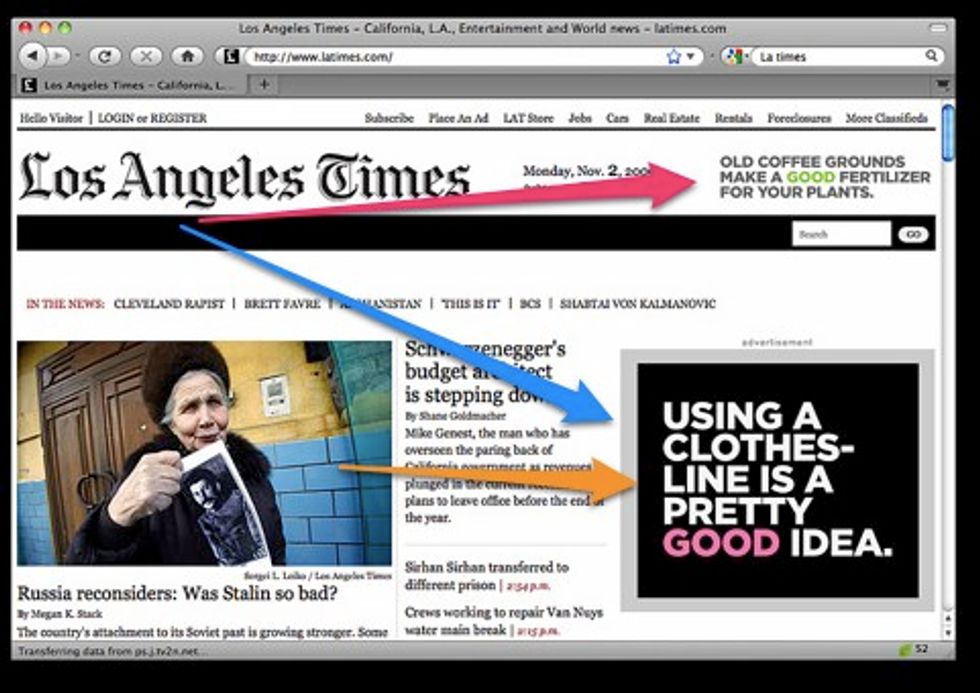 ---
Traditional advertising serves unsolicited ads on websites and hopes that some percentage of users will come to them. DoGooder allows brands to serve their ads to people that actually want to see and read them. Instead of all of those
CSI Miami
ads you'll see a series of "Lifestyles of Health and Sustainabilty" advertising, which, by virtue of your opting in, should be more interesting to you. This is why Sethi doesn't think that DoGooder is edging in on the markets of other advertisers. "Maintaining relevance to the end-user is of utmost importance. Our users have made a conscience choice to opt-in to see campaigns that we deliver, and therefore, generic advertisements have little value for both them and publishers."Even more empowering, users will get to decide who gets the money generated by their online activity. "We will donate to a wide variety of social causes decided by DoGooder end-users (you can right-click to 'Suggest a Cause'), our Board of Directors, and inevitably as we scale, an application process. The causes can be anything from green initiatives to child poverty to disease control and eradication. Donations do not go back to brand advertisers."What if a website is already serving socially responsible and environmentally focused advertising? It turns out that not all websites are created equal. GOOD, for example, does not have its normal ads replaced by the DoGooder ads. Some sites are put on the DoGooder whitelist, which means the ads there are already socially responsible. Sethi explained why this happens. "We (generally) don't decide [which sites are whitelisted], our users do." Users can interact with the DoGooder network, providing feedback, suggesting partners, and disabling the service by simply right-clicking on any page. "Sites that are added to our whitelist are generally requested by a DoGooder user or by the publisher in question."While still new, the plug-in has been downloaded almost 4,000 times in more than 40 countries. The ads themselves are well-designed though not distracting, their calls to action simple and affirming. So here is the DoGooder challenge: If you don't have to do much to do good,
will you?
Guest blogger Adam Starr is a freelance writer. He lives in San Francisco.