Articles
Rx Games
Off-roading health workers are bringing medicine and care to remote areas in need.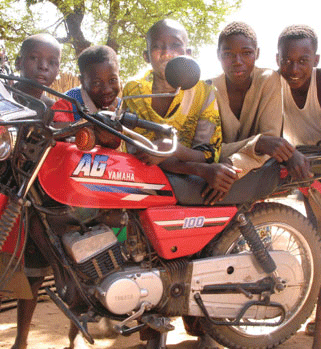 ---
What good is a hospital
if you can't get to it? And what good are vaccines if they never reach the people who need them? For millions of Africans living in rural villages far from medical facilities and inaccessible to four-wheeled vehicles, isolation can lead to disease and death.
Riders for Health
, a U.K.-based organization with roots in the world of high-speed motorcycle racing, is determined to change that. The organization equips local health workers with motorcycles, trains them in extreme off-road riding, and supplies the parts, maintenance, and fuel.Riders for Health operates national programs in Nigeria, Zimbabwe, and The Gambia, and advises NGOs in Kenya and Tanzania. They are so effective-each rider can serve up to 20,000 people-that The Gambia has given RFH responsibility for all its health vehicles.Sulayman Suso, a health worker in The Gambia's Central River Region, refers to his cherry-red Yamaha AG100 motorbike as his second wife. When "she" is not feeling well, he says, his patients suffer. By keeping Suso's second wife healthy, and by outfitting dozens of others like Suso, RFH hopes to extend health care beyond hospitals and clinics to the doorsteps of every Gambian-or any other African-in need.
LEARN MORE
riders.org