Articles
The powerful producer and writer only needed 140 characters to say what most folks are thinking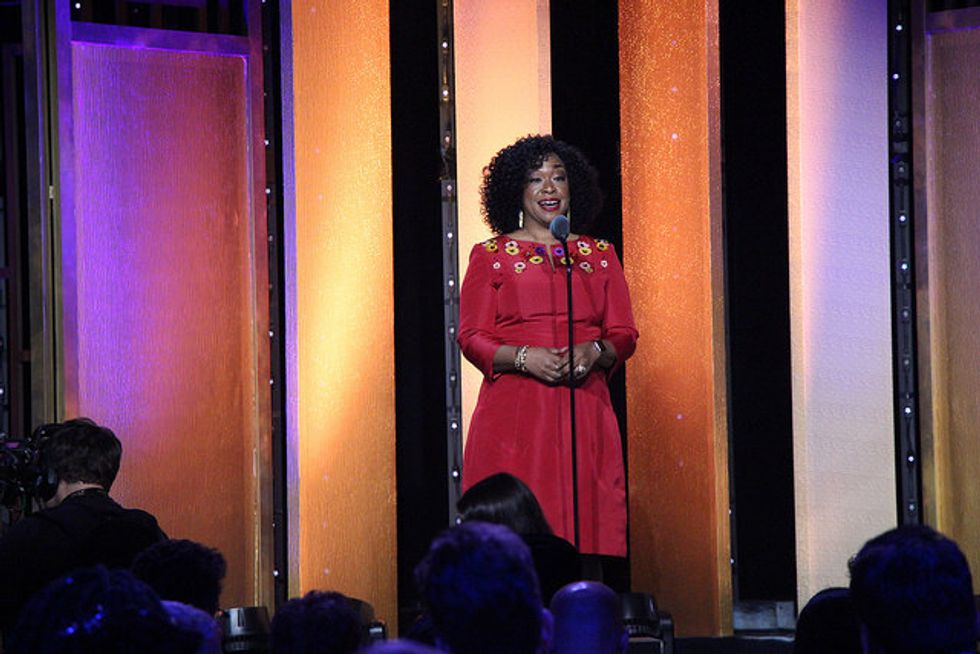 After a mistrial verdict on the charges that he drugged and raped a woman, Bill Cosby said through representatives on Thursday that the 79-year-old comedian wants to get back to work. And by work, they mean Cosby wants to give speeches to America's youth. But this time around, instead of droning on to black teens about how they should pull their pants up, the former sitcom titan wants to lecture them about sexual assault.
---
[quote position="left" is_quote="true"]1)Do not sexually assault anyone.[/quote]
Fortunately, the current queen of scripted television, Shonda Rhimes, is here to save us from the madness. On Friday, Rhimes smacked down the announcement by succinctly shading the former star and tweeting the two lines you can print out and give to anyone considering showing up to Cosby's image revival meetings:
"From Shonda's Town Hall on Avoiding Sexual Assault Charges: 1)Do not sexually assault anyone. 2)Shut up-this attention belongs to survivors," she wrote on Twitter.
But it doesn't seem like Cosby, who plans to focus his remarks specifically on male entertainers, athletes, and married men, will be following Rhimes' advice. "Laws are changing. The statute of limitations for victims of sexual assault are being extended," Cosby spokesperson Ebonee Benson said in an interview with WBRC's "Good Day Alabama" in Birmingham. "So this is why people need to be educated. A brush against the shoulder, anything at this point, can be considered sexual assault and it's a good thing to be educated about the laws."
Indeed, the message Cosby seems to be trying to send is that he's a black man who the system tried to railroad with false rape allegations. "When you look at the prison system today, it's populated with black—well more black and brown—because those people had to take deals," his spokesperson Andrew Wyatt told Fusion on Friday. "We see every day now, people being released from prison that didn't commit crimes that they were accused — sexual assault crimes they didn't commit—because of DNA that wasn't present at those times."
But even one of the most prominent leaders of the Black Lives Matter movement is giving Cosby's town hall idea a side-eye. "Cosby hosting Town Halls re: sexual assault is so brazen that there's nothing about it that makes sense," tweeted Black Lives Matter activist Deray McKesson.
One thing's for sure: With Rhimes putting Cosby in his place like this, we can assume she won't be hiring him for any of her Shondaland shows. And, given that she's one of the most powerful women in Hollywood, well, as one of her most famous characters, Olivia Pope from the hit series Scandal, is apt to say, "It's handled."